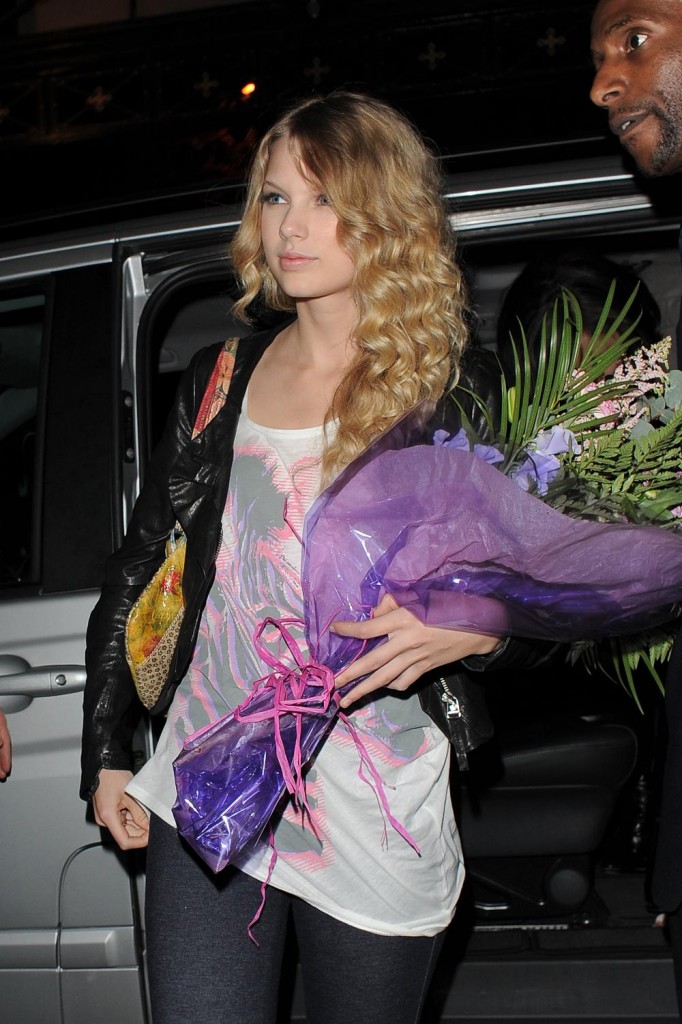 Last night pop country singer Taylor Swift played to a sold out audience at the Staples Center. Imagine what that must feel like at 19-years-old. Taylor's always struck me as incredibly sharp and together – especially considering what a lot of young pop starlets are like. She writes her own music, talks openly and honestly about her heartbreaks, and she's just flat-out talented. Taylor told the audience she wasn't a popular kid in school, but that doesn't matter because it gave her more time to be contemplative and write and work on her music – and look where she ended up!
When it comes to finding the ultimate teen role model one can't go past Taylor Swift – talented, beautiful, gracious and still the same grounded and sweet girl she was before she became one of the most successful and popular young country artists of the decade. But seeing the thousands of teenage girls crying with excitement at seeing the 19-year-old at the sold-out Staples Center in Los Angeles on Friday night makes it hard to comprehend that she was far from being popular in her own junior high school days.

"It doesn't matter if you don't have friends in junior high," Swift said as she kicked off her first ever headlining "Fearless" tour. "Being an outsider gave me time to think … But there was a time when my greatest fear was not fitting in at school; I never thought I would be here with a sold-out Staples Center."

Swift was clearly overwhelmed by the attention — at one point the crowd drew such a long thunderous applause that the songstress couldn't get a word in so instead she covered her mouth with her hand in utter disbelief, her eyes filling with tears. "I'll never forget this," she eventually said, her voice cracking with emotion.

…But despite being worth more than an estimated $18 million according to Forbes.com, Taylor's true star-power stems from still being relatable to her young fanbase and her trademarked approach to dealing with dates who do her wrong…. "If you break my heart, hurt my feelings or mess with friends I'll have to write a song about you," Swift said, also adding that she's not the "only girl that burns ex boyfriends' pictures."

And as much as this gorgeous girl is skilled at performing, she is even more skilled at writing. So where does her secret song-writing material pretty much all come from? "I've written in a diary every night since I was 13," she admitted.
[From Fox News's Pop Tarts]
The only less-than-wholesome event of the night happened when John Mayer joined Taylor on stage. They sang a duet of his song "Your Body is a Wonderland." My issue isn't with the song – just Mayer in general. He's made a big deal about how he's a huge Taylor Swift fan. And we all know what that really means when it comes to John Mayer: he wants to boink her. Are the kids still saying that? 19 year olds? That's probably the only way they're putting it that's fit to print. And since Taylor is legal, I want Mayer kept a good hundred miles from her at all times. Hell if I had my way he'd be kept that far away from all women. But I could have done without that little cameo. The rest of the concert sounded great, and it's awesome that there are some decent role models out there for teenagers. It's hard to be cool, successful, and grounded, and Taylor Swift is certainly all three.
Here's Taylor leaving her hotel after a concert in London on May 8th. Images thanks to WENN.com .