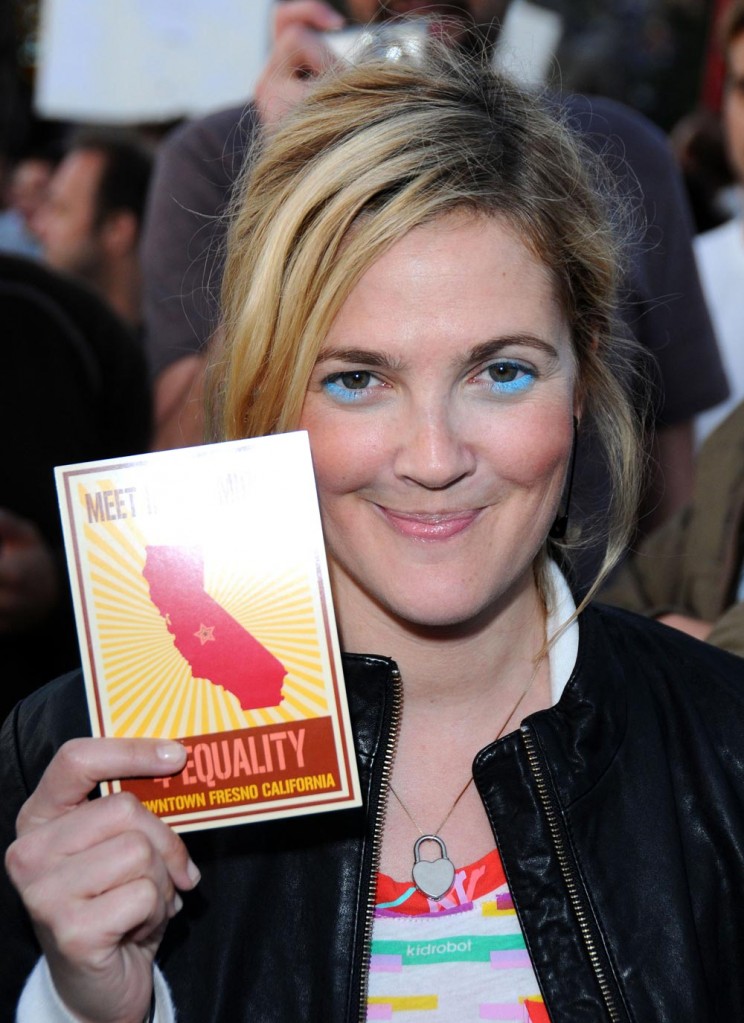 In case anyone missed the news on Tuesday, the California Supreme Court upheld Proposition 8, the ballot initiative that passed in November that revoked the right for gay couples to marry in the state. However, even though the Supreme Court upheld Prop 8, they also ruled that all of the gay couples who had married before the election would be remain legally married. Which is a very strange legal argument, and I'm not any kind of lawyer. The court is basically saying that they'll uphold the will of the majority with the passage of Prop 8, but no harm, no foul on the thousands of married gay couples.
After Prop 8 was passed in November, many celebrities spoke out about gay marriage rights. People like Tom Hanks, Ellen Degeneres (who married Portia de Rossi before Prop 8's passage) and Chris Evans (amongst many, many others) all spoke out, most likely in the hopes of influencing not only popular opinion about gay marriage, but to also influence the California political establishment. Now that the CA Supreme Court upheld the majority of Prop 8, we have a line of celebrities coming out again. Ellen DeGeneres, Lance Bass, and Melissa Etheridge were among the first gay celebrities to speak out:
"The decision to uphold Prop 8 is deeply disappointing," former *NSYNC band member Lance Bass wrote in a statement to Access Hollywood. "I can only hope to one day live in a country that grants equal rights, opportunity, and freedom to all citizens."

"I'm sure you heard the Prop 8 news. One day when everyone is treated with full equality, we'll look back and realize how wrong this was," Ellen DeGeneres said in a statement to Access.

Melissa Etheridge, who has been very vocal about the passing of Prop 8, also released a statement to Access over the ruling.

"So, will anyone be sleeping better tonight? Those full of hate and fear will surely be disappointed that 18,000 same sex couples will be living in wedded bliss, kissing their spouses goodnight, checking off those little 'married' boxes on all those forms we fill out nowadays. That's really going to drive them crazy," Melissa said in her statement.

Melissa, who planned to legally marry her longtime partner, actress Tammy Lynn Michaels, said the ruling was tough on her family.
[From Access Hollywood]
Also speaking out after the Supreme Court ruling was Elton John, who told a Canadian television show that the ruling was "just awful… California is supposed to be a progressive state [and] it just defies logic to me, and I'm very disappointed with that."
George Takei, star of Star Trek and one of the thousands of gay Californians to marry before Prop 8's passage, also spoke out (to TV Guide), saying: "They decided to be indecisive… It was a ruling that doesn't resolve anything because there is still inequality. It's like [George Orwell's Animal Farm] — some pigs are more equal than other pigs. We're more equal than some of the other gays and lesbians. This Supreme Court, which only 12 months ago — last year in May — ruled that it is a fundamental constitutional right that marriage equality extend to gays and lesbians, did a flip-flop. This so-called ruling by the California Supreme Court will ultimately be condemned by history. [It] is going to be the same song and dance over again, but by that time, I think the vote will have changed and we will prevail."
I'm sure in the days to come, more celebrities will be speaking out on this issue. My guess, and the guess of many who watch California politics, is that a measure in some form repealing Prop 8 will be put on the ballot for California's 2010 election, and the California gay community will pour millions of dollars into a huge ad campaign to win their marriage rights. It ain't over 'til it's over.
Here are photos of celebrities marching against Prop 8 yesterday including Drew Barrymore, Pete Wentz, Emmy Rossum, Sophia Bush, Eliza Dushku, Kathy Griffin, Luke Worrall, Kelly Osbourne, Perez Hilton, Shanna Moakler, Lance Bass, Haylie Duff and Emmy Rossum. Credit: WENN.com. Photos of Drew Barrymore credit: Fame Pictures