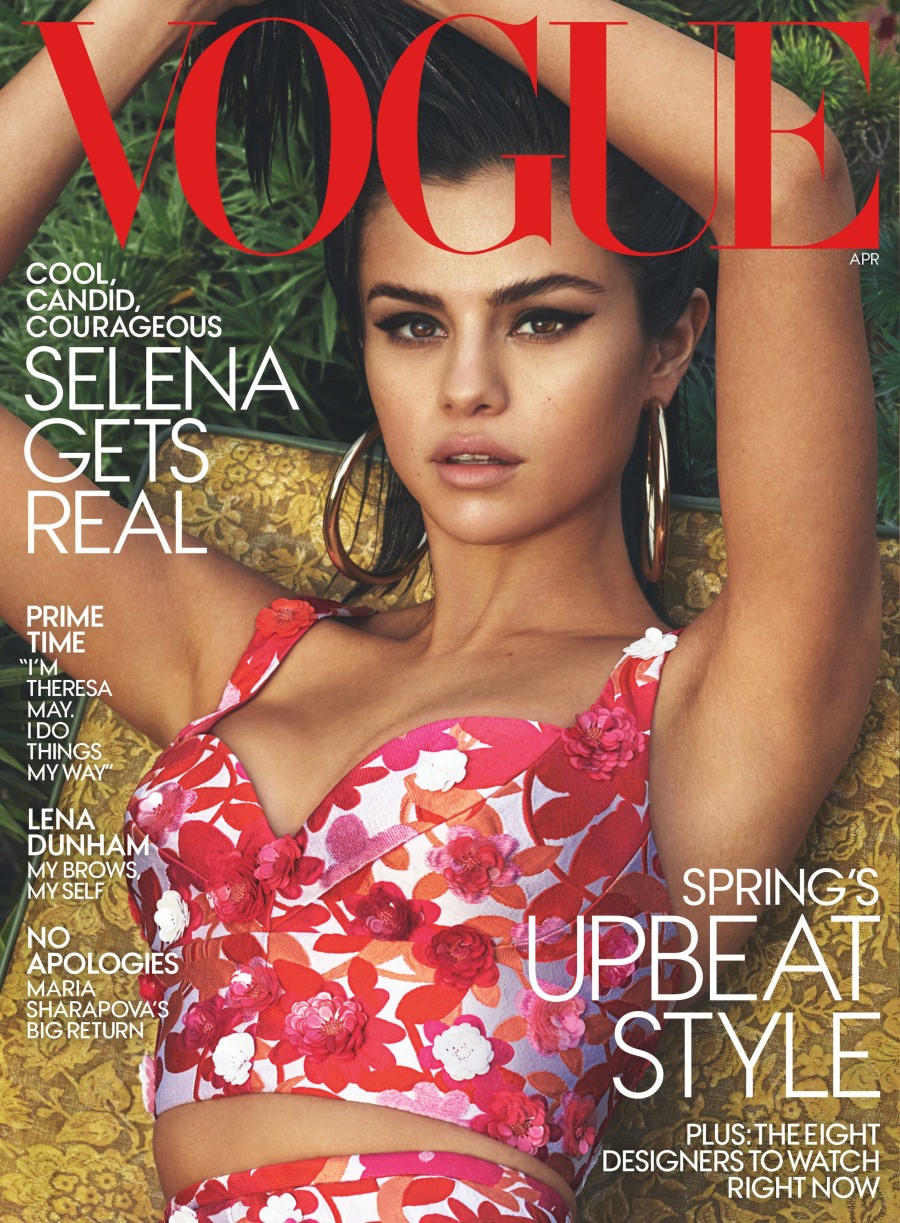 Selena Gomez is the April cover girl for Vogue (US). This is her first Vogue cover and… I don't hate it? The photos are pretty. The styling is pretty. She looks fresh-faced. Sometimes Vogue takes pretty young women and tries to make them look "hard" or avant-garde and it just falls flat. I'm glad that didn't happen here. The Vogue interview is pretty standard, at least in the scope of Selena's previous interviews. She's very "real." She eats real food. She has a lot of Instagram followers (which is noted by Vogue all the time these days). She's confessional. You can read the full Vogue piece here. Some highlights:
She's real: "People so badly wanted me to be authentic and when that happened, finally, it was a huge release. I'm not different from what I put out there. I've been very vulnerable with my fans, and sometimes I say things I shouldn't. But I have to be honest with them. I feel that's a huge part of why I'm where I am."

She always gives time to her youngest fans: "Somebody I used to hang out with would always get very frustrated with me," she says, presumably referring to Bieber, whose name she will not utter. "But I have a hard time saying no to children."

Being a Disney kid actor: "I worked with Disney for four years. It's a very controlled machine. They know what they represent, and there was, 100 percent, a way to go about things."

Moving past child stardom: "For a guy there's a way to rebel that can work for you. But for a woman, that can backfire. It's hard not to be a cliché, the child star gone wrong. I did respect my fans and what I had, but I was also figuring out what I was passionate about and how far I was willing to go."

She's off the grid a little bit: Gomez currently lives in an Airbnb in the Valley and honestly doesn't get out much, except for long drives with her girlfriends: a realtor, a techie, some folks from church. "I think seventeen people have my phone number right now," she says. "Maybe two are famous." She is taking Spanish, which she spoke fluently as a little girl but lost, in the hope of recording some Spanish-language music in the future. She sees her shrink five days a week and has become a passionate advocate of Dialectical Behavior Therapy, a technique developed to treat borderline personality disorder that is now used more broadly, with its emphasis on improving communication, regulating emotions, and incorporating mindfulness practices. "DBT has completely changed my life," she says. "I wish more people would talk about therapy. We girls, we're taught to be almost too resilient, to be strong and sexy and cool and laid-back, the girl who's down. We also need to feel allowed to fall apart."

She rarely uses Instagram anymore: "As soon as I became the most followed person on Instagram, I sort of freaked out. It had become so consuming to me. It's what I woke up to and went to sleep to. I was an addict, and it felt like I was seeing things I didn't want to see, like it was putting things in my head that I didn't want to care about. I always end up feeling like sh-t when I look at Instagram. Which is why I'm kind of under the radar, ghosting it a bit."

What she says about The Weeknd: When I ask Gomez about the romance, she tells me that everything she has said about her relationships in the past has come back to bite her, and that she will never do it again. "Look, I love what I do, and I'm aware of how lucky I am, but—how can I say this without sounding weird? I just really can't wait for people to forget about me."
There's a big part of the interview devoted to her three months "away," which is where she sought treatment for "burning out" (her words) after her last tour. She was exhausted and overwrought and she basically says she needed to have intensive therapy to decompress and learn how to not take sh-t so seriously all the time. I feel like this is cognitive dissonance though: "I just really can't wait for people to forget about me." Yeah, that's why you're on the cover of Vogue. That's why you're doing a big splashy romance with The Weeknd?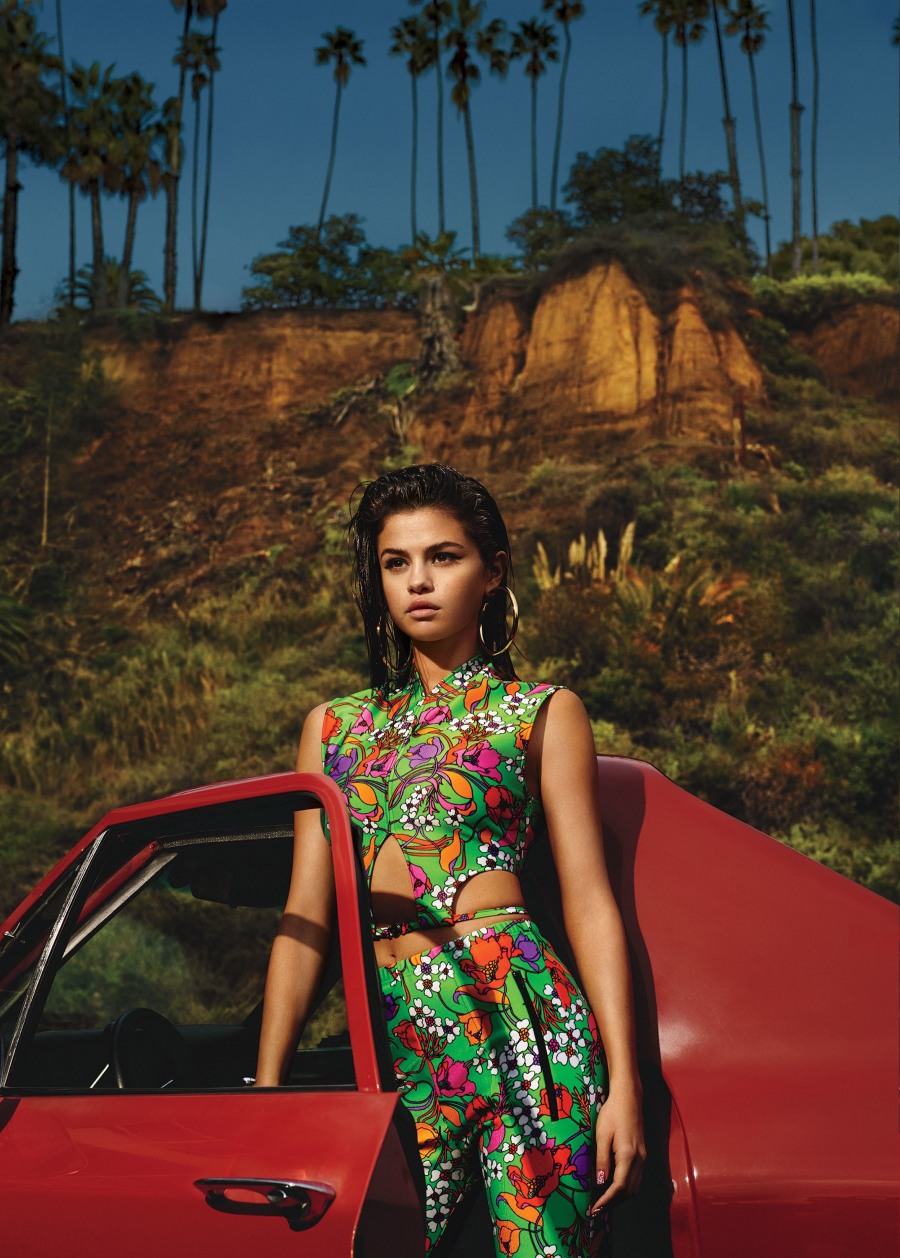 Photos courtesy of Mert Alas and Marcus Piggott/Vogue.