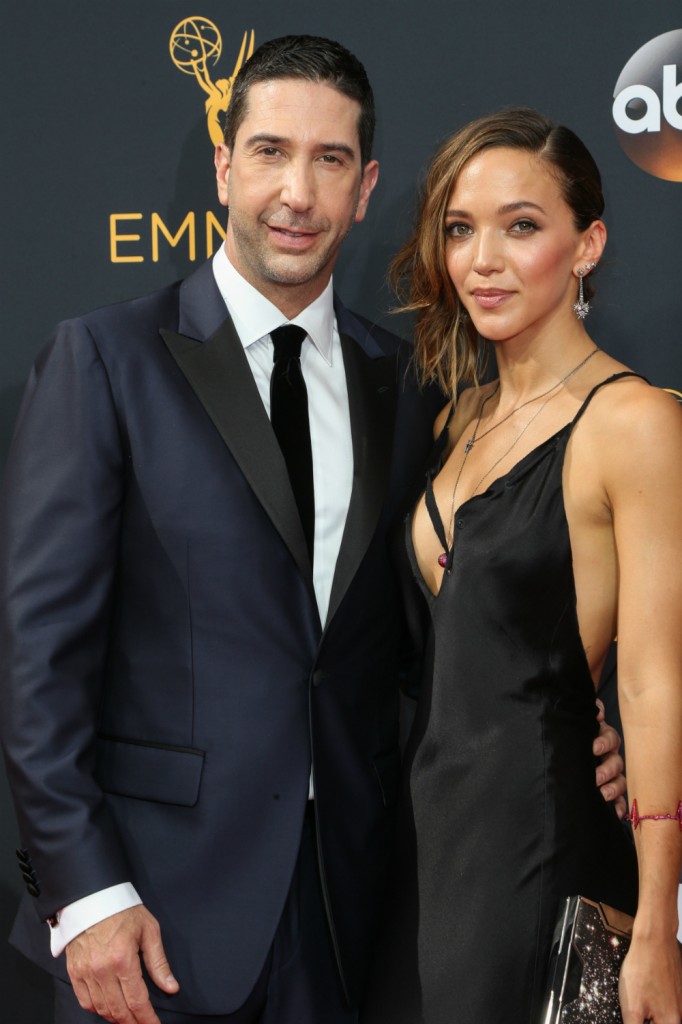 I feel like I need to qualify all my posts on Friends cast members with "you all know I am a Friends sycophant, right?" Being a… what – Friend-loonie? Friendophile? – I still root for them both professionally and personally to varying degrees. So this story bummed me out when I read it yesterday. David Schwimmer and his wife of six plus years, Zoe Buchman, who are parents to six-year-old Chloe, are taking some time apart.
David Schwimmer and his wife, Zoe Buckman, are taking some time apart after nearly seven years of marriage, the couple exclusively confirm to Us Weekly.

"It is with great love, respect and friendship that we have decided to take some time apart while we determine the future of our relationship," the pair tell Us in a statement. "Our priority is, of course, our daughter's happiness and well being during this challenging time, and so we ask for your support and respect for our privacy as we continue to raise her together and navigate this new chapter for our family."

The Friends alum, 50, and British photographer Buckman, 31, have been together for more than 10 years. They met when Schwimmer was directing the 2007 romantic comedy Run in London. She relocated to Los Angeles to be with the actor and the pair tied the knot in June 2010. It is the first marriage for both.
I don't have any issue with age gaps regardless of which partner is older if everyone is legal. But I do recognize that a large gap can sometimes factor into two people drifting away from each other. David and Zoe have kept their relationship fairly low-key so I doubt they will go to the press about what's going on beyond this statement. I'm bummed because I thought David returned to the mainstream mellower and less arrogant thanks in some part to Zoe. I want to believe taking time apart to think about the direction of their relationship is hopeful but let's be honest, this is Hollywood speak for, "once the settlement is ironed out, we'll flip a coin for who files first." I will, however, take the tone of the statement as evidence that they will not wage war publicly and will co-parent Chloe amicably because, well, Friends.
In much more positive news, David has partnered with his good friend, filmmaker Sigal Alvin, to launch a new campaign to combat sexual harassment. David and Sigal have filmed six short videos, all of which are based on real incidents, that depict the "grey area" of sexual harassment. Sigal had already launched a four-video series in Israel but reached out to David to bring something similar to American audiences. They enlisted several familiar names like Bobby Cannavale, Mamie Gummer, Cynthia Nixon and Emily Rossum. Each video "features a subtle moment in which the interaction changes, when each man… oversteps his boundaries in a way that completely demoralizes the woman he's talking to." The campaign is called #ThatsHarrassment and you can watch all six videos here. Trigger warning though. My stomach has been clenched since watching them.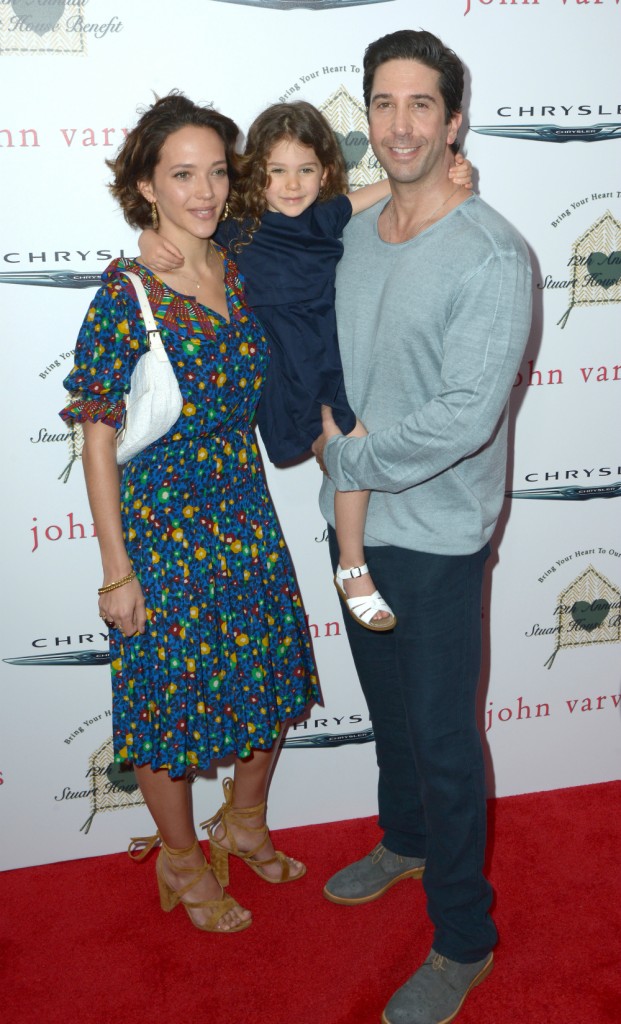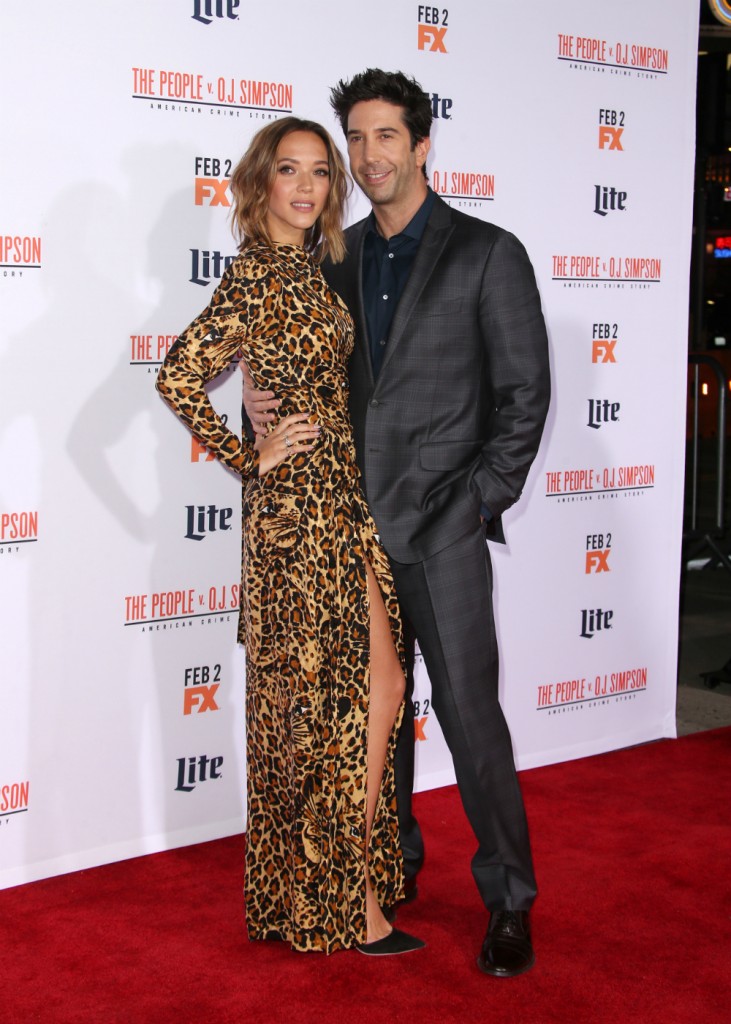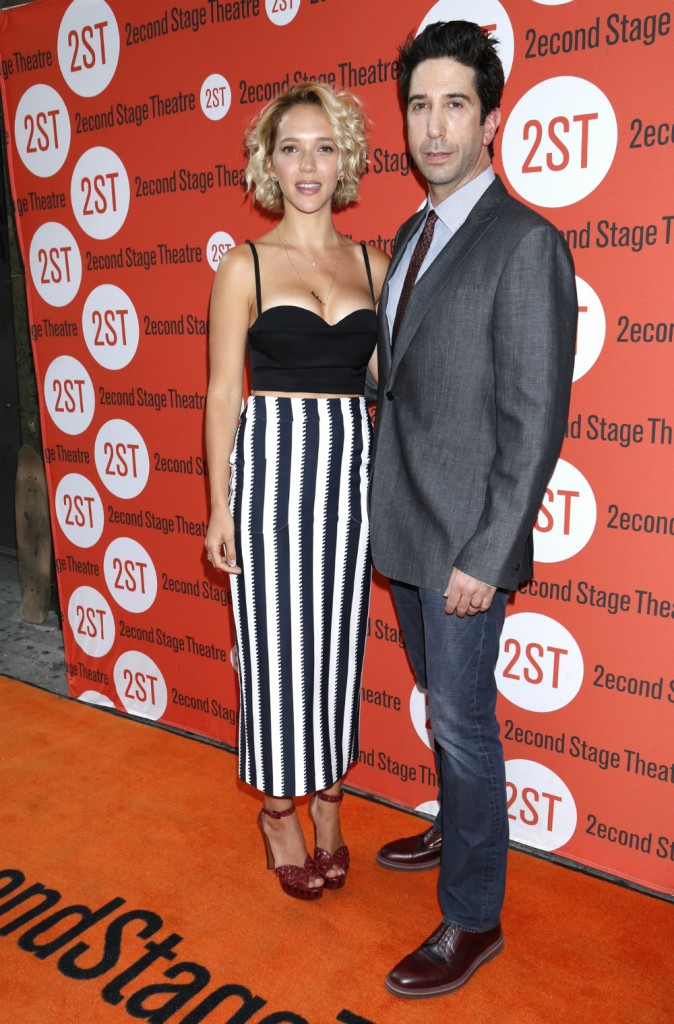 Photo credit: WENN Photos