I'm an avid gossip consumer, and ever since Us Weekly laid off a bunch of people and closed down their LA office, the Us Weekly site has been awful. It's been weeks now, and Us Weekly still hasn't found their footing as a weekly tabloid at all. It sucks because they used to break stories and get some decent scoops. And now we're left with this kind of crap: a cover featuring Spencer Pratt and Heidi Montag. Spencer and Heidi are pregnant. Which would have been Us Weekly cover-worthy in, like, 2008? But because Us Weekly is struggling, they gave Speidi a cover in 2017, and they got an exclusive photoshoot and interview. Some highlights:
Spencer on how Heidi told him she was pregnant: "The look on her face, I can't even describe it. She was literally glowing. I thought she was about to say she made muffins or banana bread. Heidi said, 'I'm pregnant.' I was like, 'Whoa, that's way more exciting than banana bread!' "

She's due in October: Montag, 30, who is 12 weeks along and due October 19, tells Us she felt "overwhelmed" in the moment: "I started crying, and he embraced me."

Check out Spencer's job description: "Heidi has wanted to be a mom since the day I met her," says Pratt, who sells crystals online. "She has planned for and thought about this."

Heidi on why they waited: "I wanted a baby three years ago. Spencer was a little hesitant. Then one thing after another came up. We had work obligations, like Celebrity Big Brother in the U.K., which I did not want to be pregnant for. I'm actually really thankful we waited. I thought I was ready in my twenties, but with everything we had going on, it just wouldn't have been a good situation for us.

Why she thought she was pregnant: "I felt nauseous and I wanted to know, so I took a pregnancy test. I was so shocked; Spencer wasn't. He was so sure it would happen right away. He was like, "You're going to get pregnant the first time we try." It happened the first month!"

Her cravings: "At first I wasn't craving anything because I was so sick, but now it's salt-and-vinegar potato chips. I could eat a bag of them a day…. And Sour Patch Kids! I try to eat healthy, organic versions of them. But it's not the same!

They don't know the sex yet but Heidi wants a boy: "I'm hoping for a boy. I've always wanted a boy first — Yep. First! I'd love to have a son and for the Pratt name to continue."
Well… at this point, they're sort of harmless. They're former reality stars who still know how to hustle and overshare if someone deigns to give them attention. He sells crystals, she… gets pregnant and presumably negotiates their Us Weekly exclusives. All is well. And I hope Heidi doesn't have any health drama with this pregnancy, especially considering all of the crazy sh-t she had done to herself in 2009/2010.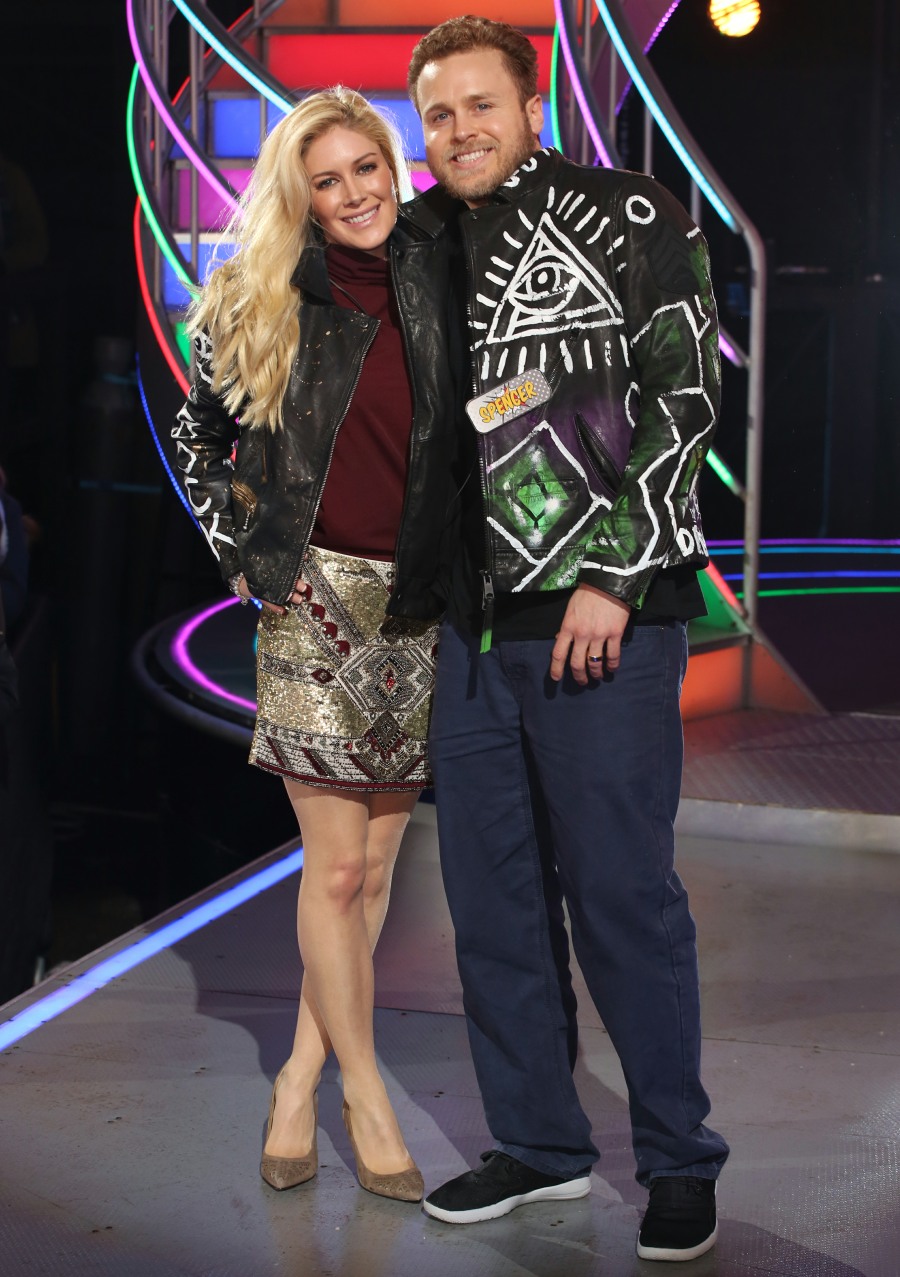 Photos courtesy of WENN, cover courtesy of Us Weekly.