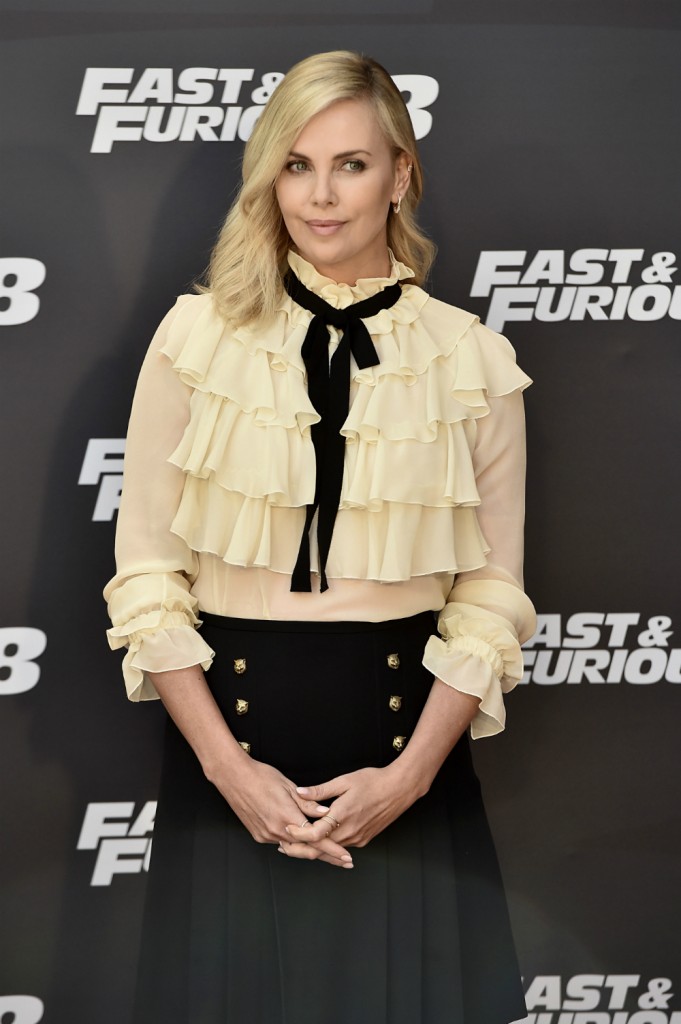 As Kaiser said, Charlize Theron is really earning her stripes for her The Fate of the Furious promotion. Wednesday she stopped by Ellen DeGeneres' show and brought her two kids, Jackson, 5 and August, 1, to watch backstage. As some of you may know, Ellen has a long-standing war on glitter. So, as is often the case, she asked Charlize where she stood on glitter in her home. Charlize admitted that although she didn't buy it, it was still all over her house. I can attest to this, apparently glitter is a by-product of children production. For people like me, this is an annoyance. For people like Charlize, who has OCD, it can become more of a challenge. Charlize said, though that having two kids has actually lessened her anxiety about some of her OCD issues.
"My kids are for more glitter," Charlize, 41, told host Ellen DeGeneres. "There is way too much of it in the house. I don't buy it, but it's on those costume dresses. A lot of times I'm walking through my house thinking I'm going senile, because I have a little OCD thing. I'm like, 'Where is this glitter coming from?' And It's those princess dresses."

Since first becoming a mom in 2012, "I've gotten a little bit better," Charlize continued. "My kids definitely help me be less anxious about a lot of that stuff. There are certain rooms that I let go and I've given up on, [but] they're allowed everywhere! Really, I am very lucky to live in our house, and they are just very nice to have me there." Realizing her kids were watching the show backstage, Charlize told Jackson and August, "You guys are very good, and I appreciate it."

Though she's a single mom, Charlize said she has "an incredible village" of people who help her raise "these two beautiful kids." As most moms would agree, it "just takes a moment" to get things in order sometimes. "In the mornings I have them alone and they kind of work against each other sometimes. It's like one decides to freak out and then both decide to freak out. I don't know why they'd do that," Charlize told Ellen. "You'd think they'd stand there and be considerate and go, 'That one's freaking out right now; I'm not going to freak out. I'm going to be nice. I'm just going to chill out and have my mom deal with that.' But they don't do that."

Ellen joked, "You really don't know anything about children."
Disclaimer: my son has recently been diagnosed with OCD and I am just beginning to learn about it, so I apologize for my rudimentary knowledge on the subject. When I watched the interview, I didn't know if Charlize was using the term "OCD" just to mean she was a neat freak, because that was kind of how it read. But no, Charlize has spoken about her OCD often. Her specific anxiety is "hidden chaos," such as messy closets that people just shove things in and close the doors. I find it fascinating, in a hopeful way, that having children has lessened her anxiousness. This probably wasn't the venue for a full discourse on the topic but I would be interested to hear more on this from Charlize. According to this site, for those with extreme OCD becoming a parent can present problems. But for those who suffer from mild cases of OCD, like Charlize, it does in fact lessen the symptoms. It is believed that in these milder cases, the person's focus is diverted from the symptoms to the children.
None of this, however, is an acceptable excuse for glitter toleration.
As for the part about thinking the kids should be considerate and sit out each other's freak-out – I know it's a joke on her part but I'll be damned if I haven't thought the exact same thing. Like my children weren't old enough to figure out forks don't belong in their eyes and I thought they should willfully choose not to melt-down simply because I'd had a rough morning. I don't know how many hours I wasted asking a baby, "can you just not?!?" (BTW, the answer to that is almost exclusively "no.")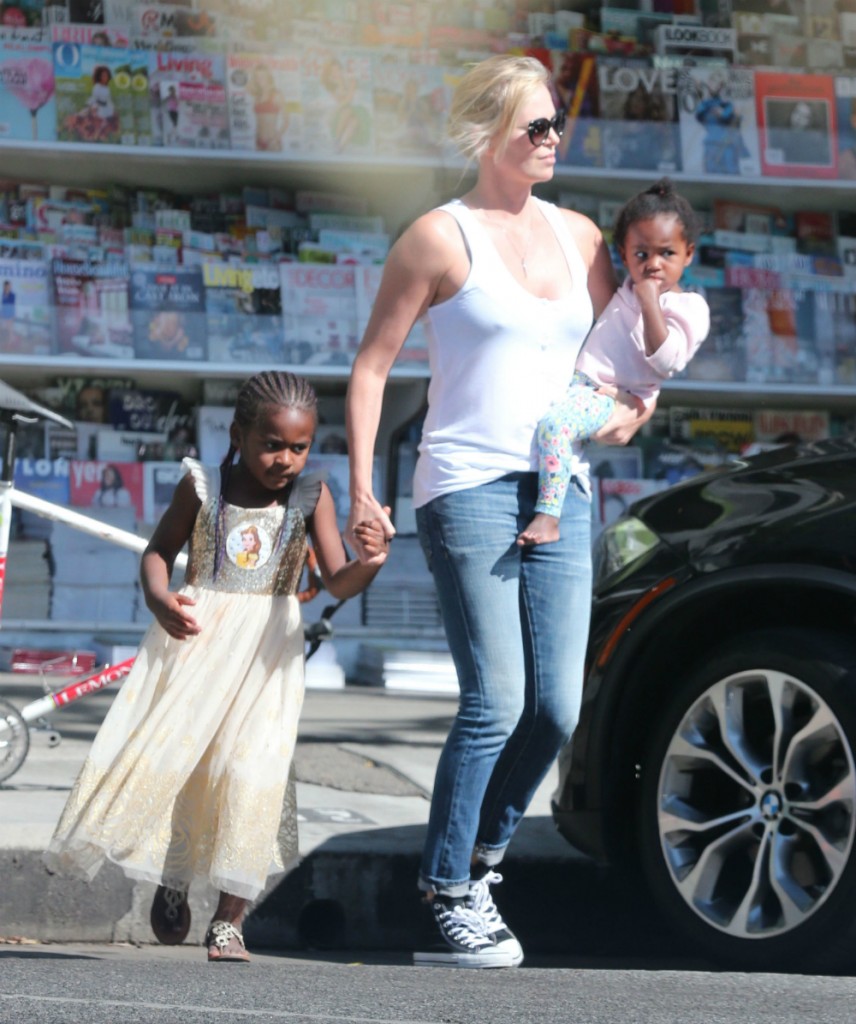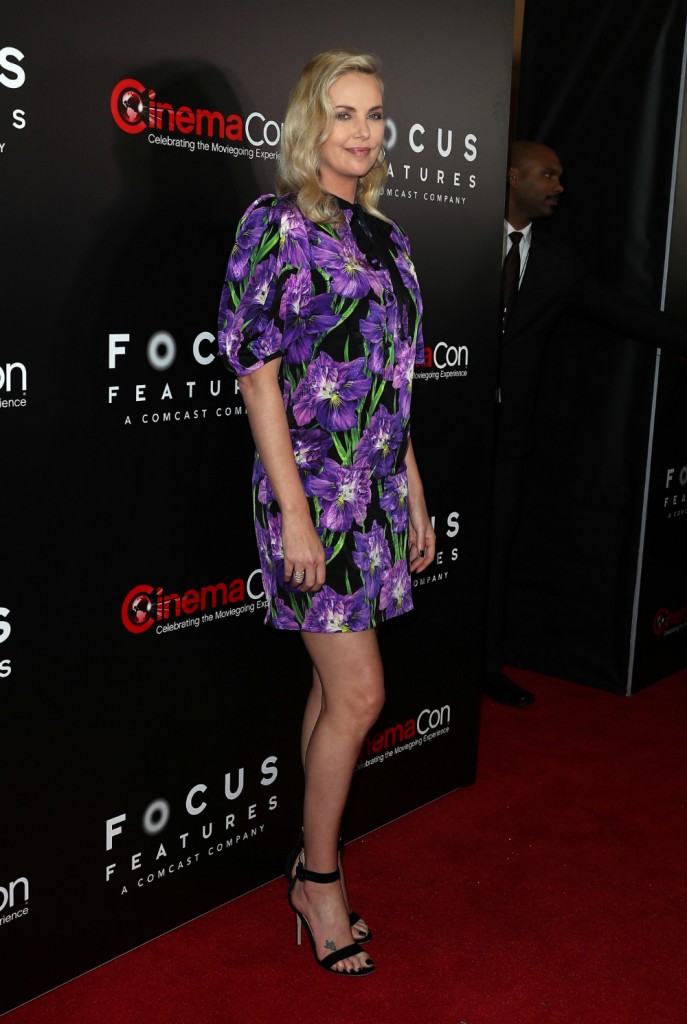 Photo credit: WENN and Fame/Flynet Photos