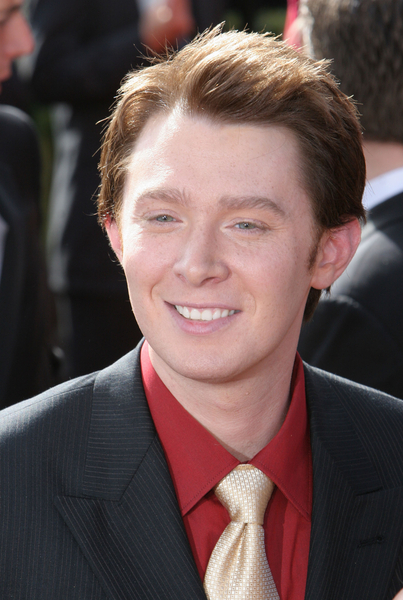 Clay Aiken is one of those celebrities that annoys the crap out of me – and as a result, I tend to pay attention. I think that's the same angle a lot of famous people take to get attention. His whole "I must expose my feet every chance I get" thing really freaks me out, but I can handle it. But thinking he's sexy? That I just cannot take. Apparently part of Clay's new repertoire involves a brief cover of Justin Timberlake's now-classic "SexyBack." My God, I hope he doesn't cover JT's "Dick in a Box."
Did you notice that as the video cuts out, he starts in on a cover of Billy Ray Cyrus's "Achy Breaky Heart?" That's a bit more acceptable. What would make Clay think this is okay? And isn't he loudly, annoyingly conservative Christian? Emphasis on the conservative? The guy really is an enigma. The "sexy" faces he makes are priceless. Clay, I don't care whether you're gay or straight, I don't care whether you ever tell us if you're gay or straight, I just care that you never do this to the internet again.
In slightly less horrifying Clay Aiken news, the red-headed sex machine will appear on an episode of Fox's "Are You Smarter than a 5th Grader?"
"We know Clay Aiken has a voice, but how's his brain? We'll find out when he appears on 'Are You Smarter Than A 5th Grader?'

"Aiken will try to win money for his foundation that runs a camp for kids with developmental disabilities. If he answers all his questions correctly, the foundation will get a million dollars.

"Aiken will tape his appearance August 28th. No air date has been set yet."
[From ABC affiliate abc13.com]
I really hate it when otherwise contemptible celebrities do something good. Like having charities for kids with developmental disabilities. Stupid Clay Aiken. You're so good, and so bad, all at once.
Picture note by JayBird: Here's Clay at the Emmy Awards in 2005. Images thanks to PR Photos.