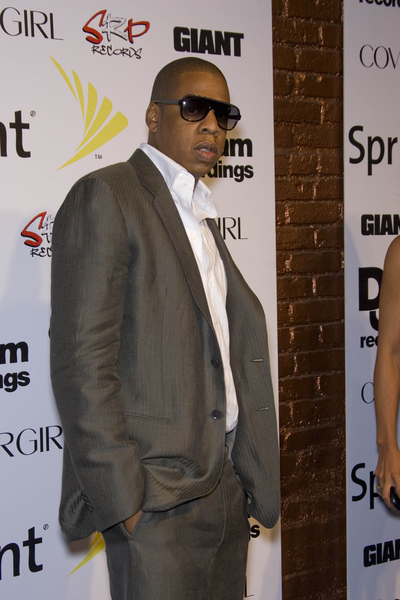 If you're anything like me, you were probably sitting around, looking at your wall, and thinking, "Mirror mirror on the wall, who's the richest rap mogul of them all?" If your mirror said Jay-Z, you should give it some Windex. Jay-Z was just named the richest rapper by Forbes.com. I thought they were supposed to spend their time talking about financial markets, stocks, and making people panic over real estate. But it seems that lately, Forbes is spending the majority of their time coming out with "The richest…" lists. Last week they had "The richest bald man" and "The richest one legged farmer." Okay not really, but I would read Forbes a lot more if they did. Okay not really.
"Jay-Z wins all around, says Forbes.com. He's got Beyonce on his arm _ and more millions than 50 Cent and Diddy. The rap icon, aka Shawn Carter, is No. 1 on the site's list of "Hip-Hop Cash Kings," based solely on 2006 income. He banked an estimated $34 million, Forbes.com said Thursday.

"Jay-Z, president and CEO of Def Jam Recordings, released his 11th studio album, 'Kingdom Come,' which sold around 2 million copies. Jay-Z, 37, is also part owner of the New Jersey Nets and has endorsement deals with Budweiser, Hewlett-Packard and General Motors."
[From Forbes.com]
It might be good to be Jay-Z – yeah you have a lot of money, and Beyonce at your beck and call singing that "Cater 2U" song (blech) – but you'd also have to deal with that crazy mother of hers, Tina Knowles. You know, that lady that's always trying to drape people in the fur of live puppies? Well her clothing line is one of the few out there that still uses fur, and to me it's all the same thing. Who else makes a lot of money and doesn't come wit the bizarre mother?
"Curtis '50 Cent' Jackson ranks second with an estimated $32 million. The 31-year-old rapper-businessman oversees his G-Unit record label, clothing line, ring tones and other enterprises, and has sold more than 11 million albums. His latest record, 'Curtis,' is due out Sept. 11.

"Diddy (real name: Sean Combs) placed third with an estimated $28 million. A fashion plate, he has a clothing line, Sean John, and heads Bad Boy Worldwide Entertainment and its record label. Diddy, 37, is also host of MTV's 'Making the Band' series.

"Rounding out the top five are Timbaland ($21 million) and Dr. Dre ($20 million). They're followed by Eminem ($18 million); Snoop Dogg, Kanye West, Pharrell Williams and Scott Storch (all $17 million); Ludacris and T.I. (both $16 million); Outkast and Lil Jon (both $14 million); Ice Cube ($13 million); Jermaine Dupri and Swizz Beatz (both $12 million); Chamillionaire and The Game (both $11 million); and Young Joc ($10 million)."
[From Forbes.com]
You could be at the bottom of that group and still be doing pretty well for yourself. I have no idea who Swizz Beatz (sounds like the name of a cheap watch) or any of the guys after him are, but I'm pretty sure I could learn to love them, given the chance.
Picture note by JayBird: Here's Jay-Z and Beyonce at the Black and White Ball. Header image of Jay-Z at Giant Magazine's celebration of Rihanna's new album on June 3rd. Images thanks to PR Photos.