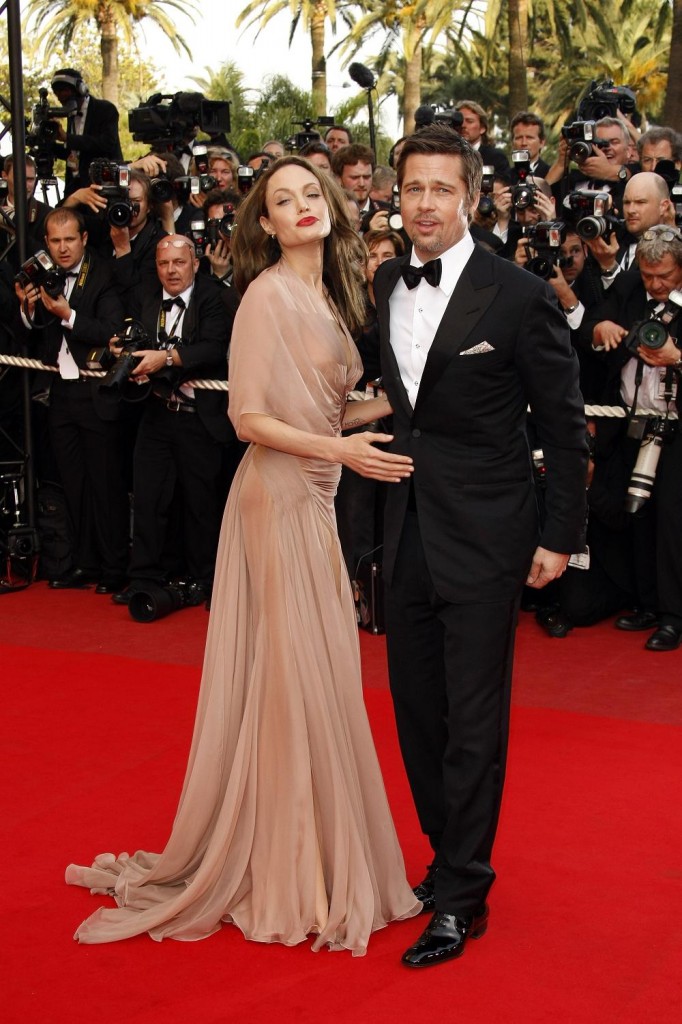 In Touch's cover story this week (or really, next week's issue) is yet another "Impending doom for Brangelina" story. This time, the cover blares out "Now Their Fight Becomes Public," although the inside headline is "Their Private Fight Is Now Public"… fascinating copyediting. Though it has some elements of their previous doom-filled stories about Brad Pitt and Jennifer Aniston reuniting to throw massive pity parties together while Angelina sulks in a dark corner, the bulk of the story focuses on how Brad and Angelina were fighting constantly during their trip to Cannes. Earlier today, we reported on both Star's and the National Enquirer's versions of the Cannes trip, both reporting that Brad and Angelina seemed like they were "back in love".
Hilariously, the story includes a massive amount of "photo evidence" from the Cannes red carpet and the after-party Brad and Angelina attended. I was cracking up reading it because of all of the little creative titles the In Touch editors gave to the photo arrays. Stuff like: They're so stiff, Looking stressed, Angry Words, Brad's the life of the party, Brad ignores Angelina, He drinks away his nerves, Angelina gets tipsy, She's with another man, They're kisses were so forced. I feel like the In Touch editors write haikus in their spare time, so I'll try one too:
Angelina, stiff
Brad's the life of the party
Angry words, tipsy.
There's a lot of material here, so I'll just do the first part of the cover story, the part where In Touch's writers and "sources" seem to be the only people who saw this massive red carpet fight between Angelina and Brad:
Brad Pitt and Angelina Jolie usually look like the perfect couple when they are on the red carpet, but as they made their entrance at the Cannes International Film Festival, onlookers at the premiere for Inglourious Basterds on May 20 saw steely glances and overheard heated words exchanged between the two stars.

And onlookers and insiders alike tell In Touch that Brad and Angelina are so unhappy, they can't hide their disdain for each other in public anymore.

According to a source, before the premiere Brad and Angelina got into a blistering fight while they were getting ready.

"Brad was trying to ignore her, but Angie kept making nasty comments about how she didn't want to be there," says a source. "She was pushing his buttons as only she knows how."

Brad couldn't contain his annoyance…[when asked] by an interviewer how he was enjoying Cannes, Brad smiled tightly and said, "It's good fun, man. It's good fun to be here with Quentin," referring to Quentin Tarantino. But when a fuming Angelina walked up behind him, Brad hastily added, "and this lovely lady."

The pair then took a few "very forced and awkward" pictures for photographers… then Brad left Angelina standing alone and posed with his co-star Diane Kruger for 10 minutes, putting his hand on the samll of her back and gazing adoringly at her.

"Angelina looked so angry," an onlooker tells In Touch. "She seemed humiliated."

[When Brad] paid more attention to Diane, [Angelina] was gripped with jealousy. Making matters worse, Brad had once revealed to Angelina that Diane had a crush on him when they filmed Troy together… [when asked about working with Brad again last October, Diane said] "I'm extremely excited… he's great. I'm really happy about it."

Angelina could not hide her envy on the red carpet, a witness says, and complained under her breath when he finally left Diane's side. "She hates when women swoon over him," a source tells In Touch. Brad tried to contain himself, but the witness says, "Everyone saw the tension and was making comments."
[From In Touch, print edition, June 8 2009]
Oh my God, Brad posed for pictures with his costar and Angelina is totally going to leave him because of it! Right. As for the first part, where they're talking about how Angelina was making "nasty comments" to Brad as they were getting ready, I have two points. First, who told In Touch this? Someone in the room? Because it sounds like it was just Brad and Angelina in the room. Secondly, In Touch has a little pullout "story" on how Brad and Angelina were staying/sleeping in different rooms in their villa. So… if that's true, why were they getting ready in the same room? Or was the separate rooms thing bullsh-t? It's so hard to keep up. As for the entirety of the red carpet analysis about how they were fighting and acting pissy – why was In Touch the only one who saw it?
Here's Brad and Angie at Cannes on 5/19/09. It's hard to find any pictures of these two looking anything less than absolutely in love on this trip. Images thanks to WENN.com .