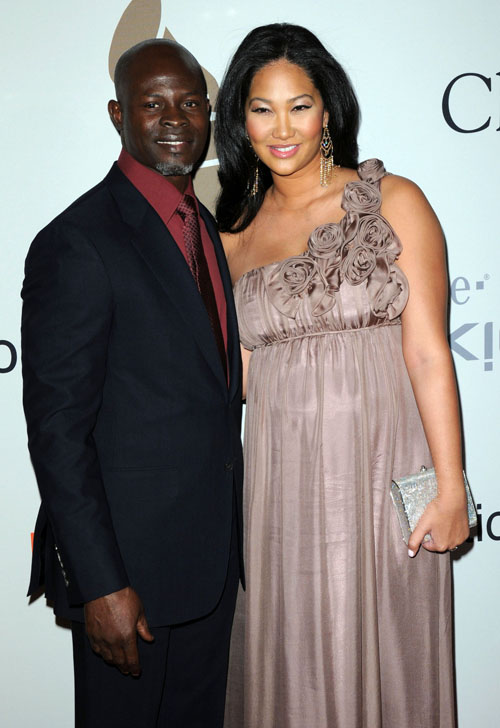 Kimora Lee Simmons and her boyfriend, Oscar-nominated actor Djimon Hounsou, have welcomed their first child together, a son. Their son was born Saturday, May 30th, and no name has been released thus far. The little boy joins his big half-sisters Ming and Aoki (Russell Simmons is their dad). This is Djimon's first child, as far as my research shows. My research also shows that Djimon's middle name is Gaston, which is totally hot. I'd imagine Kimora whispers "Djimon Gaston" to him when they're in bed. But I digress.
Even though I consider Kimora Lee Simmons one of the biggest famewhores out there, I have to give her a lot of credit for keeping her relationship with Djimon Hounsou on the downlow. Allegedly, they've been dating for more than two years, and you rarely, if ever hear anything about them. There was the initial announcement of Kimora's pregnancy in January, and some rumors that she and Djimon got married (they didn't, as far as I can tell). The last thing I can remember was a report from April about the baby shower they threw – other than that, they've been flying under the radar. This surprises me for two reasons – Kimora is first, a tireless self-promoter and second, when you're sleeping with Djimon Hounsou, how are you not telling everyone you meet? Well, now she has the proof:
Kimora Lee Simmons and actor Djimon Hounsou have welcomed their first child together.

"Kimora and Djimon are the proud parents of a new baby boy," her rep tells Usmagazine.com. "Both mother and child are doing great."

Simmons, 34, also took to her Twitter page to confirm the news. She wrote, "It's a boy! Thanks to everyone out there for all your well wishes! More to come. Thank God. And God Bless! Kimora + Djimon Love & Light, KLS"

No baby name was announced.

Simmons has two daughters, Ming Lee, 9, and Aoki Lee, 7, with hip-hop mogul Russell Simmons, whom she divorced in 2008 after nearly 10 years of marriage.

"I have a lot of hang-ups in life with men. I'm not very trusting," she told Harper's Bazaar last year. "After my breakup, I thought, 'I don't need anything.'"

But after meeting Hounsou in February 2007, she said, "I have someone who has the heart, the soul, and the hotness."

Added Hounsou , "My first impression has always been the same, that she's a very beautiful lady, very capable and intelligent and smart with great family values. She's the least high-maintenance lady I've ever dated."

Asked if she wanted more kids, Simmons previously told Us, "I would love to. I practice everyday."
[From US Weekly]
"She's the least high-maintenance lady I've ever dated"? This poor bastard has had the misfortune of dating women more high-maintenance than Kimora. Poor Djimon. No, no, I won't go there. I'm sure they're very pleased, and it's good to hear mother and child are happy and healthy. After naming her girls with Asian-influenced names, I bet the little boy gets an African name, to honor Djimon's Benin roots.
Kimora Lee Simmons and Djimon Hounsou are shown on 2/7/09. Credit: WENN.com