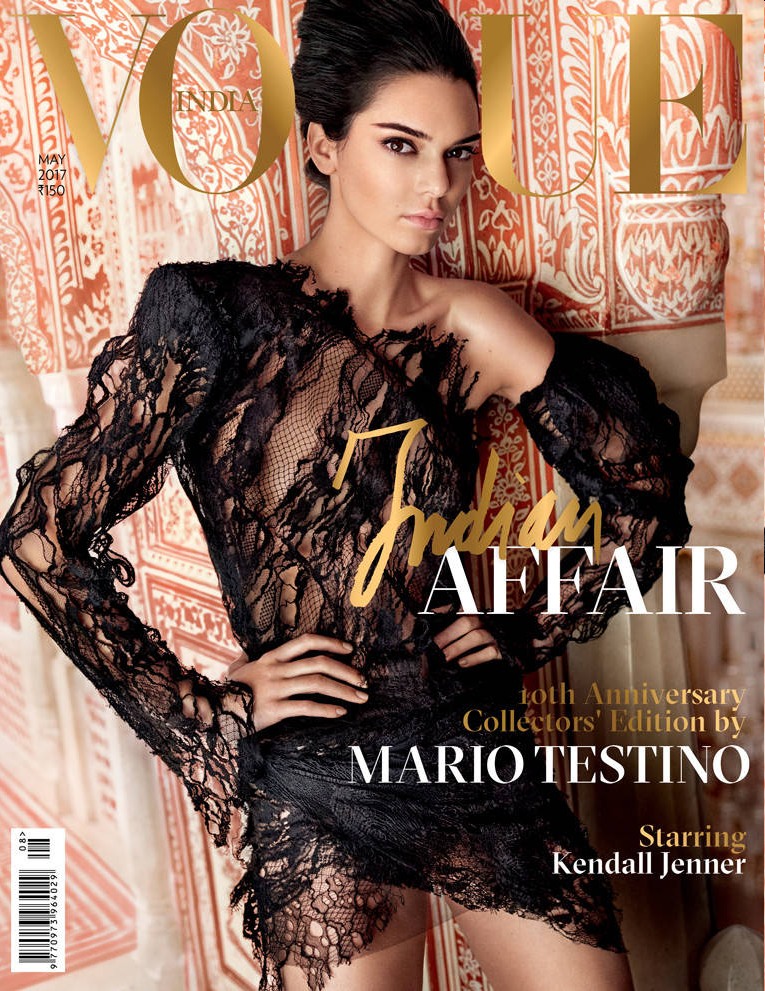 Sometimes I feel like I'm "bad" on some of the hot-topic or cultural-sensitivity issues for Indians and Indian-Americans. Like, some people wanted me, an Indian-American woman, to have a strong opinion about pop stars like Beyonce or Iggy Azalea doing Indian-themed music videos. Or, I should have have an opinion on white women in saris or shalwar kameez or whatever. Personally, I don't mind it when non-Indians wear traditionally Indian styles, nor do I mind when white people enjoy Bollywood-type events and the like. Granted, it's a cultural-appropriation slippery slope, and all of this would be different if someone was doing brownface, or using traditionally Indian clothing in a mocking way.
So what is happening here? Kendall Jenner got the cover of Vogue India's 10th anniversary issue. Vogue India often puts Western and American celebrities on their covers, as do many of the international editions of Vogue. So it doesn't surprise me to see Kendall on a cover of any edition of Vogue in general, although you would think for the tenth anniversary special edition, they maybe should have gone with an Indian celebrity? Maybe? That's why this is being criticized, because what does Kendall even know about India and why is this white American woman on the cover?
Vogue India's latest cover girl is a bit off-brand. The magazine chose American supermodel Kendall Jenner as the face of its 10th anniversary issue, prompting a number of readers to vent their disappointment.

"Vogue "India," celebrating its 10th anniversary in "India," in a historic Indian palace…featuring an American model …..is it just me or did @vogueindia failed to see the irony in that…" one reader commented on Instagram. Other commenters accused the magazine of "terrible marketing" and called out an alleged "hunger to become more westernized." They also suggested alternative cover models such as Indian actresses Priyanka Chopra or Deepika Padukone.

According to Women's Wear Daily, the spread was shot by in Jaipur, India, and also features Indian actor Sushant Singh Rajput. Famed photographer Mario Testino took the pictures.

Vogue India has not addressed the social media uproar. Jenner has yet to post a photo of her Vogue India cover — another issue readers are criticizing.
Again… I would have had no issue with Kendall appearing on the cover of Vogue India. It happens all the time – white American women are put on the covers of international editions of Vogue all the time. And I'll give Vogue India a little bit of credit in that… at least they didn't make Kendall look like a caricature of Indian women. I think the problem here is that this was a special anniversary issue and that Kendall was the wrong choice for a special edition. This is not inclusion, especially for a publication which is supposed to represent the Indian market.
Photos courtesy of Mario Testino/Vogue India.