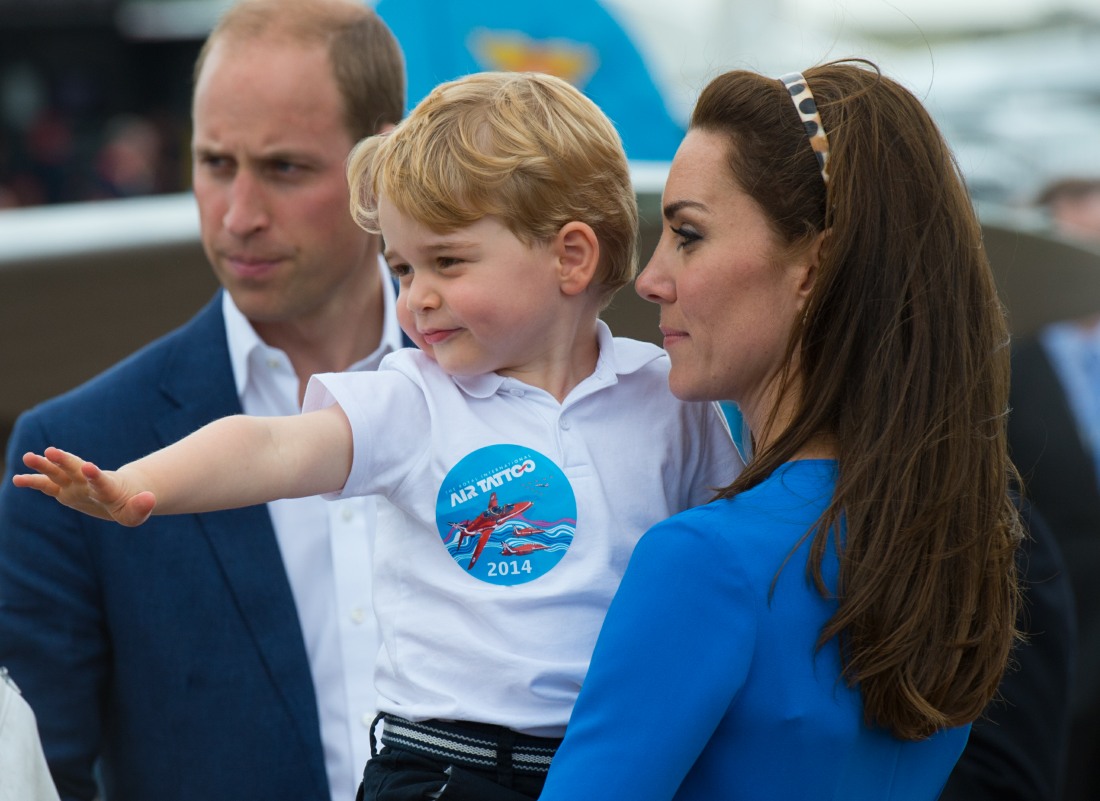 In the wake of Prince Philip's retirement from public duty, a lot of British outlets have been writing stories about how William and Kate will totally pick up the slack and for real this time, this is the year that they will really begin to make some changes. They made a big deal around the holidays about how they were going to move to London in September and William was stepping down from his part-time job as an air ambulance co-pilot. Except… William and Kate keep insisting that Anmer Hall is still their "primary residence," but whatever. They're coming back to London and Prince George will be going to big-boy school at Thomas's Battersea School in London. Except that school is actually pretty far away from Kensington Palace.
When Prince George arrives for his first day at Thomas's Battersea School in London this fall, his parents will be right there with him. Prince William and Princess Kate are hoping to drop George off and pick him up from school "as much as possible," a royal source tells PEOPLE in this week's issue.

The $23,000-a-year Thomas's Battersea is about four miles south of the family's London home, Kensington Palace, and will take about 30 minutes to get to in rush hour traffic.

"Their Royal Highnesses are delighted to have found a school where they are confident George will have a happy and successful start to his education," the palace said in a statement after they announced William and Kate's school plans for George in March.

And Princess Charlotte may also be heading to school soon. George enrolled in at Westacre Montessori School near the family's country home, Anmer Hall in Norfolk, in January 2016, when he was two and a half years old. Charlotte could either follow in her big brother's footsteps come fall, or, like George did, begin next January. Though Charlotte could attend Thomas's Battersea as well (it's co-ed), Louise Livingston, director of training at the Maria Montessori Institute, where many of George's teachers studied, says that many families who send their first child to a Montessori school want their other children to have that experience, too.

"Most people who put their children in Montessori for their first child would not dream of putting their child anywhere else," says Livingston. "This is what feels natural."
There's been a lot of conversation about why Will and Kate chose Thomas's Battersea, and I have my theories too. Like, I believe Kate doesn't want George to grow up in cloistered, all-posh environments. I also believe Kate is personally uncomfortable sending her children to the same schools as the aristocrats – the same aristocrats who largely shunned her throughout her life. And I believe that Kate knows she'll eventually have to send George to Eton, but for now she wants George and Charlotte to have the chance to go to the same co-ed school. And now I know there's another reason for the Thomas's Battersea choice: it's another perfect excuse for Kate to not really work that much. Where's Kate? Oh, she's off doing endless school runs for an hour every single day. Isn't there a school just down the street from Kensington Palace? Poppycock, you peasant! Only the truly elite need to spend 30 minutes coming and going just for the school drop-off.
Photos courtesy of WENN, Getty.