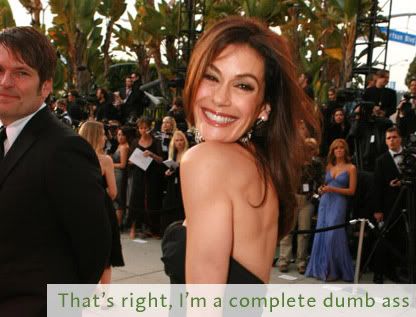 George Clooney has a long-standing reputation as a complete asshole when it comes to women. They only thing constant in Clooney's life is his potbellied pig, and even the pig is on the outs.
That's why Teri Hatcher is a fool for falling for her handsome neighbor after only a few weeks of dating. Page Six reports that Hatcher told her sad tale of childhood abuse in an erroneous attempt to share her pain at getting dumped by Clooney:
The magazine reports the unidentified star who bedded and dumped Hatcher left her so emotionally shattered that she could no longer keep from talking about her evil uncle.
"Mystery Man" was none other than Clooney, a well-placed source tells Page Six. He dated Hatcher briefly beginning in January, when we first reported they'd gotten cozy, but he dropped her soon after.
"The debacle with Mystery Man . . . made the parallels between her romantic failures and the legacy of her sexual abuse seem too obvious to ignore," Vanity Fair's Leslie Bennetts writes.
Teri, you dumb ass, you can't change men. It's also really, really lame to try to get a guy's attention by being weak and needy. That's why they leave in the first place. We all did this at one point in our dating careers, but Hatcher is old enough to know better than to make such a calculated and public mistake.