When we last spoke about Playboy centerfold Dani Mathers in November, she had just learned that the LA District Attorney wanted to put her in jail. To refresh your memories, Dani thought it would be giggle-worthy to post a picture of a fellow LA Fitness gym member who was both naked and unaware she was being photographed. The whole point of posting the pic, which you can see a censored picture of here, was to publicly shame the woman because Dani is a vapid mean-girl with no moral compass. At the time, Dani tried to wiggle out of any punishment by posting a ludicrous apology that implied 1) she'd posted it by accident, 2) she couldn't possibly be shaming the woman because she, Dani, is all about body positivity and acceptance and 3) it was really our fault for misunderstanding her intent for posting. Unfortunately for Dani, no one bought her apology and the case went forward. With her court date looming, Dani tried once again to have this thing tossed out. Her latest attempt was to have it chucked because the law she is being accused of breaking is "too vague to be constitutional." Dani and her counsel are trying to suggest that they shouldn't get in trouble because the law says the person has to be identifiable and it took LA District Attorney "a lot of hours" to find the victim.
Playboy model Dani Mathers' eleventh-hour attempt to avoid trial in her peeping Tom case was a bust Monday.

A Los Angeles judge denied the 30-year-old's defense motion claiming the privacy law she's charged with violating is too ambiguous to be constitutional.

"The court finds the statute is constitutional and not void for vagueness," Judge Gustavo Sztraicher ruled.

Trial was tentatively set to begin May 26, the judge said.

Playboy's Miss May 2014 was charged with misdemeanor invasion of privacy under a California law that prohibits the secret recording or photographing of an "identifiable person" in a home, changing room or tanning booth without the subject's consent.

In her motion denied Monday, Mathers claimed the wording of the law is too fuzzy to be enforceable. Her argument focused on the definition of "identifiable person."

"This was a far-away shot, and the victim, her features cannot be identified," defense lawyer Dana Cole argued Monday.

He said it took "a lot of hours and a lot of work" for Los Angeles Police to finally find the woman.

Los Angeles Deputy City Attorney Chadd Kim scoffed at Cole's "illogical, circular" argument, saying it's for a jury to decide whether the woman was "identifiable."

Cole scored a small victory when Judge Sztraicher agreed with him and said a prior court erred when it "impermissibly lowered" the standard of proof in identifying alleged victims to "preponderance of evidence," not "beyond a reasonable doubt."

"That's a good ruling," Cole told the Daily News after the hearing.

When asked if Mathers plans to testify at trial, he said, "Oh yeah, definitely."
Oh yes, I cannot WAIT for Dani's testimony. I hope that sh-t is televised. I assume there will be tears, replete with a lace hanky dabbing her perfectly lined eyes. She'll clutch her throat as she becomes more apoplectic with the idea that she, a sweet, compassionate working model would ever want to make fun of a person – especially based on their appearance! Talk to the hand, Bish – you know the one holding the giant book that's about to be thrown at you? She's already been denied a plea in the case because of her lack of remorse. She's not motivated by any sort of humility, she simply doesn't want to get in trouble for what she did. I bet on some level, she doesn't even think she did anything wrong, that it was just harmless fun and people are picking on her. Seriously, this is how clueless she is, she posted this just two weeks ago:
I'll be over here character building, what're you doin today?! More people should be concerned w/ their character than they are these days🙄 pic.twitter.com/C3v60k1aw9

— Dani Mathers (@DaniMathers) May 6, 2017
When she got called her out her hypocrisy, she had the audacity to respond by saying she's, "never body shamed a person in my life. But I'm glad you believe everything the tabloids tell you." No, Dani, we believe everything we saw when you posted it.
I am a little curious about her attorney situation. What happened to Tommy Mesereau? He was still on this case as of this February. Dude, if Mesereau can't keep you out of jail, you best start collecting your concrete cell reading material, chicka.
Dani continues to post nuggets of positivity because that's what she's all about, folks – love and positivity.
Just being straight forward… some of you are truly brutal, heartless, & extremely bored humans. Please heed my warning & be the light✨ pic.twitter.com/gAkzFiBGdy

— Dani Mathers (@DaniMathers) May 4, 2017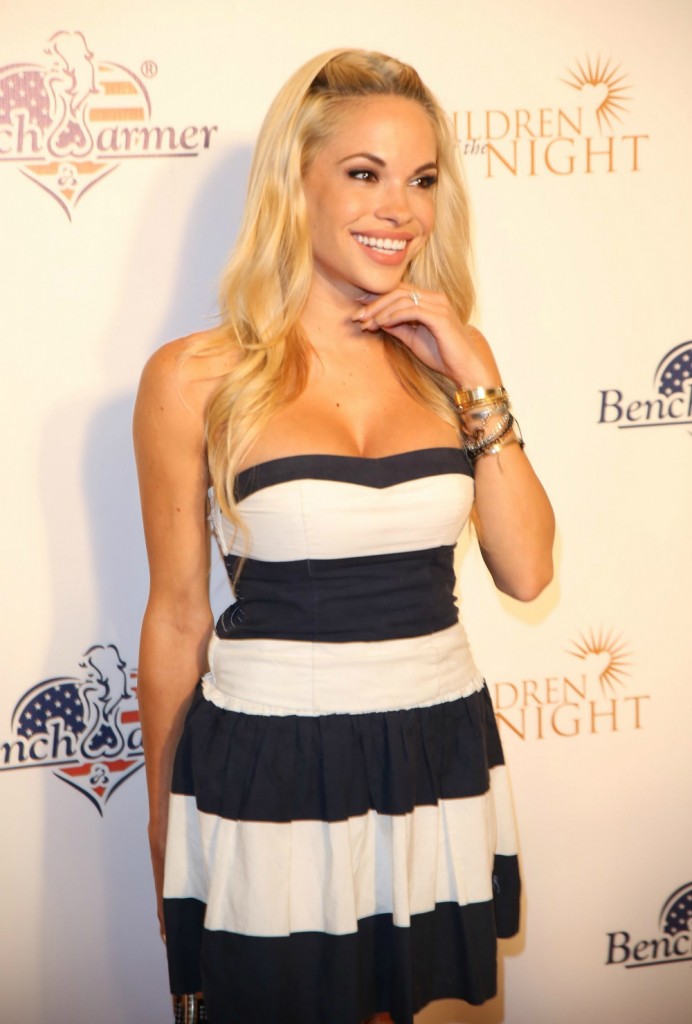 Photo credit: Twitter, WENN Photos and Getty Images