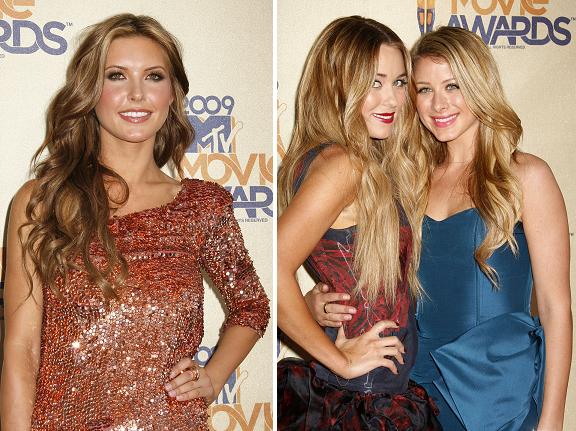 All the audience sees is the end product, but at any awards shows there is a lot of preparation that goes on behind the curtains. Other than the obvious sets, music, movie clips, and scheduling, producers of the show also have to deal with seating charts for all the stars in the audience. Unfortunately for them, Hollywood has the emotional stability of a high school clique, and figuring out where celebrities are going to watch the awards can be difficult. According to the NY Times, the original seating chart for last night's MTV Movie Awards was not going to work and they had to sit down and redo the entire thing.
Paris Hilton couldn't be put anywhere near The Hills cast due to her recent comments; Audrina was also banned from the The Hills seating area because no one on the show likes her, and instead sat with Chris Pine; Whitney Port had to be moved away from Kristen Stewart after insulting her role in Twilight; and Nickelodeon stars Miranda Cosgrove and Keke Palmer had to be kept away from Disney stars like Miley Cyrus because Nickelodeon reps said the Disney stars were too "tainted."
[A] source who overheard conversations among the event's producers says MTV had a wild time trying to seat its celebrity guests in the audience.

"A producer looked at the original seating chart and realized the whole thing had to be reworked because so many people in the house hated one another," laughs our spy. Among the conflicts:

Whitney Port had to be moved away from "Twilight" star Kristen Stewart after producers realized Port once called the movie "really bad" and found Stewart's role "one-dimensional."

Port and fellow stars of "The Hills" and "The City" — Lauren Conrad, Stephanie Pratt, Heidi Montag and Brody Jenner — also had to be kept away from Audrina Patridge because, our source claims, a producer was overheard saying that "everyone on the show hated her." (Patridge will instead sit near "Star Trek" star Chris Pine.) Similarly, Paris Hilton had to be moved away from "The Hills" cast after recently calling the show "so lame and fake" and "cheesy."

Producers also had to scramble to keep Disney's talents — namely Miley Cyrus and couple Zac Ephron and Vanessa Hudgens — away from Nickelodeon stars Miranda Cosgrove ("iCarly") and Keke Palmer ("True, Jackson") because Nickelodeon's reps felt that "all the Disney kids are tainted." (Semi-nude photos of Cyrus appeared in Vanity Fair, while Hudgens came under fire after fully nude photos of her circulated online in 2007.)

"Basically," laughs our spy, "it sounded like all hell had broken loose trying to fit all these people into one room." An MTV spokeswoman declined to comment.
[from NY Times]
This is almost as bad as seating for a wedding. Who gets to sit next to crazy Aunt Agnes? And where does Uncle Charlie's latest fling of the week sit? They probably had to do changes up to the last minute, just before the red carpet opened. But a lot of the complaints seemed minor to me. So Whitney called Kristen Stewart's acting "one-dimensional." This is news to no one. Considering that Twilight was the big winner of the night, it also seems no one cares.
If it were up to me, I would purposefully put the feuding stars near each other. We might get some entertaining stories out of it: "Kristen Stewart and Whitney Port have a smackdown"; "Paris and Heidi get into catfight, Spencer screams like a little girl"; "Miley and Vanessa Hudgens teach iCarly star how to use photo feature on her iPhone."
Photos of feuding stars and starlets VMAs thanks to WENN.com .