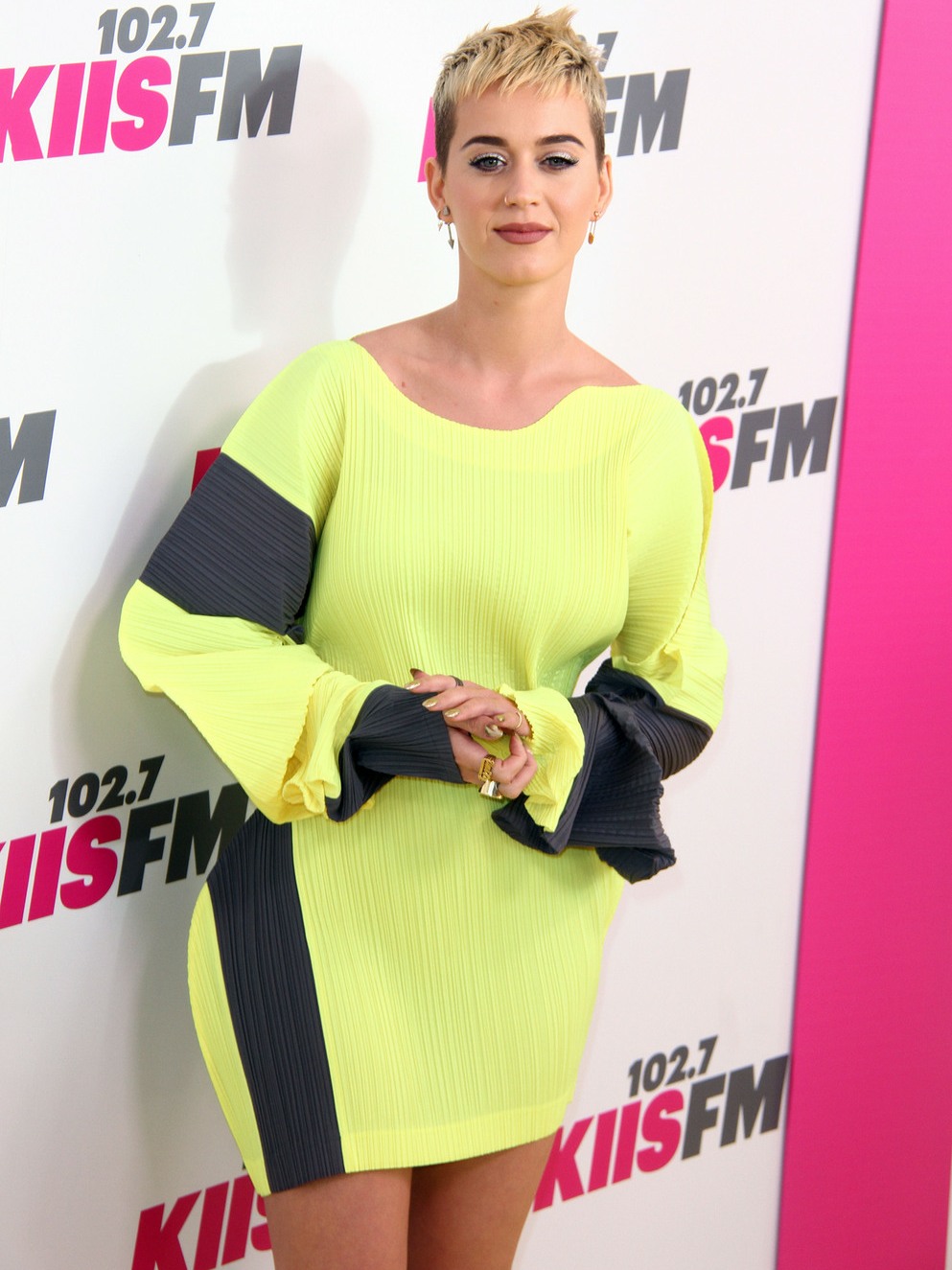 People always yell at me for saying this, but it's totally true: Taylor Swift started the beef with Katy Perry. So many people – snake fans – want to front like Katy Perry and Taylor Swift are both equally to blame for their girl drama. It's not the case. Taylor didn't even say that was the case. Taylor claimed that someone (Katy) was always being a little bit petty to her and that someone (Katy) "stole" her backup dancers and tried to ruin her tour. As with most of Taylor's stories where she's the perpetual victim, she got called out on that sh-t. The backup dancers said that they were never stolen, they just liked Katy more. And who really believes – knowing what we know about Taylor Swift – that Katy Perry would actually go out of her way to be mean to Tay pre-Bad Blood? Isn't it far more likely that when you're a perpetual victim, everything looks like an insult?
Anyway, we're now in the third year of the Swift-Perry drama and while Katy's not my favorite person, I find her rather blameless in how she's conducted herself in the Bad Blood drama. Now that Katy has a new album to promote, she's been talking more about the beef. And she saved her side of the entire history of the beef for James Corden. It all went down on Carpool Karaoke:
"Now, I want to talk to you about some famous beef. Because there's Taylor beef. There's no denying it: There's Taylor beef. And when are we going to clear that beef up?" Corden asked Perry.

"Well, there is. No, for sure—and that's true. There's a situation. Honestly, it's like, she started it and it's time for her to finish it," replied Perry. Then, Perry attempted to explain the origin story. "It's about backing dancers. It's so crazy!" said Perry. "OK, so there are three backing dancers that went on tour with her tour, right? And they asked me before they went on tour if they could go, and I was like, 'Yeah, of course. I'm not on a record cycle, and get the work, and she's great and all that. But I will be on a record cycle in about a year, so be sure to put a 30-day contingency in your contract so you can get out if you want to join me when I say I'm going back on.' So that year came up, right? And I texted all of them—because I'm very close with them—and I said, 'Look, just FYI: I'm about to start, I want to put the word out there.' And they said, 'All right, we're going to talk to management about it.' And they did. And they got fired. And I tried to talk to [Swift] about it, and she wouldn't speak to me."

Perry added: "It was a full shutdown and then she writes a song about me. And I'm like, 'Oh, cool, cool, cool… that's how you wanna deal with it? Karma.' But what I wanna say is that, like, I'm ready for that BS to be done. Now, there is the law of cause and effect. You do something and there's gonna be a reaction. And trust me, daddy, there's gonna be a reaction."

For her part, Perry said she wished to end the beef with Swift, offering, "I think, personally, that women together—not divided and, like, none of this petty sh-t—women together will heal the world."

Perry agreed "100%" that if she were to get a text from Taylor saying "the beef is off the grill," as Corden put it, she would take that beef off the grill.
[From The Daily Beast & E! Online]
What's more likely, that Katy Perry is lying or that Taylor Swift created this massive Bad Blood drama because her feelings were hurt that some backup dancers liked Katy more than her? You know how I feel. I think Katy is telling the truth. I think the backup dancers were always telling the truth. I think Taylor goes completely f–king crazy if she's not the center of attention and the center of everyone's entire world.
Photos courtesy of Pacific Coast News, Getty, Katy's IG.