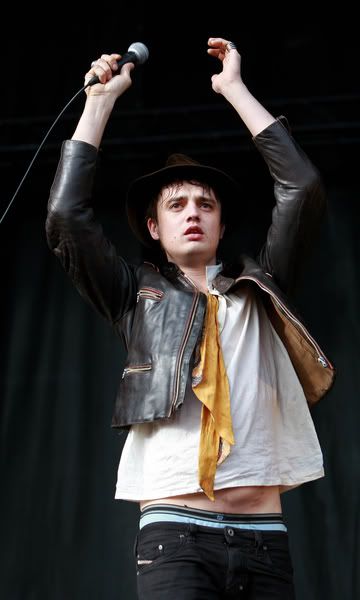 What's more shocking to me about the latest Pete Doherty news is not that he got arrested, because that happens to him about once a week, but that there are women – models even – who are still willing to sleep with this guy. What is it about him? He looks unwashed, he's said to suffer from unbelievable halitosis, and it's doubtful whether he can even manage in bed given the amount of drugs he must take.
Sure he's a blood artist and a musician, and those roles do manage to inexplicably elevate otherwise forgettable and irresponsible men in the eyes of foolish women. There must be something more to this guy if Kate Moss kept hanging on to him for years. Now he's dating the girl that Kate picked to represent her Top Shop line of clothing, 25 year-old Canadian supermodel Irina Lazareanu, who also used to tour with Pete's band Babyshambles.
It could be possible that Pete and Irina were just just hanging out as friends as they've known each other for a few years. They hung out at Irina's hotel in London before going to the V music Festival in Essex together, where Pete performed. He was later arrested in London at 2 in the morning on suspicion of drug possession:
Pete was seen arriving to meet Canadian model Irina, at top London hotel Claridge's in London's West End before travelling to V Festival in Chelmsford, Essex.

According to the Sunday Mirror, the Babyshambles frontman, arrived in the late morning and spent a couple of hours inside the five-star hotel.

When Pete finally emerged with Irina, the pair jumped into a blue people-carrier to travel to the V Festival in Chelmsford.

Later Doherty, 28, was reported to have been arrested on suspicion of possessing drugs in the early hours of this morning. The 28-year-old singer was arrested in the Tower Hamlets area of east London at about 2am today.

His lawyer Sean Curran confirmed Doherty is being held at Bethnal Green police station after the car he was travelling in was stopped by police.

Doherty is almost certainly facing jail as he is already awaiting sentence early next month on a series of drugs charges.
In the few interviews I've seen of Doherty he seems to ramble on incoherently, or pull disgusting stunts like squirting his blood at a cameraman. He must be super charismatic. Maybe he has one of those personalities that allows women to project whatever level of depth and sensitivity onto him that they can imagine. Those guys have moments of saying really poetic and lovely things that make women think there's so much more there under the surface, if only they can rinse off that thick layer of grime and ashes to get to it.
If Doherty doesn't go to jail at least for a few days after this latest arrest it's going to make the British justice system look even more lax than it already does for letting him remain free despite multiple drug arrests. You know that the guy is going to receive a lot of fan mail in jail. It's not just the tiny models that want to get with that eyesore.
Update: Doherty is somewhat of a hero, and that's certainly attractive. He pulled a man in his 50s out of a car wreck on Sunday along with his band mates. The man's car was flipped over. He was treated by paramedics and released.
Thanks to PRPhotos for these pics of Doherty performing at the V Festival. He is sporting a new tattoo on his neck featuring the name of his son with singer Lisa Moorish, four year-old Estile. (Agent Bedhead, the authority on all things Doherty, says it's spelled "Estile," but it looks like "Astile" is written on his neck to me.) See – the guy has even procreated! There must be something there that I'm not seeing.