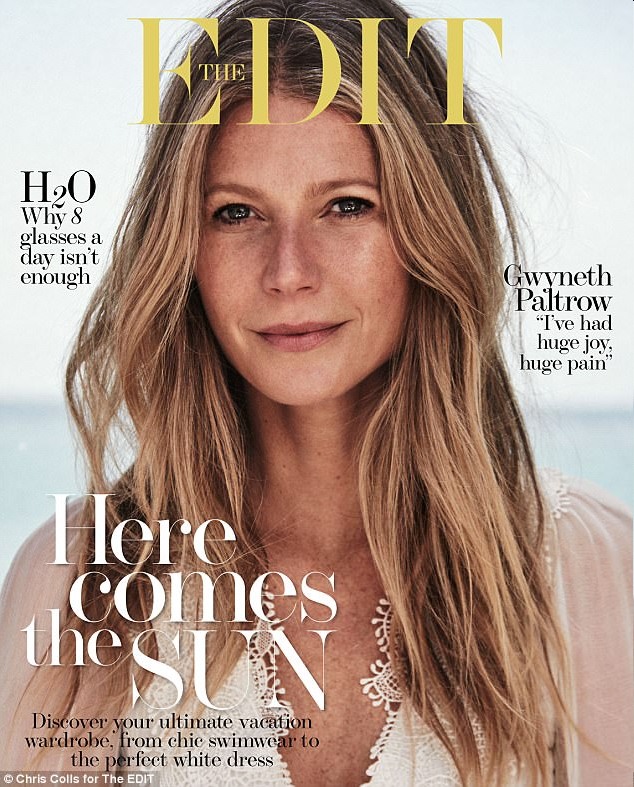 Gwyneth Paltrow covers the latest issue of The Edit and the photos are actually rather pretty. I get so tired of the styling Gwyneth chooses for herself, so it's nice to see her styled in low-key beachy vibes. It doesn't even look like she's wearing much makeup. The secret, it seems, to Gwyneth's fountain of youth is simply "going with a slightly darker blonde and not doing a flattened center part." As for the interview… it's Classic Gwyneth, really. Enjoy.
Her divorce from Chris Martin: "I wanted to turn my divorce into a positive. What if I didn't blame the other person for anything, and held myself 100% accountable? What if I checked my own s— at the door and put my children first? And reminded myself about the things about my ex-husband that I love, and fostered the friendship? What I put myself through to get there was the most difficult thing I've ever done in my life."

The "conscious uncoupling" thing. "People are coming around. I know it's a dorky term, but it's very worthwhile. I'm always the person who gets s— at first, but then later people say, 'Hey, maybe that's a good idea.' I don't mind."

The criticism she receives: "It's got a few layers to it. People were fine with me as an actress, but with Goop it was like, 'Stay in your lane.' Women in general get a lot of pushback, especially if you're successful and attractive … I'm not saying I'm attractive. I mean when you're considered attractive."

Milking every opportunity: "I've had an extraordinary life, where things have happened in a huge way – huge success, huge joy, huge pain, huge loss. And the reason I feel happy today is because I've milked the f—– out of every opportunity. I haven't made one mistake that I haven't used as a stepping stone to get somewhere else. I'm ruthless when it comes to using the hard things."

Her kids: "My kids can handle [fame]. They know their lives are extraordinary. And girls today are allowed to be anything; they're self-possessed, confident, they like themselves. In Apple's peer group, I don't see the insecurity I saw at that age."

Her infamous cleanses: "I can't be on a cleanse all the time… I did one for seven weeks last year and it was awful. My first meal of the day is normally lunch; I keep it light on carbs so my energy levels don't peak and valley through the day. At home, I loosen the reins: a glass of wine, maybe a baguette dripping in cheese, some fries. […] On vacation, I eat what I want—and there's no exercising, either."
I'll give Gwyneth one thing: I do think part of the reason she was initially criticized for Goop was a "stay in your lane" mentality. Like, people thought it was ridiculous that Gwyneth was trying to be some kind of lifestyle guru. And women do get that kind of criticism more than men. A man can be a multi-hyphenate and be celebrated for that. A woman is told to stay in her lane and don't overreach. That being said, Goop is awful and it deserves to be criticized and no, it's not because she's "considered attractive."
As for Gwyneth "milking the f–k out of every opportunity" – yes, the world is your oyster if you're a well-connected blonde mediocrity.
Photos courtesy of The Edit.