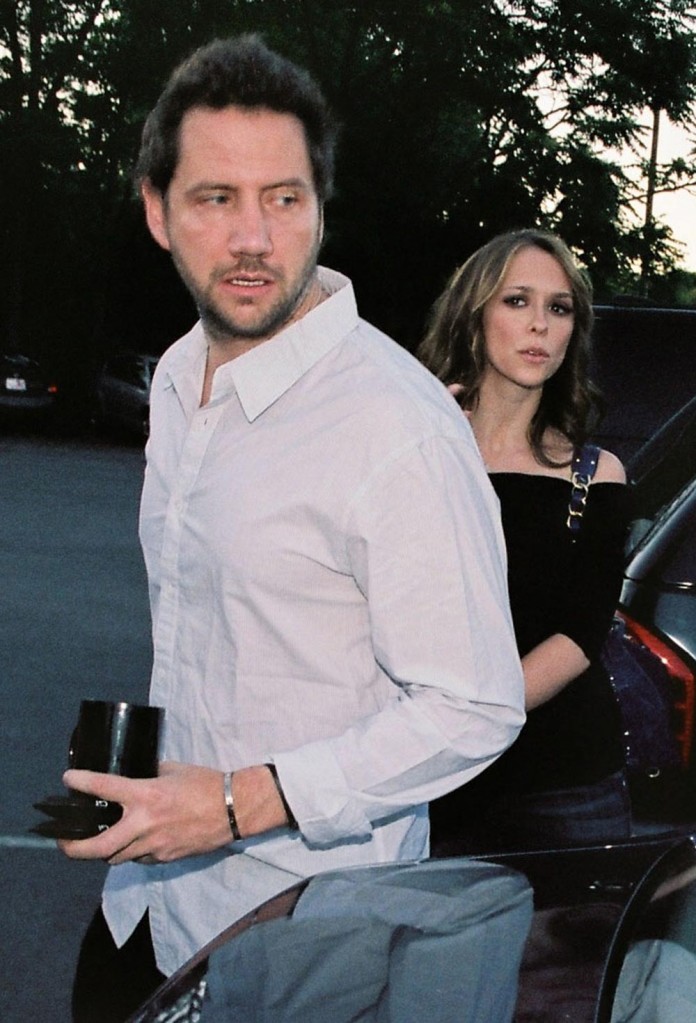 Jennifer Love Hewitt confirmed to Jamie Kennedy and the world that she expects to be engaged by this time next year – engaged to Jamie, that is. Both Jennifer and Jamie were on the "JohnJay and Rich" radio show in Los Angeles (story via US Weekly) when they got some questions about a rumored engagement. Because it's been like three months or whatever, so of course everyone thinks they're engaged. Because we know how fast Jennifer Love works, I suppose. Jennifer and Jamie denied they are currently engaged, but Jennifer says she was offended that Jamie acted upset that there were engagement rumors floating around, and told Jamie "there's a line of people who would probably be OK with that." Because, in Jennifer's mind, it's still 1998 and she's hot stuff.
Anyway, Jamie then asked Jennifer if she could provide him with some kind of "timeline" for their relationship, and Jennifer told him she expected him to propose within the next year, or there will be "a situation". And yes, we know all of this because they said it all on-air, on a radio show:
Jennifer Love Hewitt — who split from fiance Ross McCall late last year — says she wants to be engaged again by this time next year.

Or else.

On Monday, the actress and her boyfriend, Ghost Whisperer costar Jamie Kennedy, popped by 104.7 FM's JohnJay and Rich Show in L.A. to deny engagement rumors.

"A rumor has come out that Jamie and I supposedly got engaged," she said after the two were spotted at a Las Vegas jewelry shop buying a small ring.

When her boyfriend heard the engagement reports, "the poor guy was on fire," she went on. "He was like, 'No, no, no. That's not true!'"

Added the actress, "I was like, 'God, would that be the worst thing in the world?! Excuse me, but just for a second, there's a line of people who would probably be OK with that [rumor].'"

Kennedy said he didn't mean to upset his girlfriend.

"The thing is, people asked me, 'Are you engaged?' And I just said, 'No, not that the moment, I'd be a very lucky man,'" he said. "And she got mad at me!"

Kennedy then asked Hewitt for a proposal timeline.

Replied Hewitt, "A timeline? By this time next year, if we're not planning something, then there's a situation."
[From US Weekly]
Jennifer Love Hewitt and Jamie Kennedy are so harmless, it's hard to get mad at them. So what if she's pressuring him to get engaged after only a few months? Jamie can take it, he's a big boy, and Jennifer is probably the coolest girl he's ever dated (and that speaks volumes about both of them). Plus, how many times has Jennifer been engaged? About a dozen, right? And she's never made it down the aisle. Jamie should just bite the bullet, get her ring, and they can be "engaged" until they start driving each other crazy. I should also mention that it seems to me that Jamie is being a very good sport about the whole thing. Most men would run screaming from that kind of situation, where their girlfriend is publicly demanding/teasing them about getting engaged. Jamie might be a better man than we thought.
Jennifer Love Hewitt and Jamie Kennedy are shown out at one of Jamie's shows on 5/20/09. Credit: Fame Pictures