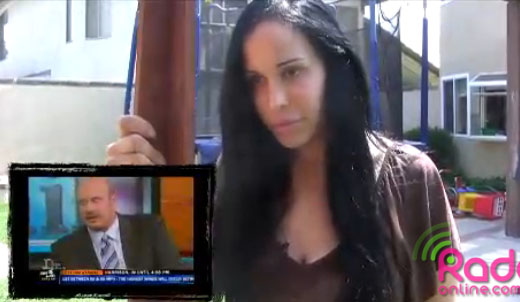 Rolling her eyes and looking intensely angry, Octomom Nadya Suleman was videotaped by Radar Online watching "Jon and Kate Plus 8″ star Kate Gosselin talk about her in unflattering terms on The Dr. Phil show. Gosselin told Dr. Phil that she had 50 helpers and that she was worried how Suleman would cope with 14 children without a partner. Suleman said "I have like 10 helpers a week and why am I not overwhelmed? Why is it not a chaotic mess?"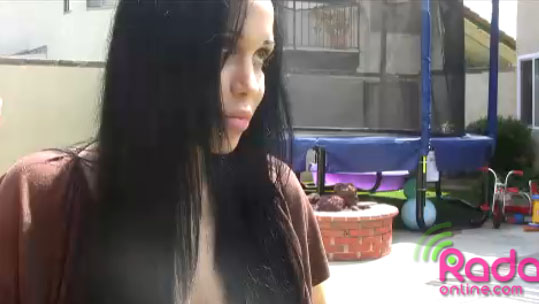 The thing that strikes me about the clip is how dark and intense Nadya looks, as if she could go off at any moment but is using all her willpower to control herself for the camera. She was able to let it boil down and just stuck to giving some snide comments with a big side of venom. Gosselin claimed on Dr. Phil that Suleman had emotional problems for choosing to have so many children at once, and Suleman in turn attacked her and threw in some pseudo-intellectual posturing:
"She has her own obvious issues, internal issues. She needs to stop harshly making judgments towards me… That's human nature, happens to people who are less educated."
"I surround myself internally and externally with positive energy. She does the opposite."
When the interviewer read out more of Kate's statements about how hard it must be to raise all those kids alone, Nadya said "histrionic" several times in a sing song voice and it was kind of creepy. "OK mom, that's all I have to say," she added.
As for all choosing to have so many kids Suleman said "It's over, it's gone, I moved on with my life. My children are extremely healthy, strong and happy. Don't you have, like, a lot of issues in your life? A lot of marital problems?
"Why are you so desperate to glob on to my life? For attention?"
It's on between Kate Gosselin and Nadya Suleman. My money is on Suleman. Narcissistic and determined can't trump narcissistic and delusional.