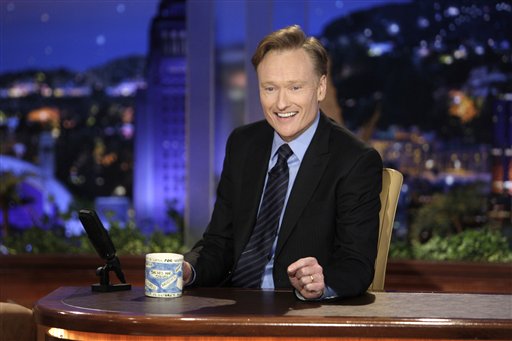 As the years go by, I find it very difficult to watch late-night programming. The only people I really enjoy are Jon Stewart and Stephen Colbert, and too often I catch the reruns of those shows the next day. I don't even remember the last time I stayed up to watch David Letterman or Jay Leno, much less Conan O'Brien. Out of all of those guys, Letterman is the only one who really makes me chuckle. Jay and Conan, not so much. It's not that I'm a snob – I get why Jay is popular, with his middle-of-the-road, G-rated comedy. And Conan with his collegial, prank-and-pratfall sense of humor – it's just not my humor. I get more enjoyment out of humor that's bitter, sardonic, crass and dirty. It's not for everyone, and if I were trying to make a hit late-night show, I might go for Jay Leno or Conan O'Brien.
So it's surprising to me that critics didn't seem to enjoy Conan's debut on The Tonight Show last night. Didn't they know what they were getting? They signed up for humor that would offend no one, and what they got was humor that didn't amuse anyone. US Weekly has a rundown on what the nation's television critics are saying about Conan's debut:
Conan O'Brien made his Tonight Show debut Monday — but critics weren't exactly roaring with laughter.

"After one show, let's say he's a work in progress," wrote Randee Dawn of The Hollywood Reporter.

"O'Brien commanded the stage, but seemed more comfortable laughing it up with erstwhile sidekick-turned-announcer Andy Richter than in interacting with his 380 audience members."

O'Brien's opening monologue mostly consisted of "sketch upon sketch" — notes The New York Post's TV critic Linda Stasi — most of which were "at times, painfully unfunny."

In one scene, O'Brien — who spent the last 17 years as host of NBC's Late Night — was shown jogging across the country from New York to Los Angeles. "I think I've timed this move perfectly," he quipped. "I'm on a last-place network, I moved to a state that's bankrupt and The Tonight Show is sponsored by General Motors."

Other clips showed him giving a tram tour of Universal Studios, sitting in the last row of a Lakers game (to show how well he's acclimated to L.A.) and paying homage to his beat-up 1992 Ford Taurus.

"Again," said Stasi, "not a million big laughs."

David Hinckley of New York's The New York Daily News said the bits "lasted too long." Said Hinckley, "He's from the world of sketch comedy, not monologues, and he sticks with an idea as long as he feels something funny could happen."

Ken Tucker of Entertainment Weekly got a chuckle out of the sketches.

"All in all, a large-scale, impressive debut," he wrote. "But we all know that success in late-night depends on the long haul — Conan knows this as well as anyone. So now I want to see how he follows up his glitzy debut."

Added USA Today's Robert Bianco: "Overall, the show wasn't O'Brien at his funniest, but it was funny enough to get by."

David Letterman definitely took notice of his new competition.

"I'm still here," Mr. Letterman told his audience on his show Monday night. "I knocked off another competitor."

He said that his mother had called him to say, "Well, David, I see you didn't get the Tonight Show again.'" When he said he told his mom that he had Bill Cosby as his guest, his mother replied: "'OK, maybe I'll switch from Conan.'"
[From US Weekly]
Yeah, Conan will get better, I guess. Or not, and people will still watch. The other day, I heard that ABC's 11:30 p.m. Nightline still has great ratings, and that the show's often beat Letterman and gone market-share to market-share with Leno. Personally, when I do stay up, it's usually to watch Charlie Rose – my crazy local PBS programmers started putting Charlie on at 11:30 about a year ago, and I hate it. It used to come on in the early evening, and I could geek out on whoever Charlie was interviewing the night before.
Here's Conan and his wife Elizabeth and kids Neve and Beckett spend a little family time at the park on Sunday in L.A. Images thanks to Pacific Coast News.