As is pretty obvious, David and Victoria Beckham are looking for some form of familial dynasty. Their oldest, Brooklyn, is pursuing a career in photography, having been awarded his first campaign by Burberry at the age of 16. Romeo has been modeling since he was 10. The next in line to enter the nepotistic workforce was Cruz who at the ripe age of 11 got himself an agent and was about to launch his music career. The Beckhams received much criticism for their very young children getting careers instead of educations. According to The Daily Mail, they've had a come to Jesus moment and insisted Cruz must put his career on the back burner in favor of school. Do we believe this?
Cruz Beckham's hopes of becoming a pop star have been dashed – by his parents.

The 11-year-old scored a top ten hit over Christmas but David and wife Victoria have decreed that Cruz must hang up his microphone for the foreseeable future and concentrate on his school work instead.

Cruz signed with pop mogul Scooter Braun at the end of last year and tasted success with If Every Day Was Christmas.

But his parents faced a backlash for pushing their children into the spotlight.

And now sources tell me it was never part of David and Victoria's plan to allow Cruz to become a fully-fledged pop star before he flies the nest.

Cruz is not alone in having to learn to be patient. Big brother Brooklyn, 18, was looking forward to the launch of his photography book, What I See, on May 4. But after his parents insisted he must get his A-levels out of the way first, the release has been delayed until June 29. Brooklyn will head off to college in New York this autumn.
Let me start by saying that I want this to be true. I really want to believe that Victoria and David both recognized all the pitfalls of putting celebrity before the fundamentals. But I am having a hard time believing it. Maybe someone intervened? As for the part about Brooklyn's book, where was all this concern when the book was first announced? If they did listen to the criticism launched at them then good for them. I wonder if this isn't a ploy to generate some positive energy surrounding their various projects. Although seemingly nice kids, their talent could be cultivated a bit more, if I'm being honest. Not that they don't have something to build on but Brooklyn's photos have been regarded as unimaginative and Cruz's song was considered "cute." Maybe the school angle is to shield the kids some pain. In which case, it's still a nice bit of parenting.
Whatever is behind that, fine – I was on the side of those who thought the kids should be in school rather than the limelight in the first place. However, I don't agree with the recent attack on Cruz working out. Cruz's Instagram has several pics of him snowboarding or boxing with his father among other physical activities. Recently he posted this of him on a rowing machine:
And people came for him, saying he was too young – for exercise? One claimed, "It's actually bad to work out when you're a kid; your muscles get damaged," while another told him to, "eat a donut and have a childhood". Come on, the kid is 12, I'll bet if we hooked that machine up to the circuit, he could power a city. Criticize the choice to pull a kid from school to pursue a iffy singing career but attack him for physical activity? You've lost me there.
Regardless of how they hustle for high-profile careers for themselves, I do love how the Beckhams continuously troll each other online: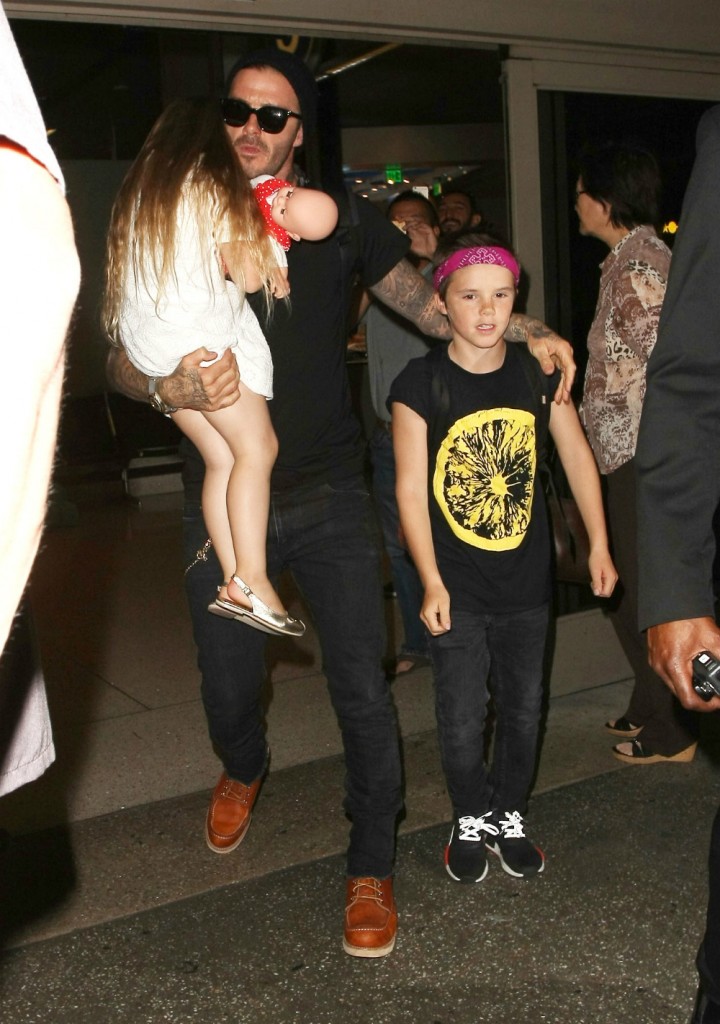 Photo credit: Instagram and WENN Photos