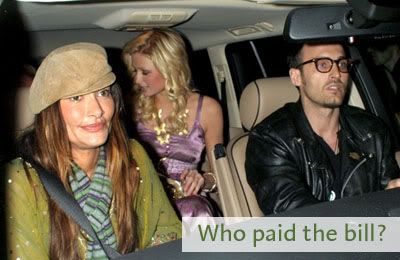 TMZ is reporting that Paris Hilton had dinner last night at Mr. Chows in Beverly Hills with the woman who is suing her for defamation for $10 million, Zeta Graff. The two were later seen entering The Roosevelt Hotel, and TMZ has the video.
Paris fabricated a story that Graff attacked her in July, 2005 in a London night club. She then arranged to have the story leaked to The Post. In a deposition in November for the case, Paris tried to dismiss an e-mail to her publicist in which she called the Post article about the fake incident "genius" by saying, "whatever I write in email, it doesn't mean anything. It is just words I write." She also didn't recognize that London was in the U.K., and admitted that she was scared of voodoo.
It does not seem like a friendly dinner will patch things up between the two, as TMZ found that "the lawsuit is [still] 100% active."
Here are pictures of Hilton and Graff on the night in question.
Pictures [via]