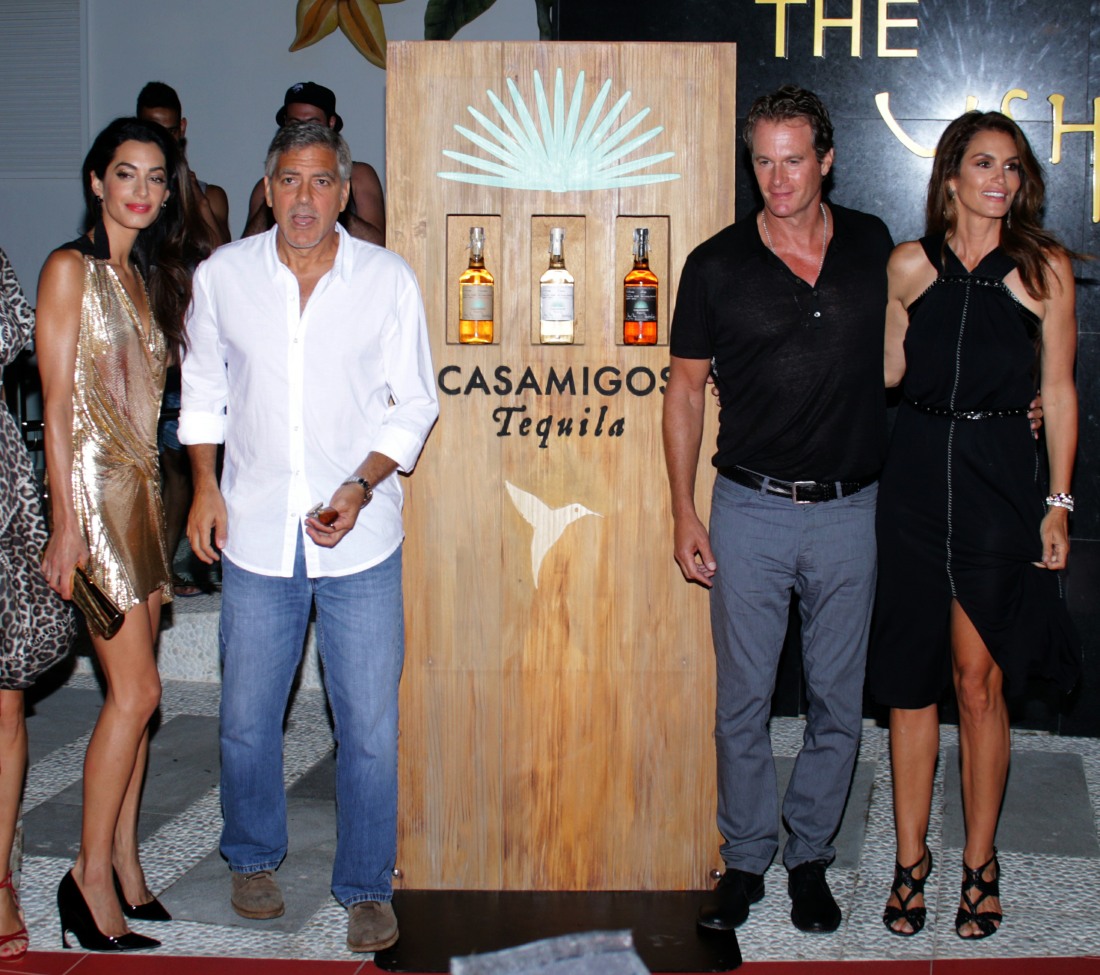 When I drank, I used to enjoy tequila on occasion. But like a true peasant, I could never really taste a big difference between the cheap stuff and the high-quality stuff. Like, with vodka or whiskey, you can taste a massive difference between the $10 bottle and the $50 bottle. But tequila quality doesn't change that much depending on the price, I've found. Like, the $50 bottle is probably a bit smoother, with less of an aftertaste, but cheap tequila is still pretty good if you have salt and limes. What's my point? I've never really gotten on board the whole idea of George Clooney and Rande Gerber's Casamigos tequila, which is supposed to be high-quality/whatever. Rande and George started Casamigos four years ago as a sort of pet project. The first commercial for the tequila starred Stacy Keibler and Cindy Crawford. George "promoted" the label by wearing Casamigos t-shirts everywhere. Skip ahead to this week, and Casamigos was just sold for $1 billion. WTF?
Looks like George Clooney is already setting up that college fund for his twins…Or maybe he's just making a smart business decision! E! News can confirm the actor and his partners, Rande Gerber and Michael Meldman, sold their Casamigos tequila company for $1 billion to Diageo.

"If you asked us four years ago if we had a billion dollar company, I don't think we would have said yes," Clooney said in a statement to E! News. "This reflects Diageo's belief in our company and our belief in Diageo. But we're not going anywhere. We'll still be very much a part of Casamigos. Starting with a shot tonight. Maybe two."

Gerber also released a statement, saying, "We created Casamigos Tequila four years ago for us to drink personally and selling it for 1 billion dollars is something we never could have imagined. We remain committed to our brand and look forward to our future with Diageo and continuing our work with our dedicated and passionate Casamigos team."

CNBC reports that Diageo will initially pay Clooney and his partners $700 million with the potential for another $300 million that will be based on the tequila's performance over the next 10 years. The transaction is expected to close during the second half of 2017.

The actor and his pals originally started Casamigos as a private tequila collection meant solely for their friends and family, which is how it got its name, roughly translating to "house of friends." They made it public in 2013 after getting licensed to continue making it, and it took off, becoming the fastest growing ultra-premium tequila in the country, according to Gerber. Since its launch, Clooney and the company have hosted several major celebrity events, including Halloween and Coachella parties.
If "starting your own liquor label" is the new "starting your own lifestyle website," then I am here for it, honestly. I would much prefer to hear about celebrities doing side-projects that involve creating a liquor label. A billion-dollar liquor label! I'm honestly astounded that Casamigos is worth that much. I wonder what kind of profit-split there will be? Is George going to end up pocketing something like $300-400 million? Good God.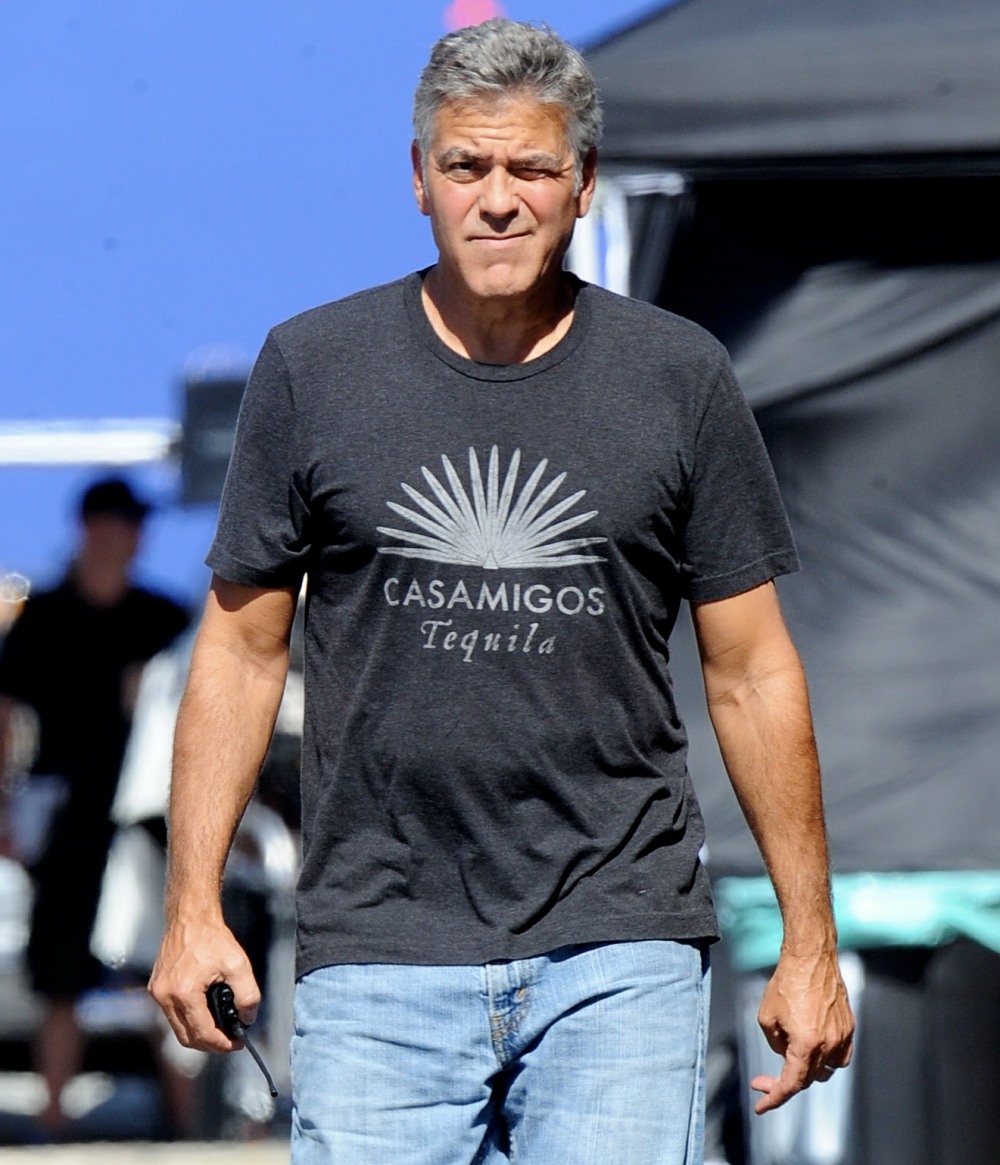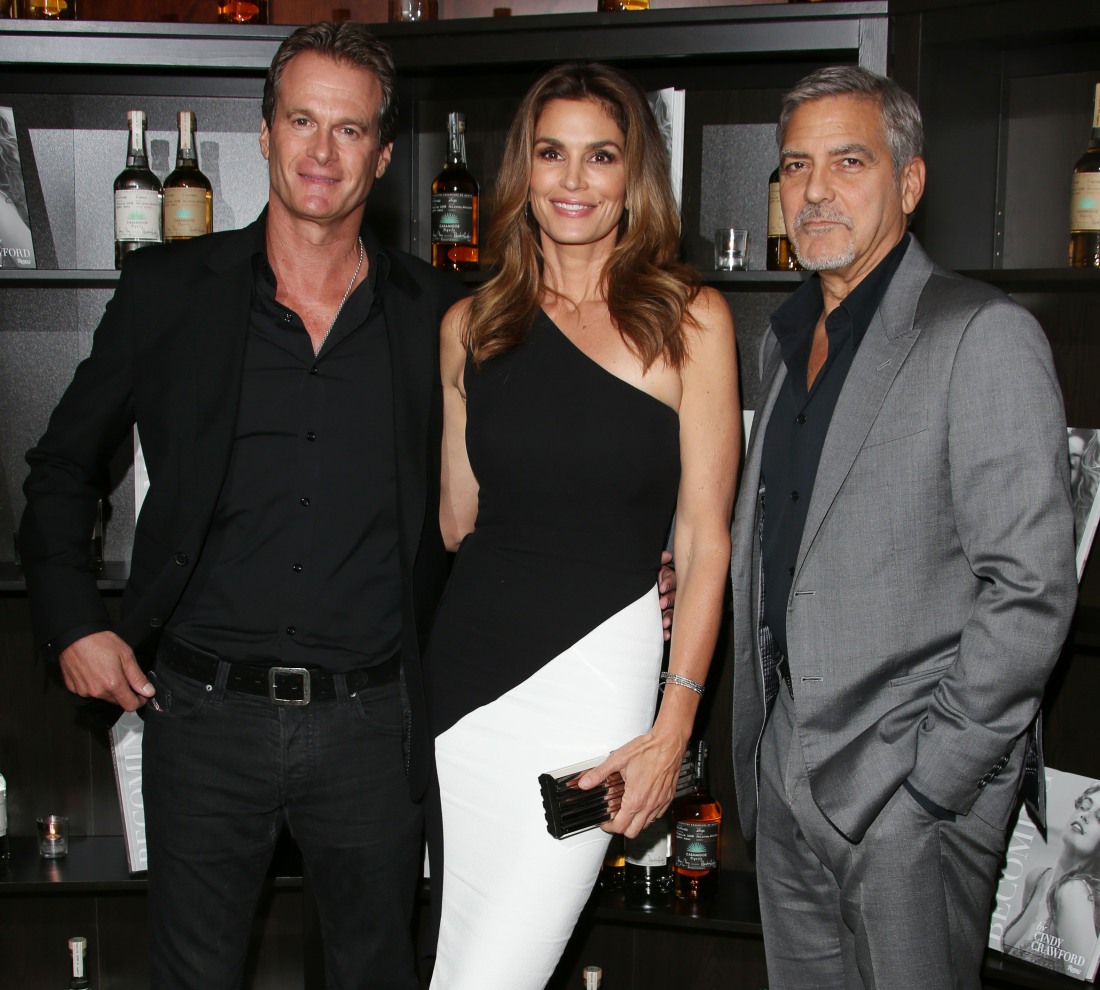 Photos courtesy of WENN.