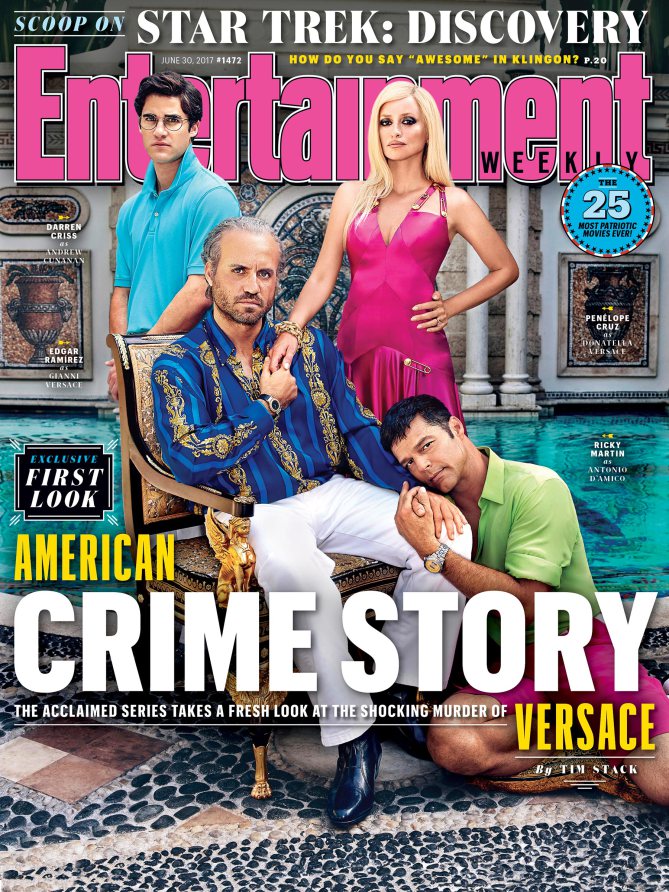 The cast of Ryan Murphy's latest TV project, American Crime Story: The Assassination of Gianni Versace graces the cover of this week's issue of Entertainment Weekly. Inside the magazine are photos of the show's cast in character. The photos were taken at Versace's actual former home in Miami. In recalling the photo shoot, Penelope Cruz, who plays Donatella Versace, said the experience was "very moving, sometimes disturbing."
The pictures prove that the casting for this project was spot-on. In addition to Penelope, you can see Edgar Ramirez as the late fashion designer, Darren Criss as killer Andrew Cunanan and Ricky Martin as Versace's longtime partner, model Antonio D'Amico. Oh, Ricky Martin…let's all take a moment to drink this in…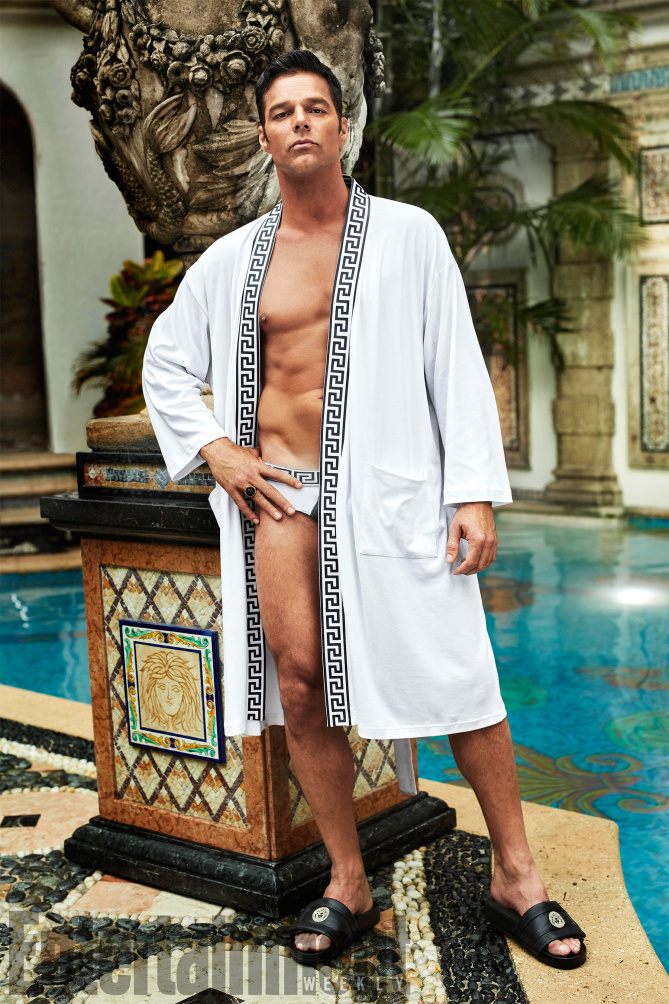 Okay, I'm back. Inside the magazine, Ryan says that the issues surrounding the murder, primarily sexuality and homophobia, are just as relevant today as they were back in 1997, when the crime was committed.
The more I had read about it the more I was startled by the fact that [Versace killer Andrew Cunanan] really was only allowed to get away with it because of homophobia. There was this great apathy about it and nobody cared and I think part of that was because it seemed like gay people were disposable in our culture.
Ryan, who had hinted that the next season of American Horror Story would deal with the 2016 election, says that Versace's tale is also very relevant in our current tense political climate regarding issues in the LGBTQ community:
I think it does open a discussion and I think it's the perfect timing based on this president we have. One of the reasons I wanted to do this was I felt that Obama was a president who I revered. He was my president. I felt there was so much progress in terms of gay rights and rights for any marginalized group of people. Suddenly, it felt like Trump is inaugurated and the door closed and there's fear again and they're trying to take away everything that we fought for for so long. This is a bracing cold slap against the policies that the current government has. We celebrate gay people and gay creativity. So I think it's the perfect time to put that on.
This new season of American Crime Story isn't slated to debut for months (it's looking like sometime early in 2018), and I don't know if I'll be able to wait. Ryan's been putting out some quality work (well, with the exception of Scream Queens) and I cannot wait to see this one.
Step inside the Versace mansion. See exclusive photos of 'The Assassination of Gianni Versace: #AmericanCrimeStory': https://t.co/1UYCXChyWR pic.twitter.com/BCQIhm4mtu

— Entertainment Weekly (@EW) June 21, 2017
Ryan Murphy says The Assassination of Gianni Versace is a 'bracing cold slap' against Trump https://t.co/c8RThABFhj

— Entertainment Weekly (@EW) June 22, 2017