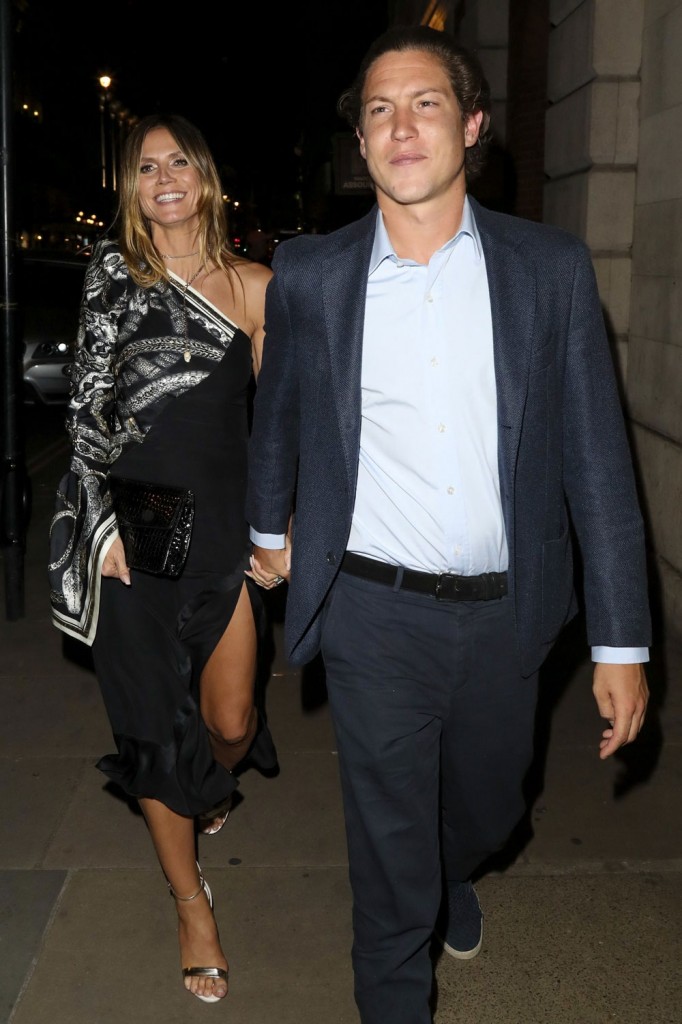 Heidi Klum's boyfriend Vito Schnabel, 30, has a history of romancing older women. He started seeing Heidi in early 2014, when he was 27, but prior to that he was with Demi Moore and Elle Macpherson. In case you're wondering how this guy lands such hot older women, he must have excellent game because he's not male model material. Vito is an art dealer described as confident and self-possessed, he's apparently preferred older women for some time, and he is well known in celebrity circles.
Anyway Vito was photographed at 3:30 am Friday morning after leaving Chiltern Firehouse in London with another woman. The photo, which you can see on The Daily Mail, shows him leaning in to kiss a woman in a back of a cab. Both of their eyes are closed and it's like a makeout kiss it's not like a "thanks for a fun night" peck. Vito is still with Heidi, he was just seen at a book signing event she had two weeks ago, and the photo above is from May 28. He's been on vacation with her several times this year and they regularly go to events together. Vito issued a statement claiming that the woman he's kissing is "an old family friend" (read: ex girlfriend) and that the kiss was "entirely innocent."
After British tabloid published blurry photos of the 30-year-old art dealer allegedly kissing a mystery woman during a night out in London early Friday morning, Schnabel is clearing the air, explaining that it was an "innocent situation."

"The claims that have been made are a misinterpretation of an entirely innocent situation," Schnabel said in a statement to PEOPLE. "There is nothing more to this than I was simply saying goodnight to a family friend and we went on our separate ways.

A source also tells PEOPLE that there is no trouble brewing for the couple and they are "happier than ever" after three-and-a-half years of dating.

Meanwhile, the 44-year-old supermodel and mother of four was all smiles in drizzly New York on Friday, stepping out in a strapless leather dress and black pumps.

Last May, Klum revealed she was "very much in love" at the Billboard Music Awards.

"I'm very much in love, so my eyes only have the hearts for someone else," Klum told E! News when asked if she had a musical crush she was looking forward to meeting inside.
That quote about from Heidi that she's "very much in love" comes from an interview from May, 2016. A lot can change in a year, but they were putting on a united front up until earlier this month. We'll see if she buys his excuse. He's a smooth operator, he surely knows exactly what to say to wiggle out of this. He's an art dealer and there's a remote possible he's telling the truth and had to schmooze a client. Heidi has stayed with Vito for over three years at this point, which is surprising. Surely he doesn't want the gravy train to end.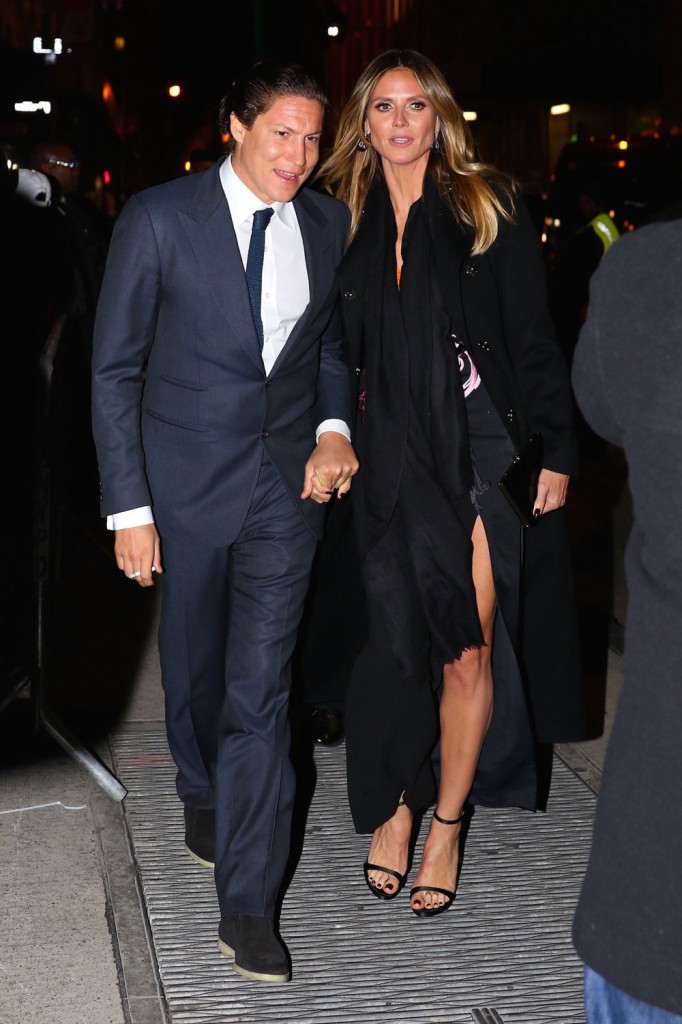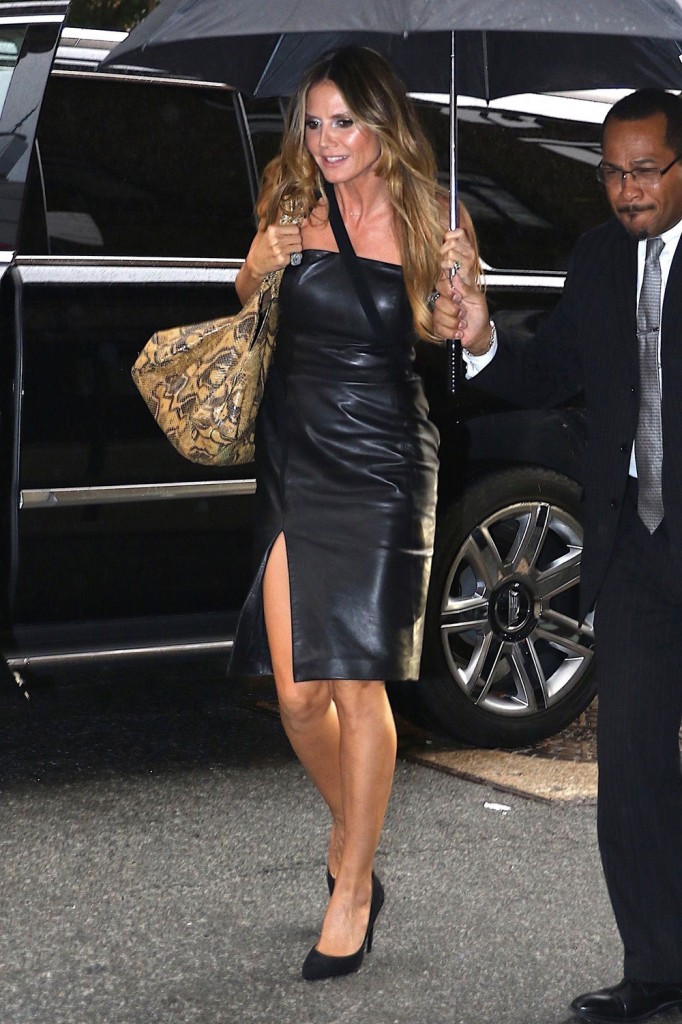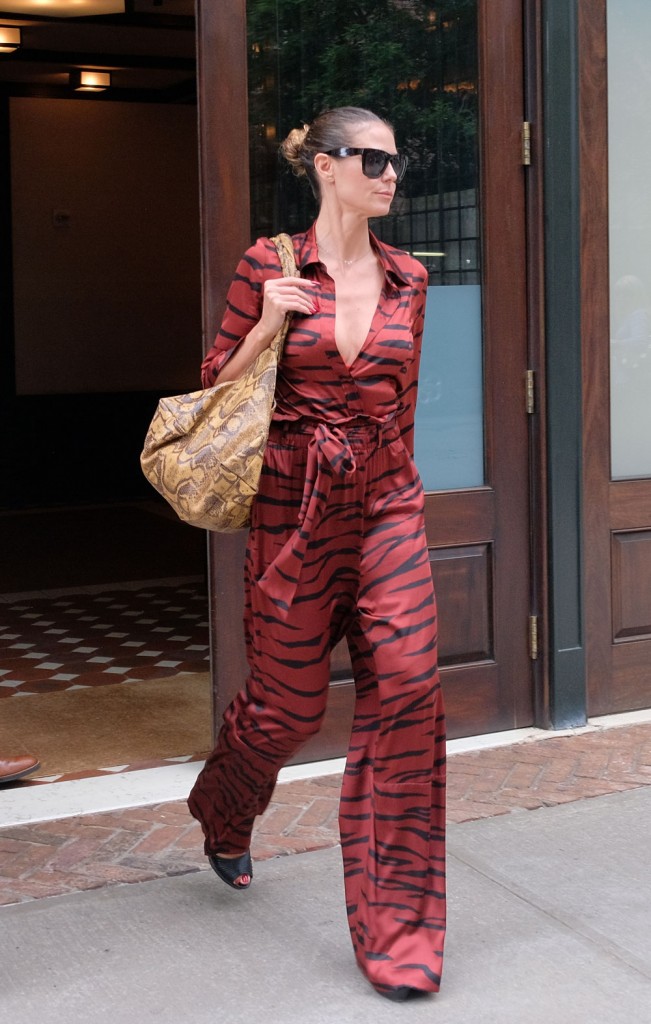 Photos credit: WENN and Backgrid