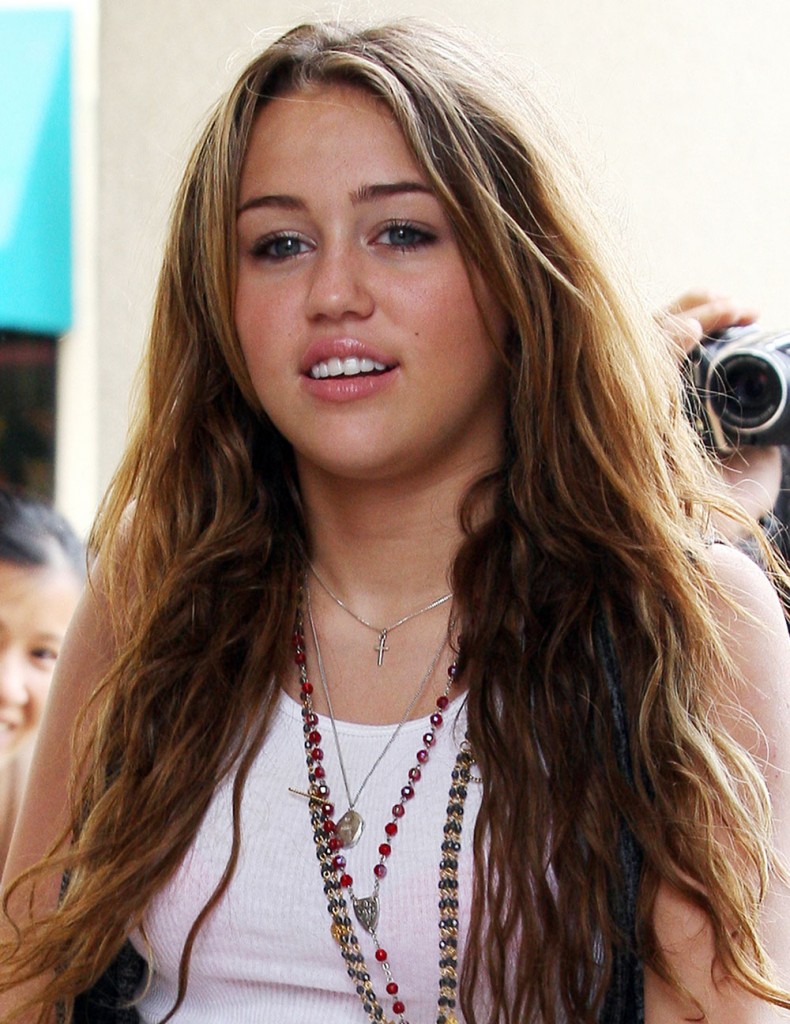 Miley Cyrus is slowly taking over the world. First she had her television show and became a singing sensation, and you couldn't walk into Target without being bombarded with everything Miley: Hannah Montana hairdryers, sleeping bags, and televisions. Now, she's taking over the tween clothing industry – with Max Azria. Yes, that Max Azria. The clothing line will include everything from tops to pants and shoes, with all items under $20. Released this fall, it will be just in time for back-to school shopping and will come just before Miley's concert tour.
Hot on the heels of Taylor Swift's Wal-Mart line of l.e.i. sundresses and the Jonas Brothers' sweatervests, the "Miley Cyrus & Max Azria" label will include tops, pants, graphic tees, shoes and accessories all priced allowance-friendly and under $20. The goods will hit shelves, as well as Walmart.com, just in time for back-to-school shopping in early August—and her tour kickoff a few weeks later.

Wal-Mart is sponsoring the Miley Cyrus Live in Concert tour, launching Sept. 14 in Portland, Ore., and winding up 45 stops later in Miami.

As for those duds…

"We're really excited," BCBG Max Azria Group rep Patrick McGregor tells E! News.

"I love creating looks that are all about personal expression and individuality," the recently reupped Hannah Montana said in a statement. "Collaborating with Max Azria has been an amazing experience, and I'm really excited about launching this line with Wal-Mart. There's even more to come!"

In case the idea of Cyrus coming together with the designer sounds familiar, the pair shared a segment during the Nickelodeon Kids' Choice Awards this year that had the starlet and Duane "The Rock" Johnson donning the same red frock. Miley also wore Hervé Léger to the Grammys in February and the London premiere of her movie last month.

"Miley Cyrus is talented and approachable, so working with her sparked a line that is authentic and vibrant," the demure fashionisto said in a statement.
[from E! Online]
This girl must have absolutely boundless energy. She's constantly coming out with something new, and while I don't believe she designed everything in the line, I'm sure she put her own flourishes on it – at the very least, her name will make the items fly off the shelves. Considering the sheer number of Hannah Montana and Miley Cyrus products on the market, when she loses popularity she's going to fall hard.
With Max Azria also working on the clothes, at least we know that the items will be parent-friendly, too – it's a good thing Mr. and Mrs. Cyrus weren't in charge of the designs, or they would have ended up with red carpet bikinis for 9-year-olds.
Here's Miley going out for a bite to eat at the City Wok restaurant in Studio City with a friend on Saturday. Images thanks to WENN.com .