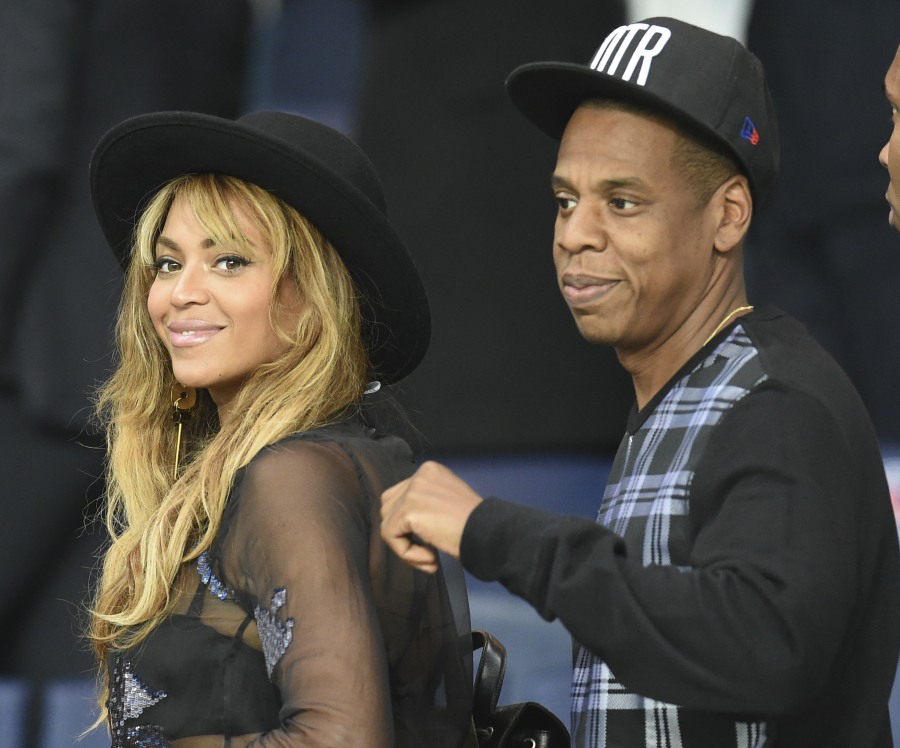 Jay-Z has been teasing his new album, 4:44, for a month now. No one really knew what it was going to be, whether it would just be a straight-up album, or whether it would be a Lemonade-style visual journey through the heart and mind of Jay-Z, complete with cameos from Bey, Yeezy and, like, the 44th president, Barry Obama. Well, 4:44 dropped on Tidal last night. It's a 10-track album and a "visual project." Only Tidal subscribers have gotten to listen to it, and you had to subscribe to Tidal BEFORE the album drop to actually listen to it. That's part of Jay's $200 million deal with Tidal/Sprint. But many believe that after the one-week exclusivity contract is up, Jay will put 4:44 on iTunes.
Thankfully, a lot of music critics already pay for Tidal, so we know what's on it. The album features work from "Beyoncé, Blue Ivy Carter, Frank Ocean, Jay-Z's mom Gloria Carter, The-Dream, Damian Marley, and Kim Burrell." The visual project has appearances by "Lupita Nyong'o, Mahershala Ali, Danny Glover, and more is expected to come with the album."
People are calling this Jay-Z's Lemonade, or his response to his wife's iconic visual album. For my money, Lemonade is Lemonade and no one else can replicate or "answer" that stunning work. But Jay is trying, perhaps, to make 4:44 the companion piece, his side of the story, and his admission that he fooled around and disrespected his wife. And much like the conclusion of Lemonade, the answer is forgiveness and peace. NY Mag did a side-by-side of Lemonade lines to 4:44 lines:
"Hold Up": "Never had the baddest woman in the game up in your sheets"
"Kill Jay Z": "You almost went Eric Benét / Let the baddest girl in the world get away"

"Pray You Catch Me": "You can taste the dishonesty / It's all over your breath as you pass it off so cavalier"
"Kill JAY-Z": "You egged Solange on / Knowin' all along, all you had to say you was wrong"

"Sorry": He always got them f–king excuses / I pray to the Lord you reveal what his truth is / I left a note in the hallway / By the time you read it, I'll be far away"
"4:44": "I suck at love, I think I need a do-over / I will be emotionally available if I invited you over / I stew over what if you over my sh-t?"

"Sorry": "Me and my baby, we gon' be alright / We gon' live a good life"
"4:44": "And if my children knew, I don't even know what I would do / If they ain't look at me the same / I would prolly die with all the shame"

"Forward": "Go back to your sleep in your favorite spot just next to me"
"4:44": "And all this ratchet sh-t and we more expansive not / Meant to cry and die alone in these mansions / Or sleep with our back turned"

"Sorry": "He only want me when I'm not there / He better call Becky with the good hair"
"Family Feud": "Yeah, I'll f–k up a good thing if you let me / Let me alone Becky!"

"Sorry": "Now you want to say you're sorry / Now you want to call me crying"
"4:44": "We talked for hours when you were on tour / Please pick up the phone, pick up the phone"
"You egged Solange on / Knowin' all along, all you had to say you was wrong." OH. MY. GOD. How many years later is this? Jay-Z is still have feelings about Solange and the Met Gala elevator. I mean, obviously, he would still have feelings about it – his sister-in-law tried to beat the sh-t out of him in an elevator. But the phrasing there… what, does he think that Bey teed up her sister and that Beyonce wouldn't admit that she was in the wrong?!? So much to analyze.
Not content with that, Jay also had some sh-t to say about Kanye West (OH NO THIS WILL NOT END WELL).
"Kill Jay Z": "I know people backstab you, I felt that too/But this f–k everybody attitude ain't natural/But you ain't the same, this ain't Kumba 'Ye/But you got hurt because you did cool by 'Ye/You give him $20 million without blinking/he gave you 20 minutes on stage, f–k what was he thinking?/'F–k wrong with everybody?' is what you saying/But if everyone is crazy, you're the one that's insane."

Kanye's "30 Hours": "I hit the gym, all chest no legs."
"Bam": "Uh, n–gas is skippin' leg day just to run they mouth."
That seems like sort of a low blow considering Kanye really does have mental health problems, which he talks about and includes in his music. Anyway… will 4:44 really be considered the new Lemonade? Yeah, we'll see.
JAY-Z breaks down the meaning behind each song off '4:44' https://t.co/Ubp8b4X9eu pic.twitter.com/4Ow57KNFEL

— Missinfo (@Missinfo) June 30, 2017
Photos courtesy of WENN.