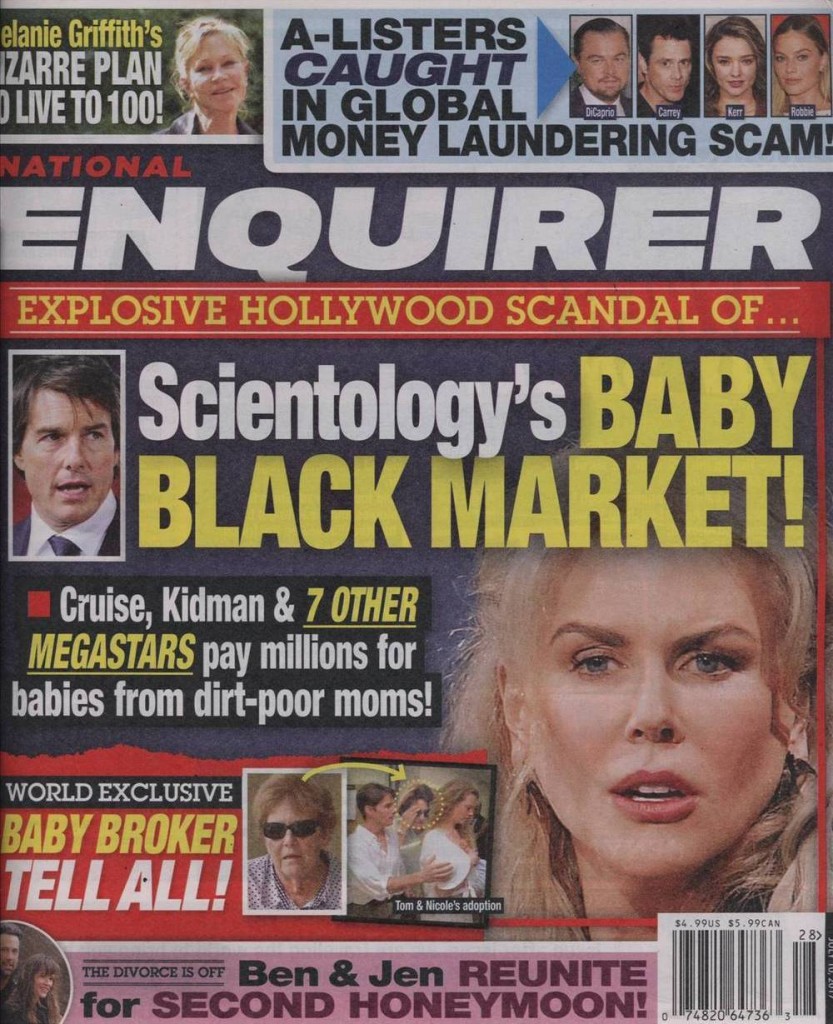 We've heard for years that Scientology cult members are pressured to not have relationships, that they're pressured to not have babies, and that they're regularly subjected to abortions when they fall pregnant. We've also heard that their childcare facilities are horrific and neglectful. Leah Remini has confirmed these stories, as have other ex Scientologists. So The National Enquirer's cover story about Scientology's Baby Black Market doesn't seem surprising on the surface, until you read the article and realize that the cover is misleading. The tabloid spoke to a former politician from Florida who would regularly procure babies for celebrities, including Tom Cruise and Nicole Kidman, Burt Reynolds and Loni Anderson, and Sally Kellerman*, through personal connections. There have been rumors that Cruise and Kidman's children, where were turned against her by Scientologists after the divorce, were Scientology-adopted babies. The Enquirer's story states that these children were adopted on a kind of baby black market by this woman who would connect destitute moms with celebrities and other people of means. This was of course illegal, but it was not specific to Scientologists, although she did have several clients from the cult.
Celebrity Scientologists and other Hollywood stars procured innocent children – born to struggling dirt-poor mothers – on a baby black market where money made the rules!

That's the chilling analysis of a shocking "celebrity adoption" scheme uncovered during an exhaustive 10-month investigation by The National Enquirer!

A wide range of A-listers, including Scientology cult members Tom Cruise and then-wife Nicole Kidman, Kirstie Alley and John Travolta, used the sleazy "baby broker" business that boomed in the late 1980s and early 1990s. Burt Reynolds, now ex-wife Loni Anderson and other stars have also been named as clients!

The Enquirer can reveal former Florida politician Mary Hinton acted as the go-between for stars wanting to adopt, according to a well-placed insider…

Hinton gushed to an insider about Cruise's adoption of daughter Bella – and how she was at the courthouse for the adoption hearing on July 23, 1993…

[Sally] Kellerman's mother-in-law, Lorraine Krane, praised Hinton for bringing grandchildren into her life.

"Mary is a wonderful person. All the adoptions she arranged happened by word of mouth. Disadvantaged women begged her to take their children when they needed help and couldn't afford it.

"Mary could find a home with someone wealthy who could take care of babies who would have otherwise been on welfare or taken by the state.

"Those babies have amazing lives now. I don't know if the mothers were paid… Mary would hand them over to an attorney.

"Everyone who wanted to give up a child would call Mary Hinton – and if you wanted a baby, you'd call Mary Hinton."
[From The National Enquirer, print edition]
Scientology regularly uses slave labor to do all kinds of domestic and construction work for celebrities, and I assumed that these adoptions were achieved similarly. Maybe they were in some cases but again The Enquirer's story is about an adoption black market for high profile clients. It's easy to assume that it was an insider situation as this cult is regularly engaged in criminal behavior and human rights abuses. Plus it's been reported that Cruise and Kidman's first child, Bella, whom this article references, was born to a Scientologist mother. I guess the main scandal here is that not only that these adoptions weren't on the level, according to this story, but that the children went to the highest bidder. At least the adopted babies were well cared for and loved, if not educated or taught to think critically. (Assuming that they went to Scientology schools, and the Cruise children did.) Also, this is about adoptions in the 80s and 90s. Surely this kind of thing is still happening and is just being kept quiet.
*An earlier version of this story listed John Travolta and Kirstie Alley among Hinton's clients. The article stated that Hinton found babies to star in "Look Who's Talking," not that she assisted adoptions for either celebrity. It also claimed that she arranged adoptions for Travolta's manager.