Isn't at least slightly ironic that the producer and network who brought us the series Feud are now embroiled in a legal battle with a Hollywood legend? Olivia De Haviland, who was portrayed by Catherine Zeta Jones in the spectacular FX series Feud: Bette and Joan, is suing the show's creator, Ryan Murphy (well, actually his production company) as well as FX. Her lawsuit accuses the series of "misappropriating" her identity without permission and presenting an "inaccurate" picture of her.
Lawyers for the actress, who lives in Paris and just turned 101 on Saturday, filed the suit in Los Angeles Superior Court on Friday. The complaint alleges that the production misappropriated her "name, likeness and identity without her permission and used them falsely in order to exploit their own commercial interests." The complaint also claims that the show's "pseudo-documentary-style," where Catherine-as-Olivia was interviewed prior to the 1978 Oscars (an interview that never really took place), lead the viewers to believe that her character's lines were accurate.
Suzelle Smith, a representative of Olivia's legal team, said in a statement that "A living celebrity has the right to protect her name and identity from unauthorized, false, commercial exploitation under both common law and the specific 'right to publicity' statute in California. FX was wrong to ignore Miss de Havilland and proceed without her permission for its own profit."
In addition, the statement asserts that "Miss de Havilland was not asked by FX for permission to use her name and identity and was not compensated for such use." As for the script, it was filled with words that were, at the suit alleges, "inaccurate and contrary to the reputation [Olivia] has built over an 80-year professional life, specifically refusing to engage in gossip mongering about other actors in order to generate media attention for herself."
The detailed suit even calls out Catherine's hair, makeup and wardrobe as part of the misappropriation of Olivia's image on Feud. The statement from the lawyers pointed out that, "Her black gown, capped with sheer sleeves, is exactly the same. Her diamond necklace, hanging from a black cord, is copied, as are her dangling earrings. Even her hair, which was coiffed out at the back for the ceremony in real life, has been replicated with precision." The lawyers even pointed out that Catherine wore a prosthetic appliance on her chin to look more like Olivia. The lawyers hope to get the case expedited, due to the fact that their client is of an advanced age. FX and Ryan Murphy have yet to respond to the suit.
Back in April, the legendary actress, responding to a question from The Hollywood Reporter, said of the series "Having not seen the show, I cannot make a valid comment about it. However, in principle, I am opposed to any representation of personages who are no longer alive to judge the accuracy of any incident depicted as involving themselves." After hearing Olivia's response, Ryan told E! News that "She is forever a lady," adding "she's amazing and everything that she says and does should be treasured. I loved what she said." (I wonder if he feels the same way now.)
On the one hand, I kind of get this legal action. Olivia is the last living of the central characters in Feud, and is really the only one who can fight back against any misrepresentation. I don't think Catherine Zeta Jones' performance showed the real-life Olivia in a bad light at all, in fact, she came off quite charming. I wonder if this is Olivia's not-so-subtle way to scare Ryan off from telling the story of the contentious relationship she had with her sister, Joan Fontaine, for a future episode of Feud.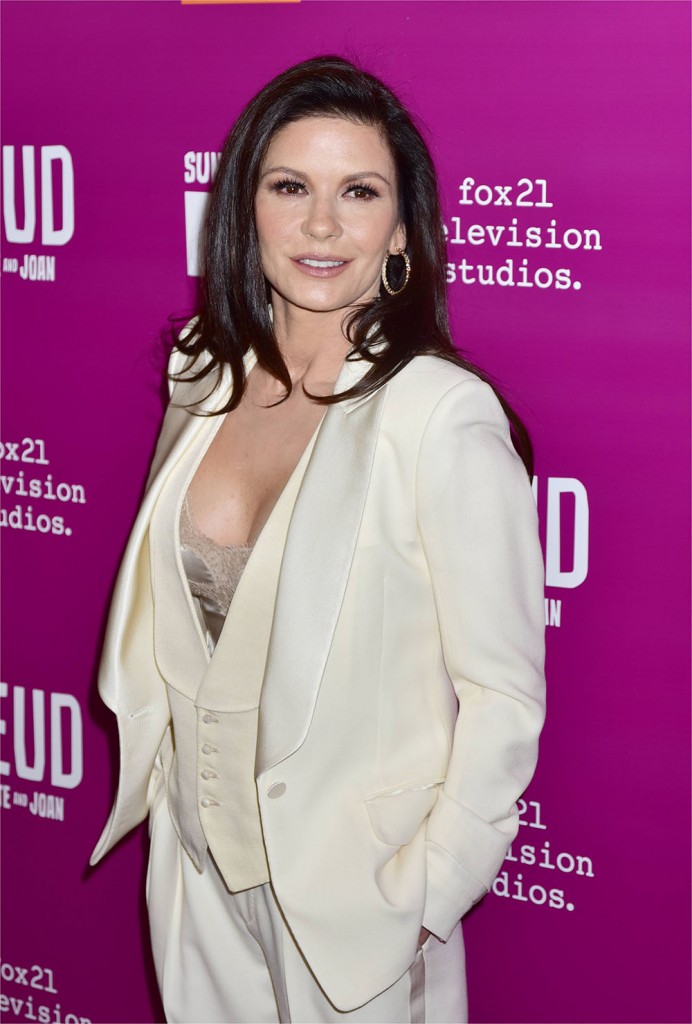 Photos: Getty Images, WENN.com