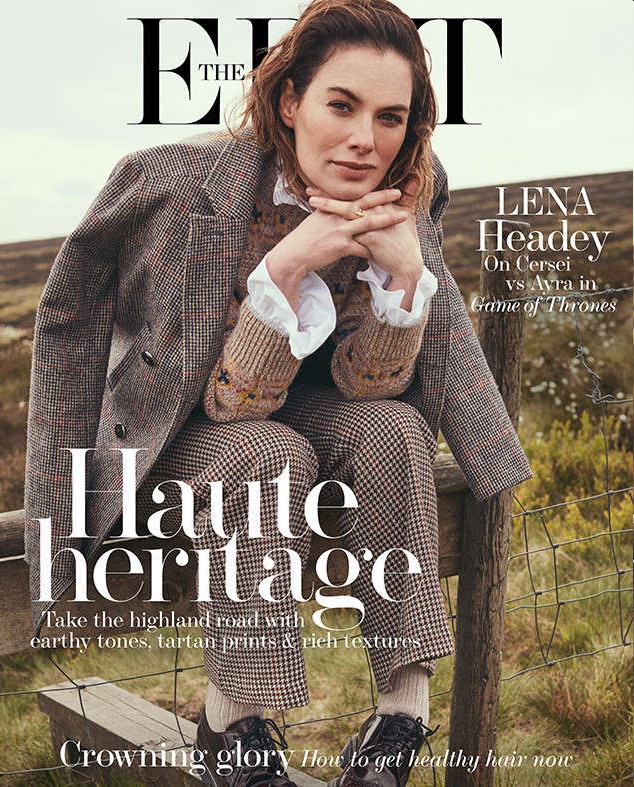 Whenever I think of Lena Headey, out there, living her best life, I always think about the fact that she and Peter Dinklage have known each other for more than a decade, and they're such close friends that they actually rented a house and lived together for years during filming of Game of Thrones. Like, the fact that Dinklage cosigns Lena as an awesome person really makes her seem cooler, doesn't it? Anyway, Lena's promoting the new season of GoT, which is how she ended up on the cover of the latest issue of The Edit. The photoshoot by Stefano Galuzzi is interesting – it's very English countrywoman, which surprisingly works on her, even though I suspect she's more of a "let's meet for cocktails" city girl. Anyway, The Edit's interview was conducted by none other than Lena's costar Maisie Williams. I was actually charmed by the whole piece.
Lena on her best moment as Cersei: "I think the highlight was [last season] when she blew up the Great Sept of Baelor, then just enjoyed her wine. And this season coming, because she's lost everything. Whatever was good [in her life] has been erased and she's a horrible cow to one particular character… It's really quite loathsome.

She liked blowing up the Sept: "I thought that was great. The High Sparrow [played by Jonathan Pryce] was yet another man who came along and was like, "I'm going to manipulate you." So I think her revenge… Well, I was like, "Yes! F*** you!" And she took out Margaery Tyrell [Natalie Dormer] and her low-cut blouse. Bye, perky t-ts."

She worries about her kids growing up to be wild: "Yes, and that's why my mum loves to say, "There's karma." I was talking to a colleague the other day about raising children, and I said, "I've got a son [Wylie, seven] and a daughter [Teddy, two], and I know my son is going to enjoy his time sleeping with girls" – well, I know he is – but then I thought of my daughter and had an instinctive reaction: "No! No one's touching you!" My mum's like, welcome to the world of children."

Adapting to the fame of GoT: "I've been acting for 25 years and this has opened a lot of doors for me. I can now say I'd like to produce something and people don't just say, "Ha, whatever" – they'll listen to a conversation at least. But it's not changed my life because I did my madness when I was younger. I'd probably be dead if [fame] had happened to me when I was young. The things it allows you to do, the places it takes you, the people you meet, the parties you go to… It's bonkers."

Being a woman in the industry: "I was talking about this with another actress, and I said, "Do you find that you have to say the same things seven times, whereas a man says it once and everyone listens?" Male counterparts can say the same thing [I just did] and everyone's like, "Oh, that's a great idea," and I'm like, "I just said that 19 times but you chose not to listen or take it on board."

She once said that "being a woman meant being judged on your looks as soon as you walk into a room." "Yes. I'm happier now I'm older, playing women who aren't expected to be beautiful. That pressure has gone for me. [Male] actors can be 'interesting', but there's a real pressure on women to be beautiful and skinny. When I was in my twenties, and doing a lot of audition tapes in the States, a casting director told me: "The men take these tapes home and watch them and say, 'Who would you f***?'" I've never played the game of going in [to auditions] and flirting; I've never done it.

Giving birth to her son just before Game of Thrones started: "Really horrendous – I was postnatally depressed but I didn't know it. I saw a doctor for the medical check, and I just burst into tears. She said I was postnatally depressed and I went, "Am I? Why is that?" I saw a great guy and he sorted me out, but I did the first year [on Game of Thrones] in that space, figuring out motherhood and going through a weird time personally. It was tricky.
There's some other GoT stuff in there, about how she watched "Hold the Door" and couldn't stop crying, and how Dinklage always makes her laugh and how she's always falling up or down steps as Cersei. I don't know, you guys – I think I might love her? I love that she still has such nasty feelings about Natalie Dormer's character. My only complaint is mild – while she can control whether she "flirts" in auditions, she can't control whether male directors or casting directors objectify her or other women. She comes across as sort of judgmental there, like a woman should never, ever use her sexuality or beauty to get a job? And that's an unreasonable standard.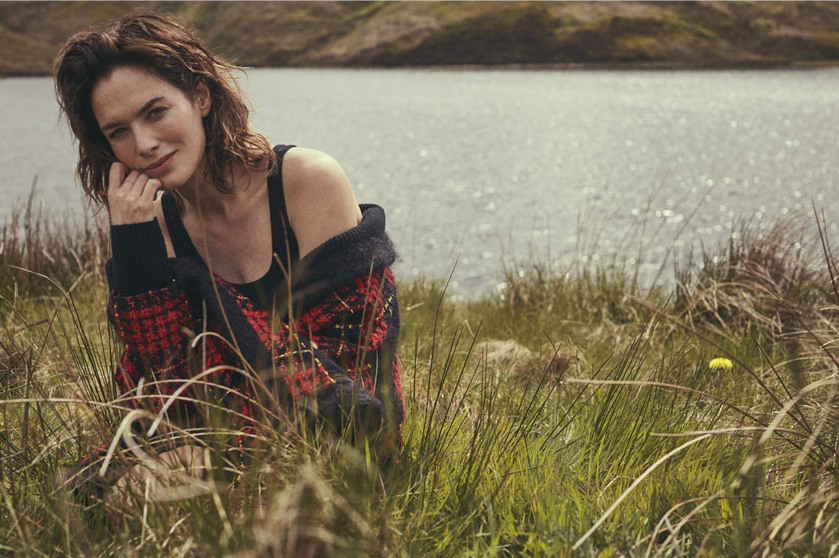 Photos courtesy of Stefano Galuzzi for The Edit/net-a-porter.com.