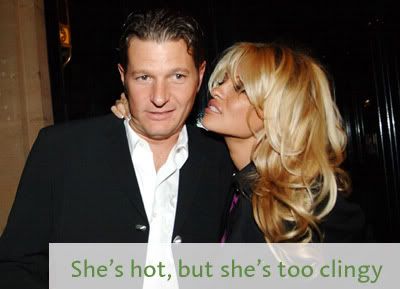 Pamela Anderson was photographed in London last night with Laurence Hallier, who is supposedly her new boyfriend. Hallier is a real estate developer who owns the recently constructed Panarama Towers overlooking the Las Vegas strip. Leonardo DiCaprio owns a new condo there, and other well-heeled residents will be moving in this summer.
Anderson looks drunk in these pictures and Hallier seems annoyed at her. He may be well off, but he doesn't look like the rocker or model types she normally dates. We'll be surprised if we hear much more about it.
Five more after the jump.