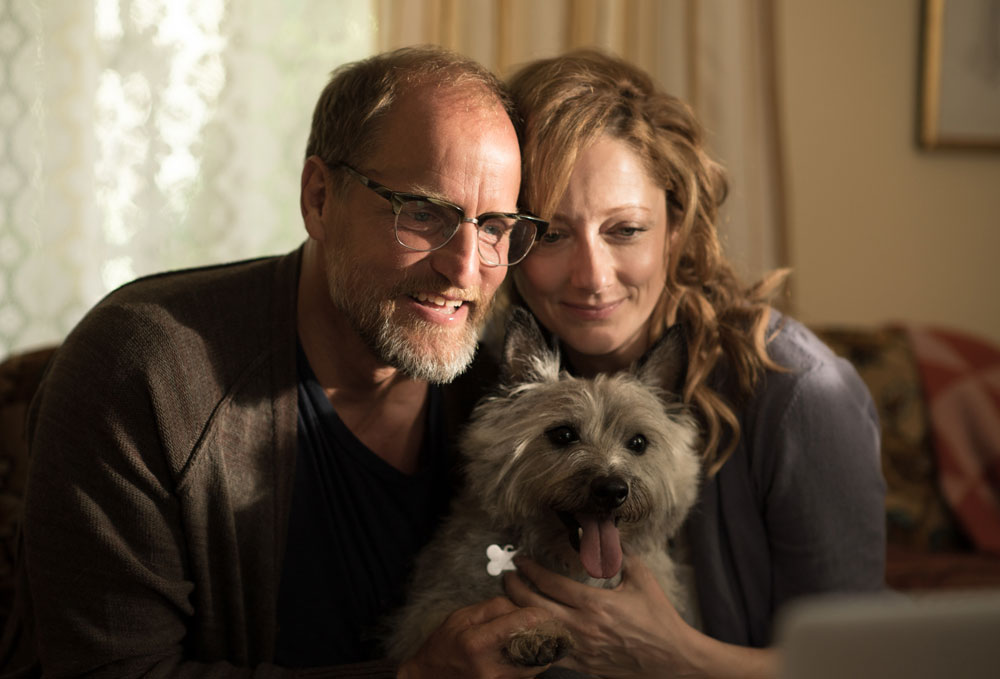 I will see almost anything with Woody Harrelson in it. That may be because he chooses good to excellent films, which he invariably elevates, and of course a lot of that is because I adore seeing him on screen. I'm really looking forward to War of The Planet of The Apes this weekend, in which he stars. I know it's not the most popular movie and some of you may scoff at me, but if so I can almost guarantee you did not see the last one. (Not the first reboot one with James Franco, that was two POTA movies ago, the last one from 2014, Dawn of the Planet of the Apes, was excellent.)
Harrelson is also in an indie movie called Wilson, which costars Laura Dern and features Judy Greer. It's out on demand now so there's another movie to add to my queue. You may know Greer as an accomplished and profilic character actor who's been on TV (Two and a Half Men, Arrested Development) and in films (Dawn of the Planet of the Apes, and she's also in War of the Planet of The Apes! Thanks IMDB and casting agents). Apparently Greer had a sex scene with Harrelson and she was trying to make it feel authentic. Only she went way overboard and felt mortified. She told this story to People:
Before the rehearsal, Greer tried hyping herself up for the scene. "I'm not gonna be shy, I'm not gonna be ashamed," she recalled telling herself. "I'm gonna really do my full performance here for this rehearsal so everyone knows what I'm gonna do."

But as Greer quickly found out, she might have gotten herself a little too hyped.

After the rehearsal, the film's director, Craig Johnson, walked over to her and cautioned, "I don't think she's that into it."

"And I was like, 'Oh my gosh, never again," Greer said. "I'm so embarrassed. I'm so mortified."
I've only heard good things about Harrelson from his costars, and I'm sure he either didn't notice if Greer was overenthusiastic or didn't really care. That's usually the case with social situations I think were incredibly awkward – the other person barely registered the situation and may not even remember it while I'm still obsessing about it. That's got to be a tough situation to be in as an actor, especially when it's a a sex scene. That's definitely something that can bother you for a while, considering that the results can live forever. At least this was just a rehearsal though.
Also, doesn't Greer look so different as a blonde? I know she's been blonde for a while but I'm used to seeing her as a redhead.
Photos credit: Getty and WENN