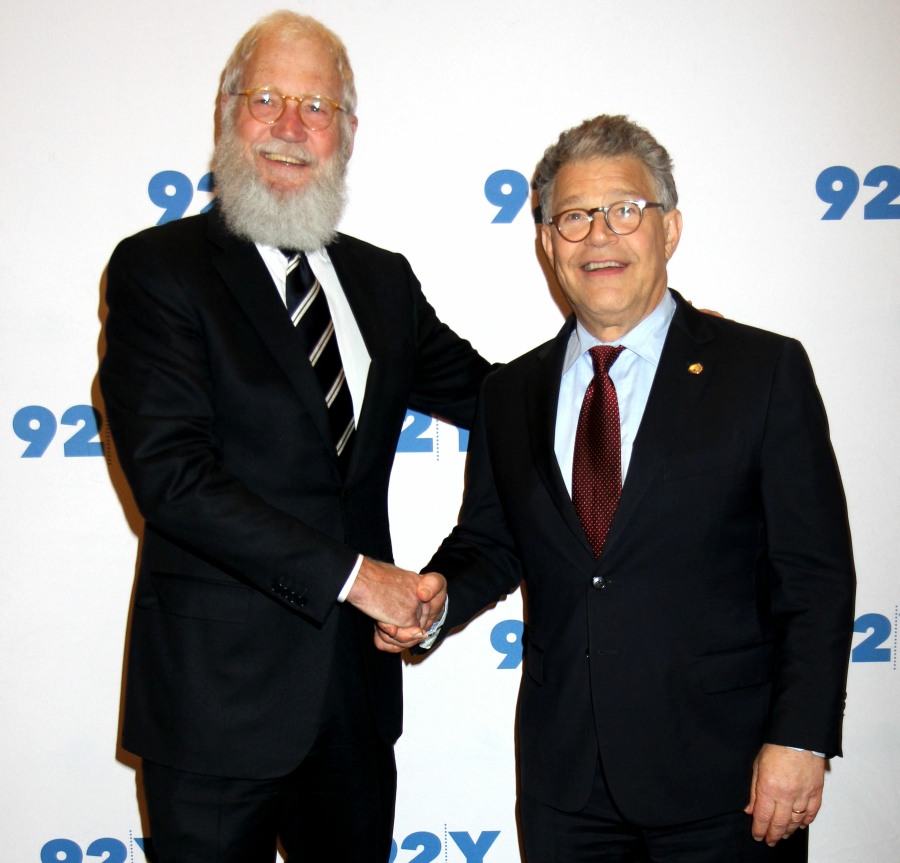 David Letterman has taken part in NatGeo's Years of Living Dangerously, a docu-series about climate change and what we can do about climate change issues. Letterman traveled to India to learn what they're doing about power and climate change, and Letterman has also done a Funny or Die skit about climate change with Sen. Al Franken. All of that is why Letterman ended up chatting with the Associated Press this week. You can read the full interview here. Letterman continues to be one of the few voices of sanity in the Soviet Republic of Trumplandia, and by that I mean… Letterman has been disgusted from the start, and he was never one of those "give Trump a chance" people. Here's part of the interview:
AP: Speaking of the current administration, late-night seems to have become mostly Trump jokes and tirades. Do you miss not being part of that?

Letterman: Here's what I keep saying: We know there's something wrong, but what I'm tired of is people, daily, nightly, on all the cable news shows telling us there's something wrong. I just think we ought to direct our resources and our energies to doing something about it. And other people have made this point: If the guy was running Dairy Queen, he'd be gone. This guy couldn't work at The Gap. So why do we have to be victimized by his fecklessness, his ignorance? But it's just the behavior is insulting to Americans, whether you voted for him or not – and I feel bad for people who did vote for him because he promised them things that they really needed and one wonders if he's really going to come through. I know there's trouble in this country and we need a guy who can fix that trouble. I wish it was Trump, but it's not, so let's just stop whining about what a goon he is and figure out a way to take him aside and put him in a home.

AP: Sen. Franken had been critical of Kathy Griffin for how she spoke out. Do you think she took it too far?

Letterman: As you and I know, you can make jokes about anything. But you have to be prepared to answer the criticism so that's just what that was. She made a joke. Others have made jokes that were better or worse. And she just had to answer for it. … I felt bad for her. I would not have made the joke. I think and say things to my friends that are worse. But he's so sensitive. He doesn't understand why people aren't nicer to him in the press and you just say, well, 'Donnie, look at the tone of the campaign that you ran.'
"I feel bad for people who did vote for him because he promised them things that they really needed…" Yeah, no, I don't feel bad for them. Anyone who voted for Donald Trump doesn't deserve one ounce of sympathy. I've had this argument before with various people: ignorance is not a defense, so don't say "I never realized that Trump would actually do the things he said he would do" or "I never realized he would be such an unhinged nutjob." You knew. And you voted for him for anyway. And let's be clear: the overwhelming majority of people who voted for Trump STILL SUPPORT HIM. They still look at him, six months into this administration, and think that he's making America great again through white supremacy, hate, ignorance, bad management and double scoops of ice cream. I'm not trying to unload on David Letterman, who seems like he's as worried as everybody else. He's right about one thing too – we need to stop talking about Trump being a nutjob and actually do something to impeach, or invoke the 25th amendment.
Photos courtesy of Getty.