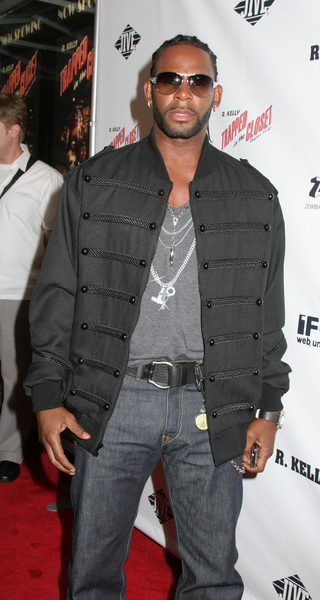 R. Kelly, the super-gross most-likely child pornographer will be heading to court in September – and the weeks prior to that have been filled with pre-trial hearings. Today the judged ruled that they can show the video of Kelly having sex with the alleged 13/14 year old girl during the trial. Kelly's defense team has had some real winners, in terms of excuses why Kelly is innocent. Part of the problem is that they're throwing out too many of them. They've said the videos are newer than thought, making the alleged victim older. They've said that it isn't Kelly, and that they images of him are computer generated. I'm pretty sure their next line will be about aliens having inhabited his body. The victim also claims it's not her on the tape, though that's a recent change in her story.
"A Cook County judge has upheld a ruling allowing the media and public to view a videotape allegedly showing singer R. Kelly having sex with an underaged girl.

"Prosecutors asked Judge Vincent Gaughan (GAWN) to reconsider his earlier decision. They say allowing it to be viewed in open court would re-victimize the girl.

"But Gaughan noted that the girl who prosecutors say is in the video has denied it was her.

"Prosecutors claim the video was made between January 1998 and October 2000, when the girl may have been as young as 13.
Kelly has pleaded not guilty to 14 counts of child pornography."
[From USA Today]
Let's not forget that this is the man who married singer Aaliyah when she was 15, back in 1995, when he was 27. Wikipedia notes: "In 1995, a rumor surfaced that 15-year-old Aaliyah and 27-year-old R. Kelly had secretly married. Both camps initially denied the rumor, but VIBE magazine published a copy of their marriage license, which showed that Aaliyah's age had been falsely listed as 18. The marriage was annulled a few months later." So there's a legally documented history of Kelly preferring underage girls. Anything under 17 is considered underage in most jurisdictions, including Cook County, where Kelly's trial is taking place. I really don't understand why this guy still has a successful career and why this hasn't tainted his image, but I hope he gets what's coming to him in prison.
Picture note by JayBird: Here's R. Kelly at his Trapped in the Closet: Chapters 13-22 Premiere. Image thanks to PR Photos.