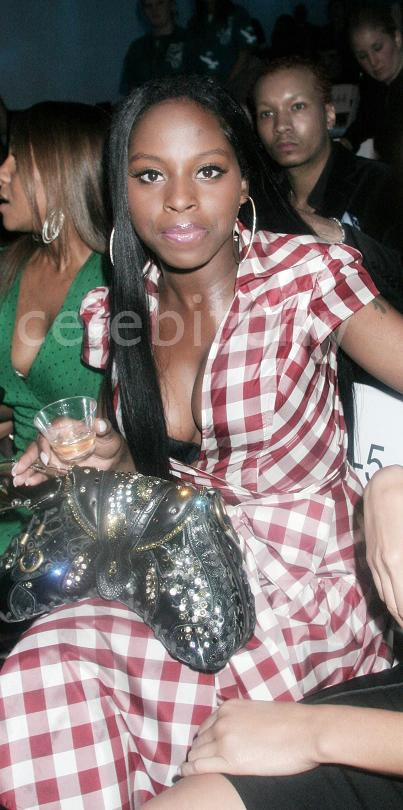 It seems that Foxy Brown's spate of run ins with the law have finally caught up with her: she's been sent to jail for violating her probation. Remember a few days ago, when we reported that she hit her neighbor in the head wit her Blackberry [http://www.celebitchy.com/5302/foxy_brown_charged_with_assault/]? Well it turns out that dreams do come true, and Brown has been sent to jail. Not specifically on the Blackberry offense, which has yet to go to trial (though it would sure be nice if the justice system worked that quickly). But because she was arrested for a violent crime, her probation was revoked. It also turns out – and here's the real surprise – that Foxy hasn't been going to her anger management classes. Can you believe it?
"A judge has jailed troubled rapper Foxy Brown for violating her probation, authorities said.

"Officials had sought to have the probation for the 27-year-old entertainer revoked after she was arrested last month in Brooklyn on charges she smacked her neighbor with her cellphone, said Jack Ryan, a spokesman for the city Department of Probation. They also complained that Brown had skipped her anger management classes and failed to get permission before traveling outside the city.

"On Thursday, Criminal Court Judge Melissa Jackson ruled Brown would have to remain behind bars until a hearing on Sept. 5.

"A call to Brown's attorney was not immediately returned.

"Brown, whose real name is Inga Marchand, was on probation for attacking two manicurists at a nail salon in 2004. She was arrested again on Aug. 17 for allegedly assaulting Arlene Raymond, 25, on July 30 after the pair got into a fight over Brown blasting her car stereo."
[From USA Today]
It's hard to tell if Foxy has an anger problem or a sense of entitlement. She's spoken out several times saying that people are trying to take advantage of her, and fabricating stories of her assaults. Um, that's a whole lot of people. It'd be a pretty massive conspiracy. She seems to think that fame buys her the right to do whatever the hell she wants. If she wants to blast her music outside her neighbor's apartment, she can do that. And if she wants to smack her in the head for complaining about it, well that's her right too! Ridiculous to think she should do otherwise. Her argument only carries so much weight – after enough legal troubles due to her angrily assaulting people, it's hard to believe her anymore. In other news, according to the New York Post, Foxy has announced that she's pregnant and getting married. That's going to be fun to do from jail.
Picture note by JayBird: Here's Foxy at Spring Fashion Week in Bryant Park. Thanks to WENN for the pic.