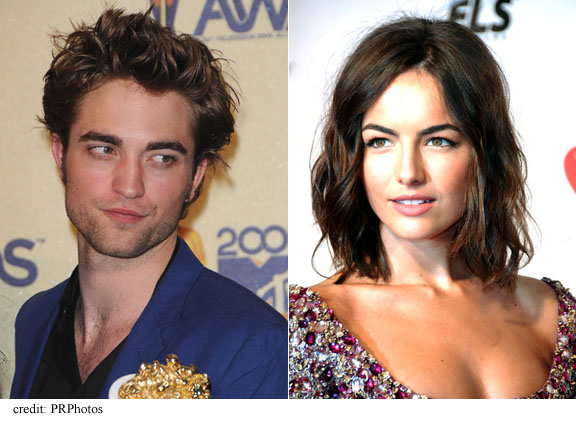 Camilla Belle needs to get off my boyfriend. Robert Pattinson is mine! Or Kristen Stewart's, whatever. All I know is that Camilla Belle is unworthy of Robert Pattinson's lovely jawline. The National Enquirer is reporting that Camilla and Robert have had an undercover romance for a while now – one of her friends totally sold her out, saying, "She and Rob have been meeting up with each other for months, and she talks about him all the time." Seriously, get off my boyfriend. No matter that Camilla is still dating Joe Jonas, the oldest virgin Jonas Brother. No matter that Joe's mother probably thinks Camilla is trying to "seduce" her mama's boy every two seconds. That could be the explanation for the Pattinson hookup, actually. Camilla needed to get laid. Go ahead, girl. It happens to the best of us:
Joe Jonas is the latest Hollywood hunk to lose his girlfriend to Twilight heartthrob Robert Pattinson!

Pattinson has secretly been hooking up with Joe's gorgeous 22-year-old squeeze Camilla Belle, sources tell the Enquirer.

"I've known Camilla for most of her life, and I've never seen her so crazy in love," a close friend of the actress told The Enquirer.

While Camilla's publicist denies she's been seeing Rob, the friend added: "She and Rob have been meeting up with each other for months, and she talks about him all the time."

But Joe Jonas isn't the only guy smarting from 23-year-old Rob's mega-pull on Hollywood's young beauties.

Rob was eyewitnessed kissing Kristen Stewart in Vancouver AFTER the cameras stopped rolling on their sequel New Moon.

News of that hookup certainly unsettles Kristen's steady boyfriend, former "24" actor Michael Angarano, who'se been dating the brunette beauty since she was 16.

Pattinson has also been linked to Emile Hirsch's friend Erika Dutra, Twilight costar Nikki Reed and actress Shannon Woodward.

"Obviously, Camilla has some competition," said her friend.
[From The National Enquirer, print edition, June 15 2009]
As soon as there was even a whiff of a rumor, Camilla's people got on it and arranged an outing for her and Joe Jonas. They were practically posing while "grabbing lunch" yesterday in Los Angeles. I seem to remember hearing that Camilla is extremely ambitious, and she has no qualms about using her relationships to get famous. So was the photo-op to contain the damage, or perpetuate the drama? If you were a hot young starlet, wouldn't you want a rumor involving you and Robert Pattinson? Thought so.