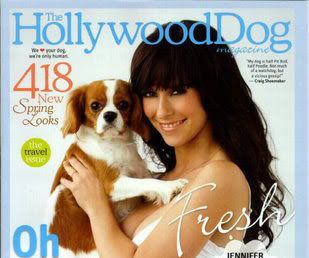 New magazine, Hollywood Dog, covers the lifestyles of dogs owned by celebrities. It was only a matter of time:
The magazine opens with puperazzi shots of bicoastal celebrities and their canines.
Edie Falco of "The Sopranos" crouches next to her mutt. Adrien Brody is caught leaving the Golden Globes Silver Spoon Buffet in Beverly Hills with his Chihuahua. A makeup artist works on Carmen Electra's eyes while the ex-"Baywatch" star cuddles her dog Daisy. Eva "Desperate Housewives" Longoria and her poodle stand beside trash cans outside their Hollywood home….
Among the headlines: "My Dog Has PMS." Actress Jennifer Love Hewitt and her relationship with Charlie–not Sheen, but her King Charles Cavalier Spaniel–are profiled.
Then there's the wedding photo spread "Bow Vows," featuring assorted Chihuahuas dressed to the nines. One wears a wedding dress that sells for a mere $30, but then there is the $110 necklace and the $350 wedding cake from Three Dog Bakery.
18 year-old British singer Josh Stone is voted the best celebrity dog owner, while Paris Hilton is questioned for replacing her poor Chihuahua.
Plenty of ads for upscale dog goods are featured in the new magazine. Celebrities do a good job at making the rest of us feel inaquate. Now our pets are uglier with cheaper accessories too!
Jennifer Love Hewitt is on the cover of the inaugural issue of Hollywood Dog with her Cavalier King Charles Spaniel, Charlie. Pictures [via]