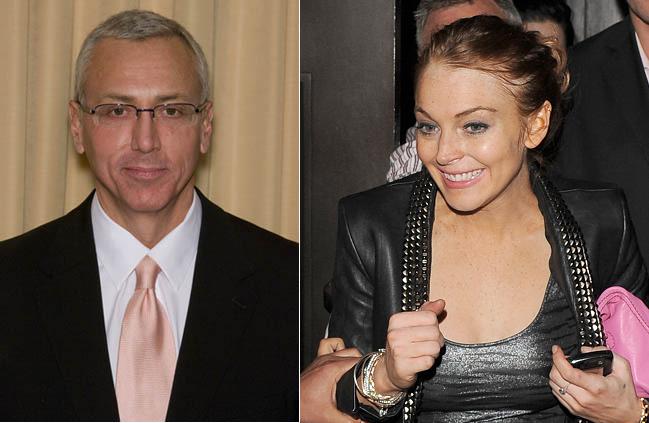 I think most people are aware that Lindsay Lohan is going to need to have something incredibly traumatic and life-altering to get her to take her sobriety seriously. Every so often she'll go into rehab to help her image, her career, or because a court tells her to. But obviously she's never doing it for the right reasons, and never admitting that she has any kind of a problem whatsoever.
"Celebrity Rehab" creator Dr. Drew Pinsky says he truly believes Lohan will get sober one day – but that it's going to take a near death type experience – or something of that severity – to get through to her.
"I'm convinced that she'll get sober one day. But I'm afraid that between now and then, she may get a nearly mortal wound of some type. I'm really convinced that something horrible is going to have to happen to her before she really gets over it and embraces sobriety. She needs to give it up. And it's going to be a while before she does. I have this image that she's going to lose a limb or something before she does. And it scares me."
[From Parade]
Dr. Drew also says he thinks part of the problem with staying sober for a lot of celebrities is that they don't have "a place to hide." Meaning they can't go anywhere anonymous and safe for support, because even at places like AA, it's not an anonymous situation when you're David Hasselhoff. And people want to know his business in a different way than they want to hear about the addict next to them – it's just human nature.
While I agree with Dr. Drew about it taking something terribly huge for Lohan to get her act together, the fact is that if it takes something so drastic, whatever it is may very well kill her instead. I feel mean saying it, and I'm not trying to be catty or pessimistic. But she's been in and out of rehab so many times, and made it clear she doesn't care. Either she thinks the rules don't apply to her and she'll always be able to live without consequences – whether they're legal or health – or she doesn't give a rip about them. And she's got absolutely no support system whatsoever. I truly hope she decides to get her life together, but it's hard to keep saying that sort of thing without waiting for her to steal someone's car and run over a stranger's foot again.
Here's Lindsay leaving Cuckoo Club in London just before 2.30 in the morning last night. Images thanks to WENN.com .