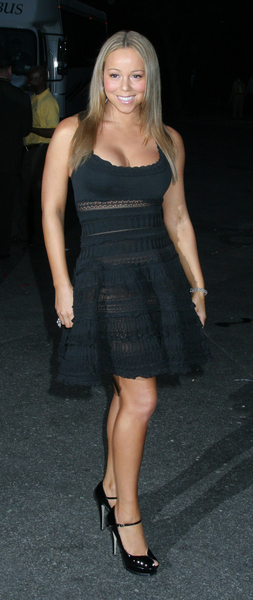 Remember a few years ago, when Mariah Carey went all crazy and started stripping her clothes off on TV? Well apparently that moment – and the several other bizarre/awkward ones she'd had around that time – wasn't a breakdown, it was a breakthrough. And why did this all happen? Exhaustion, working herself way too hard, and her crazily driven work ethic. Supposedly. I'm sure drugs and alcohol had nothing to do with it. In her upcoming interview with "Interview" magazine, Carey talks about that much publicized time in her life.
"Pop star Mariah Carey has no regrets about her infamous 2001 nervous breakdown, now describing her public disintegration as an emotional 'breakthrough'.

"The 'Without You' singer was treated for extreme exhaustion in July 2001 following her eccentric behaviour during a couple of public appearances.

"But Carey insists she needed to "hit rock bottom" to comprehend what her non-stop work ethic was doing to her.
"She tells American magazine Interview: 'I'm far from perfect. I'm still learning. I overworked myself, and I paid the price. I consider the breakdown a breakthrough. I needed to hit rock bottom. I needed to understand the cost of pushing so hard; fighting so hard against the system.

"'But was I out of control at that moment? Yes.'"
[From Ireland Online]
Well it's good that she's honest and says she was out of control, but does anyone believe it when a celebrity says whatever massive issue they have is attributable to exhaustion? That's like saying your leg fell off from a splinter. The cause just doesn't naturally lead to such an extreme effect. Either way, Mariah Carey is one of those people who's always seemed delusional and off-kilter. Maybe it wasn't substance related, maybe it was just her own natural crazy working its way through her system. Or maybe she just has the words breakthrough and breakdown mixed up; she's never struck me as that bright. But she has put out the best music of her career since her breakdown, so maybe there's some truth to it. Or maybe crazy = genius.
Picture note by JayBird: Here's Mariah at the 2007 Fresh Air Fund Salute to American Heroes in June. Image thanks to PR Photos.