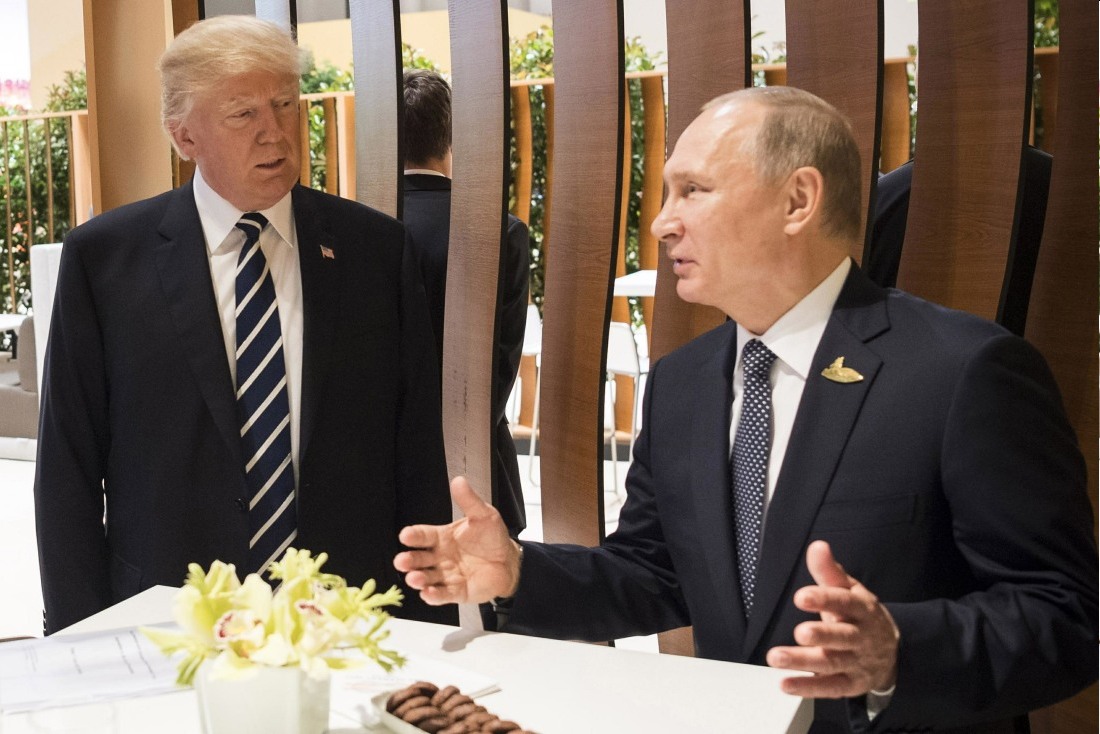 There's nothing so amusing-scary as watching someone really, really stupid attempt to be clever. So it is every day with Donald Trump. Like, you would think that if Trump really wanted to convince people that he's anything other than a bought-and-paid-for Russian stooge, he would actually go out of his way to say some harsh things about his precious Vladimir Putin. It shouldn't be that hard – Trump is a baby-fisted bully who will literally mock the handicapped, POWs, veterans, other Republicans, gold-star families, anyone who isn't white, anyone with a vagina and Meryl Streep. Trump loves to sh-t talk and he loves to bitch, moan and whine about all of his petty personal grievances on Twitter. So how is that he has never, ever said one bad word against Vladimir Putin? Exactly. He thinks he's being so clever.
Last week, Trump was forced (!!) to sign Congress's bipartisan, veto-proof Russian sanctions bill. The bill basically says that we (America) need to keep all of the Obama-era sanctions in place, plus add some new sanctions because of how Russia interfered with the 2016 election. Trump was a giant baby about it and he made an asinine statement about how he should be able to do whatever he wants because he's a businessman. Russia responded by throwing a series of hissy fits, suggesting that Trump is impotent and that he handed his balls to Speaker Ryan. You get what you pay for, Vlad. Russia also responded by announcing the expulsion of 775 American diplomats and civil servants working in Russia. For days, Trump said nothing, because he's so clever, you guys. Then when he was asked about it on Thursday, this is what happened:
President Trump said Thursday that he is "very thankful" to Russian President Vladimir Putin for expelling hundreds of U.S. diplomats from Russia, because he said it helps him cut the U.S. government's payroll. Addressing for the first time Putin's decision late last month that the U.S. Embassy and consulates in Russia would have to cut 775 diplomatic and technical staffers, Trump told reporters that he sees no reason for them to continue working in Russia.

"I want to thank him because we're trying to cut down our payroll, and as far as I'm concerned I'm very thankful that he let go a large number of people because now we have a smaller payroll," Trump said. "There's no real reason for them to go back. I greatly appreciate the fact that we've been able to cut our payroll of the United States. We're going to save a lot of money."

Trump's answer was a tad tongue-in-cheek, but he gave no clear indication that he was joking or trying to be facetious in offering his gratitude to Putin.
What I keep thinking about is how the Deplorables love to go on Twitter and call other people "cucks." But isn't Emperor Bigly showing that he's the biggest "cuck" of all? Putin is the dominant, the alpha. Trump is showing off his submissive beta status yet again. He's so weak. It's all bluster and fire and fury for North Korea, but when Putin is actually making some huge geopolitical moves that affect North America and Europe negatively, Trump bends over and asks to be humiliated once again.
Photos courtesy of Backgrid and Getty.