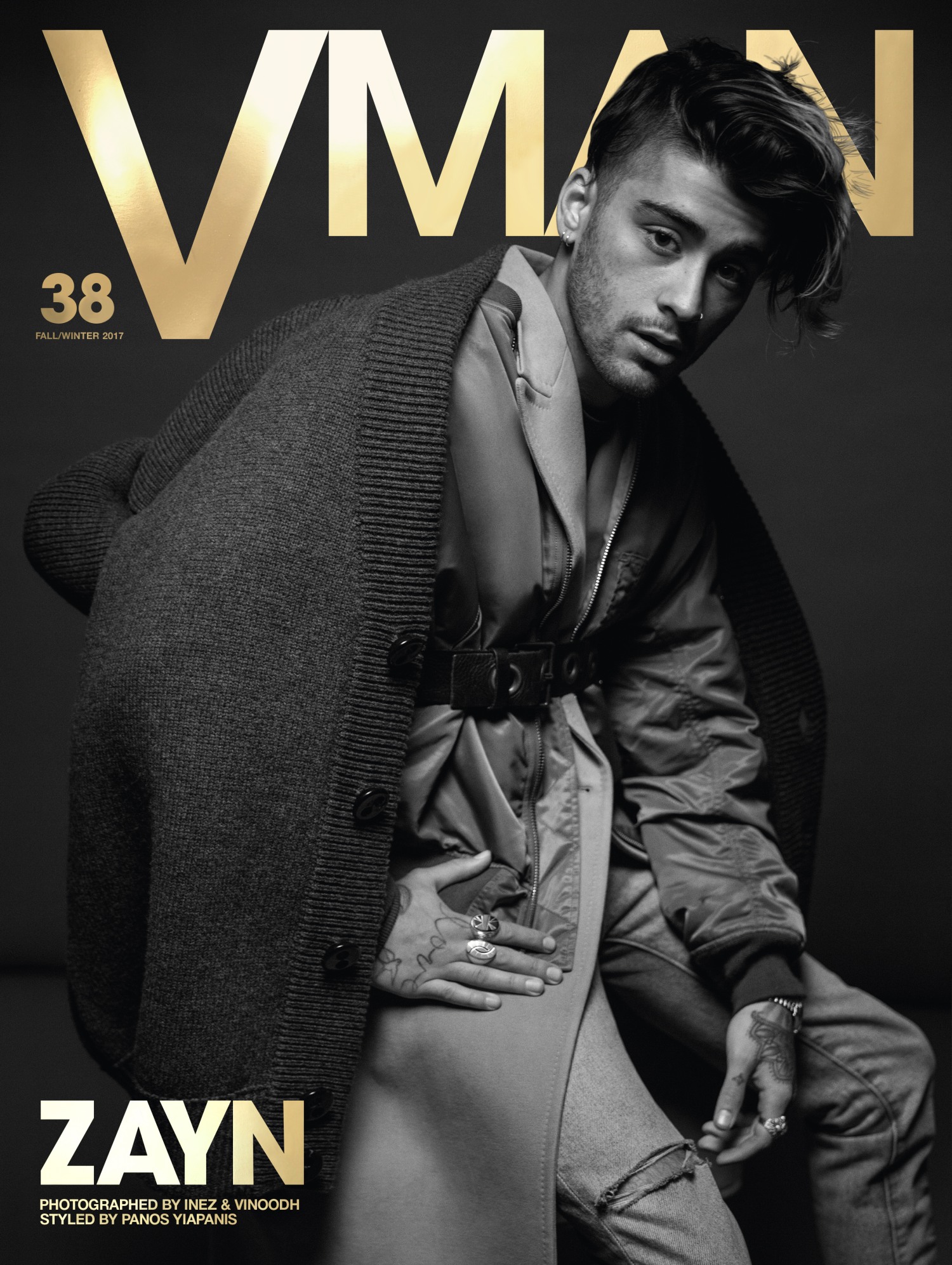 Zayn Malik covers the latest issue of VMAN Magazine. He's doing some advanced promotion for his second album, which is apparently coming out this fall. The VMAN photos are rather gorgeous, aren't they? And to think, in the heyday of One Direction, I thought Harry Styles was the "cute one." Well, I still think Styles is sort of cute, but Zayn is flat-out beautiful. I would kill for his eyelashes!! Anyway, this VMAN profile is pretty basic, but not necessarily boring. Zayn's maturing, he's not the social-media-feuding poseur anymore. He's a big boy! You can read the full VMAN article here. Some highlights:
The idea that he 'became a man' by leaving 1D: "I don't think it was necessarily that experience that made me a man. I was becoming a man at that time anyway, and that experience was a validation of my decision-making at that time. Maybe I became a bit more in the driver's seat—a bit more in control—and that was the first decision I made that reflected that in my life. I think it was a natural growth as a human being and as a person. I feel like I'm still growing every day, as everybody is. I don't know everything and I'm willing to learn, so I believe everything is a natural progression."

Singing in Urdu: "I definitely focused on that for a couple of songs on this record that got this same underlying tone of India and the place that my grandparents originally came from. There's definitely influences of that in there. Hopefully people like it this time around, as well."

Being a famous Muslim pop star: "My faith is between me and God, and whatever that God is, that's between me and them. That's where I draw the line: the specifics. I am a spiritual person and I do believe that everything happens for a reason, so I do have faith in something. I just don't wish to specify what that is. I don't want anybody to feel like I'm trying to dictate or wave my opinion on anything. I'm just doing what I'm doing. My religion, or whatever that is, is between me and God, and that's just how I want to keep it."

On his public struggle with anxiety: "When people don't always fit that grain, it's very confusing for the public eye that's watching because they don't understand the full ins-and-outs of every emotion that that individual is going through. I think the anxiety comes from the frustration of not being able to explain that to people. Since I explained that I have anxiety, I've diminished it because I dealt with what was giving me anxiety: feeling the need to uphold all of these f–king pressures and these things that people want from you. Once you let that go, the anxiety diminishes. It doesn't really exist anymore because you only care about what it is that you want to give to people. Whether they perceive that in the right or wrong way is ultimately not your choice. It's out of your control. You can't always control it, and you just accept that. With that goes the anxiety. Anxiety comes from not being able to control every aspect."

On social media: "It's become ridiculous to me. Even angles of pictures can't be taken a certain way because that's not the cool way to take an angle of a picture. Everyone's personal opinions and what they believe in, how can you amalgamate all of that into one thing and expect that not to create a problem for people's minds? That's my personal opinion, [that] it's not really that developing for us as people. That for me is the main reason why I don't believe in [social media]: because I believe it breeds sheep and not lions."

What he would do if he wasn't making music: "I think about that quite a lot. I think about alternative realities. I think I'd be at university and I would have done my English degree. I think I'd be looking for some employment to do with English lecturing or literature. I love poetry and writing—obviously, I'm a songwriter—so, it would've been something that would still give me the feeling of a creative outlet within my writing." It's an alternative that seems unimaginable to his audience of millions, but to Zayn, it's entirely plausible.
I find his comments on his faith very interesting. He's obviously aware of both sides – that one side really wants to make him this "Muslim Pop Star Poster Boy" and the other side wants to judge him harshly for either his faith or his lack of directness about his faith. He treads that line very carefully and I admire him for the way he answered that question. Would it also be cool if he was like "Yes, I'm a Muslim and a pop star, deal with it"? Of course. But he shouldn't have to talk about his faith either way. Also: I like the way he explains how he deals with anxiety. He explained that really well.
Photos courtesy of Getty, VMAN.