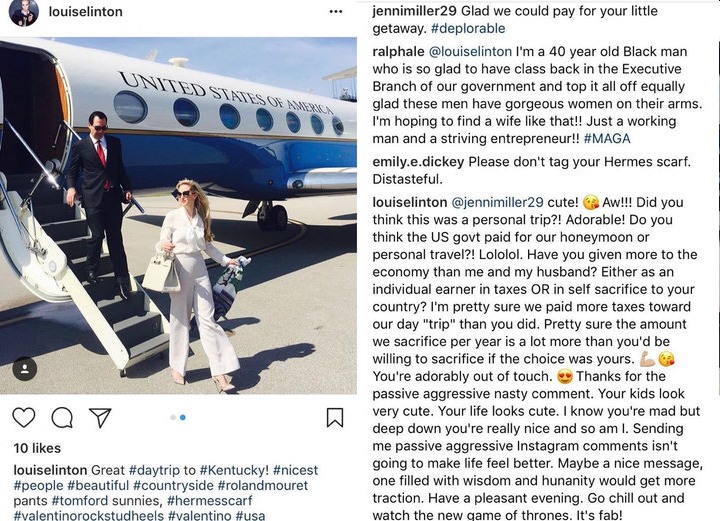 I don't have time to keep up with the people I consider secondary to the Deplorable Movement. It's upsetting and aggravating enough trying to keep up with the main players, the people who will eventually be under indictment (fingers crossed). So before this week, I had paid no attention to this woman, Louise Linton. Now that I've done three minutes of research, I'm here to tell you that she's basically another Megyn Kelly/Tomi Lahren/Random Bitchy Blonde Republican Woman. Louise Linton is married to Treasury Secretary Steven Mnuchin. Mnuchin is RICH. Like, really rich. That's how he can afford Louise Linton and her expensive taste. Linton posted an Instagram yesterday of herself and her husband deboarding a taxpayer-funded plane in Kentucky. Linton tagged the IG with all of the designer labels she wore in the photo, #Valentino, #RolandMouret, #TomFord, #Hermesscarf and more. When someone called her out in the comments for being tacky and deplorable, Linton unloaded.
Actress Louise Linton, who married Treasury Secretary Steven Mnuchin in June, posted and then deleted a photo of her and her husband as they walked off an Air Force jet Monday that was akin to a fashion shoot tagging the designers she was wearing. After facing criticism from an Instagram user, Linton, who is married to the man who is fifth in the presidential line of succession, responded to the user with a long comment filled with classist attacks. Linton has now taken her Instagram account private, not allowing Instagram users who don't already follow her to see her account.

Linton has tagged designers she appears to be wearing in previous Instagram posts, but it's unusual, if not unprecedented, for the spouse of a Cabinet secretary to promote the designers she is wearing in any social media post, much less one that includes a photograph of her with her husband while on government travel. An Instagram user, called "Jenni M," responded to Linton's post and said, "Glad we could pay for your little getaway. #deplorable"

Linton's response to Jenni M came after she appeared to examine Jenni M's Instagram feed, making note of Jenni M's family and children.

"@Jennimiller29 cute!….Aw!! Did you think this was a personal trip?! Adorable! Do you think the US govt paid for our honeymoon or personal travel?! Lololol. Have you given more to the economy than me and my husband? Either as an individual earner in taxes OR in self sacrifice to your country? I'm pretty sure we paid more taxes toward our day "trip" than you did. Pretty sure the amount we sacrifice per year is a lot more than you'd be willing to sacrifice if the choice was yours. You're adorably out of touch. Thanks for the passive aggressive nasty comment. Your kids look very cute. Your life looks cute. I know you're mad but deep down you're really nice and so am I. Sending me passive aggressive Instagram comments isn't going to make life feel better. Maybe a nice message, one filled with wisdom and hunanity [SIC] would get more traction. Have a pleasant evening. Go chill out and watch the new game of thrones. It's fab!"

This is not Linton's first encounter with controversy. In 2016, Linton came under fire for her self-published memoir, In Congo's Shadow, which detailed her time as a student in Zambia. In July of 2016, Zambians, and their advocates, criticized Linton's portrayal of Zambia as a war-torn, poverty-stricken nation with wild animals running through the streets. Linton was also criticized for portraying herself as a white savior. Under pressure, Linton withdrew the book from sale and pledged to give any proceeds to charity.

Mnuchin and Linton were in Kentucky on Monday to tour Fort Knox, which holds the federal government's $200 billion gold reserves.
You know the worst part of this story? THIS TRIP WAS UNNECESSARY. They went to Fort Knox for a "tour." It wasn't really a business trip that affected the future of the American economy. They flew to Kentucky on the taxpayer's dime for a fun getaway and a stupid tour. Anyway, yes, this woman IS deplorable.
Photos courtesy of Getty, Instagram.