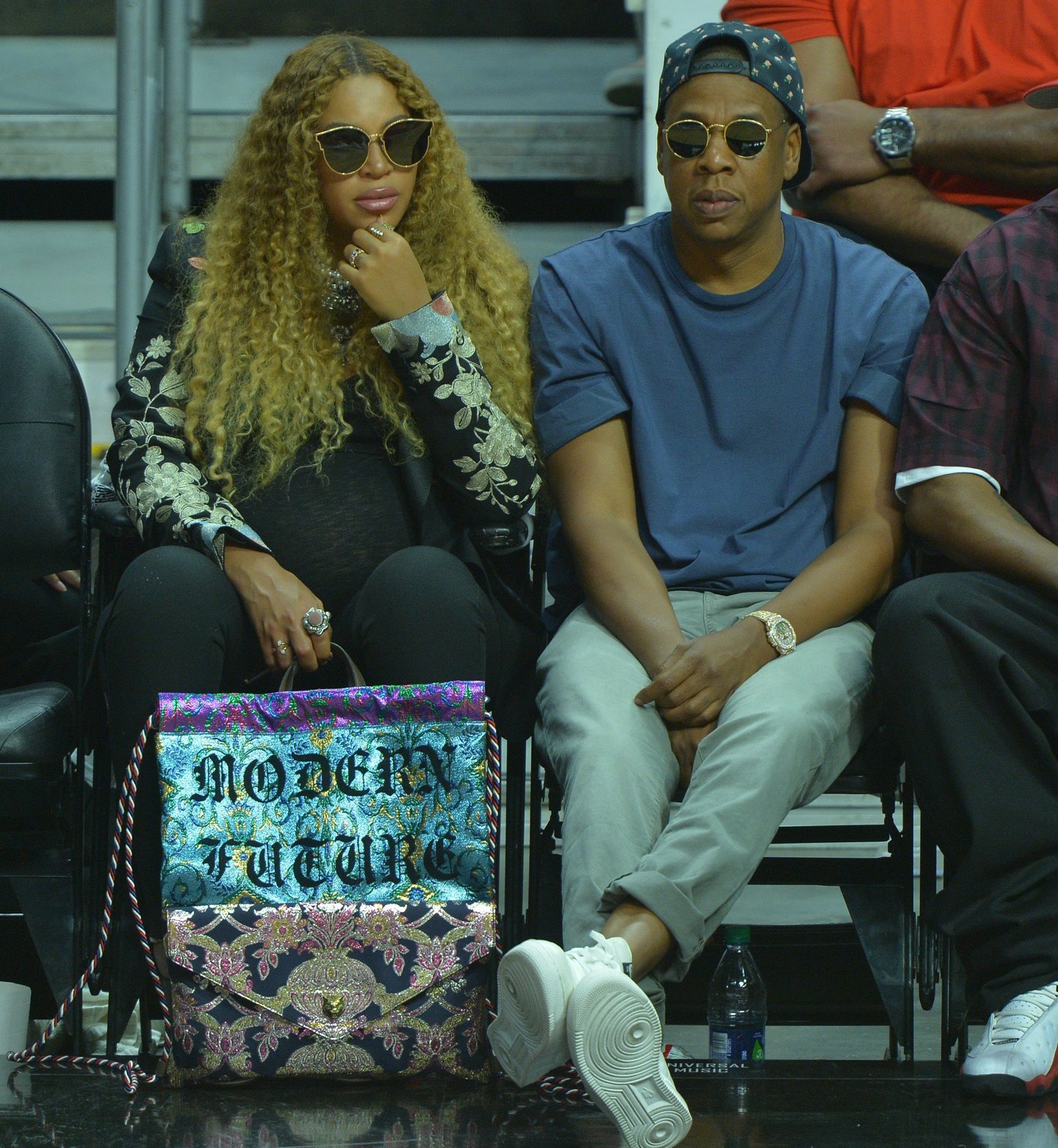 I enjoy reading and writing celebrity real estate stories, but I get that most people don't give a crap about them. Like, I love it when celebrities show off their homes in Elle Decor or Architectural Digest or one of those magazines. I love to creep on celebrities' tastes in architecture and design. We probably won't ever see the inside of Beyonce and Jay-Z's many properties, but this year, we have been gifted with increasingly hysterical reporting on the new house they just bought in California. And when I say "house," I mean… it's like a proper estate. It's basically the size of a small village. Bey and Jay were househunting for months before they finally settled on an $88 million Los Angeles estate, and now the LA Times reports that Bey and Jay put more than $30 million down, and took out a mortgage for $52.8 million.
Jay-Z and Beyoncé may be worth more than a billion dollars combined, but the couple ultimately used conventional financing in order to purchase their first Los Angeles-area home. The rapper/hip-hop magnate and his superstar wife, through blind trusts, paid $88 million for the sprawling contemporary estate, public records now show. Also revealed in the records is that the couple is carrying a mortgage amount of $52.8 million.

Plug that into any mortgage rate calculator (we happened to used Google's search-based calculator) and that amounts to 30 years of monthly payments at $252,075 based on an interest rate of 4%. To put that into perspective, that's roughly 40% of the July median sales price — $610,000 — for single-family homes in Los Angeles County, according to CoreLogic. It's also about $50,000 more than the U.S. median home value of $200,400, according to Zillow.

So what does a $250,000-a-month mortgage buy in L.A.? For Jay-Z and Beyoncé, its a monolithic-vibe modern mansion with approximately 30,000 square feet of living space, four outdoor swimming pools and a spa and wellness center. Developed by Dean McKillen, the son of Irish billionaire and property investor Paddy McKillen, the residence sits behind gates on about two acres and comprises six structures. Amenities include spa and wellness facilities, a media room and separate staff quarter. There's also a full-sized basketball court.

McKillen bought the property through a corporate entity four years ago for $15 million, records show. The developed property was completed this year. The off-market transaction is now the highest sale of 2017 in Los Angeles County, besting the $85-million deal for David Geffen's Malibu compound that recorded in May. Historically, it's L.A.'s fifth-largest sale of a single-family home, trailing last year's two $100-million deals, the $90-million sale of Owlwood and Fleur de Lys, which traded three years ago for $88.3 million.
The idea of a $52.8 million mortgage hanging over my head makes me itchy, but let's be real – Bey and Jay have the money. They have the money to pay for the home flat-out, but they probably took out a mortgage because A) tax reasons and B) maybe they aren't liquid enough to put down anything more than $35 million. As for whether they NEED that kind of space… God knows. They now have three growing children, a full phalanx of staff and it's clear that they're going to be LA-based for a while. Why not?
Bey posted this Instagram last night. Do you think the song choice is significant? "Don't have to be rich to be my girl…" But it certainly helps.
Photos courtesy of Backgrid & Instagram.