Remember when Radar published a faraway video allegedly showing Kevin Hart "cheating" on his pregnant wife? It seemed like none of the outlets reporting that story actually watched the video, which showed him in a car with two people talking, one being an attractive young woman. The most damning part was that it was in the middle of the night, but he was touring so that might be expected. Go here for my coverage of that story, I truly did not see any cheating and think Radar was hyping it for views, which is their business model. (Raises hand.) It was easy to believe though because Hart, who is newly married, had just published a memoir in which he admitted cheating on his ex wife. Hart responded to that controversy by posting a photo of himself laughing and not directly addressing the story. I honestly thought he should have pointed out that there were two people in the car at least and that you can see from the video that nothing happened. It turns out his approach might have been the best strategy.
Well now his ex wife, Torrei Hart, has commented on a post by his new wife, Eniko Parrish, claiming that she's been with Hart for eight years. (Update: commenters pointed out the timeline.) Torrei and Kevin divorced in 2011 so that would mean that there was overlap between his two relationships. Eniko then responded that Kevin's marriage was over by then, which is probably what he told her. I can't get the source material for any of this as it's deleted from Instagram, but here's E!'s report on it:
Eniko Parrish and his ex-wife Torrei Hart got into a verbal scuffle online after Parrish wrote on Instagram that she and Hart have been together for eight years. As fans were quick to notice, the star filed for divorce from his first wife six years ago in 2011, alluding to the fact that there may have been overlap between the two relationships and potential cheating.

In since-deleted comments, Parrish reportedly shot back at the claims, saying Torrei spread cheating rumors years ago and that she never "wrecked" any home. In response, Torrei partly quipped, "We have made successful strides to become a loving co parenting family, but you have now left it open for my character to be questioned. You, Kevin, and I know the truth."
I really like Torrei's very pointed and clear response. It sounds like she nailed it. Meanwhile Kevin responded just like he did to the Radar video, he never discussed the claims and just talked about an alleged encounter he had with a fan who supposedly confronted him about him about cheating, which he claimed made him laugh. He did this in an Instagram video which he has also since deleted, but here's E!'s story again:
Hart took to his own Instagram account on Monday with a cryptic response, similar to the reaction he gave last month when he was accused of cheating on his pregnant wife: with a laugh.

"That moment when you meet somebody on the street that knows more about your life than you—huh?!" he said with a confused expression. "I'm at a point where I can't even be shocked anymore. All I do is laugh, man. I had a person tell me what they felt was factual information about me while they were talking to me."

Hart pointed out that he's written a book about his life and included stories about himself in his standup specials. "Still not enough?"

"That's what I love the most about stand-up comedy—you got that microphone, you got that stage—you take advantage of it," he concluded. "This next hour will be my best hour yet because moments like this act as nothing but material for your boy."
The only thing that gives this explanation any weight is the fact that he didn't defend himself with specifics when the Radar video came out, and just laughed that off vaguely then too. He really seemed blameless there, but this must be his go-to response and it's smart. That way, when he's confronted with a true accusation he can just laugh about it without going into specifics and it seems just as valid as the last time he did that.
Kevin and Torrei in 2004
Embed from Getty Images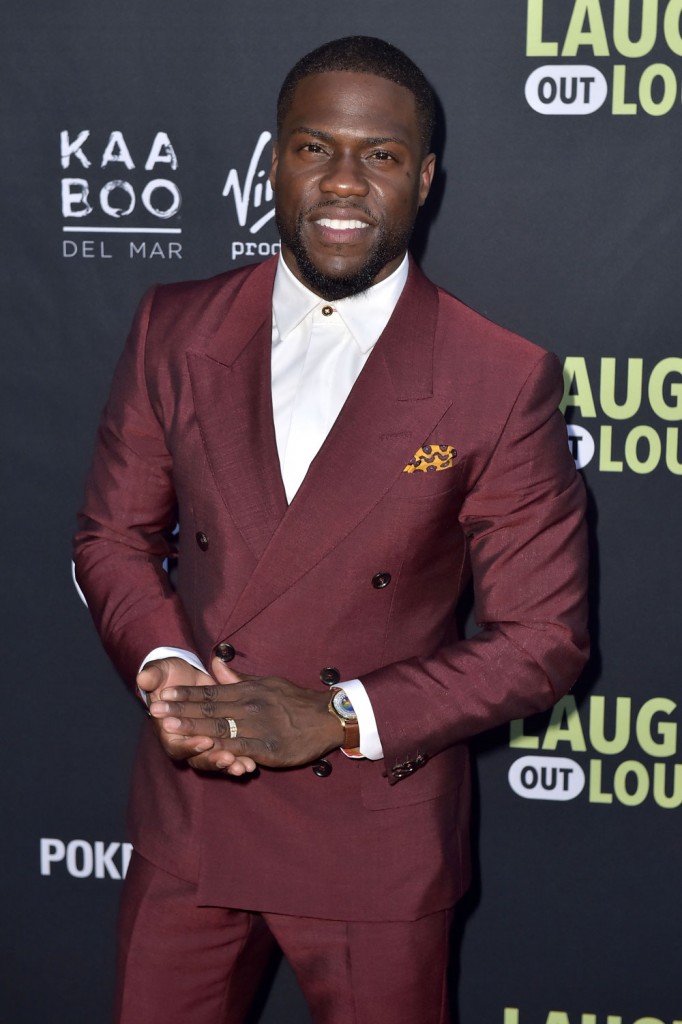 Photos credit: WENN, Instagram and Getty