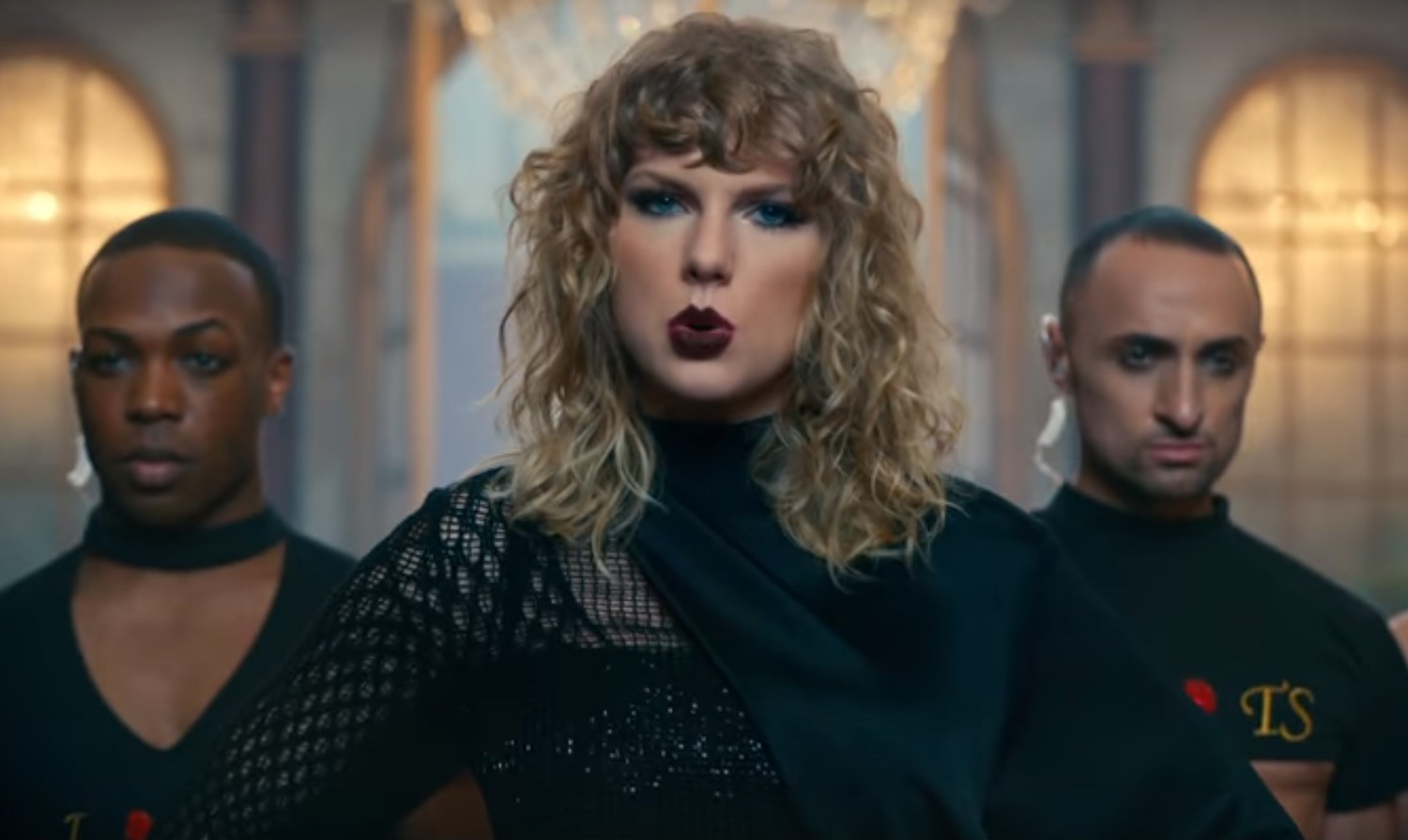 Taylor Swift's music video for "Look What You Made Me Do" debuted in the first hour of the VMAs on Sunday night. It quickly became the #1 video on YouTube/Vevo, and in less than 24 hours, LWYMMD became the most-watched video on Vevo in history. In 2015, Adele's "Hello" video snatched Taylor's crown – Taylor's "Bad Blood" stood as the most watched video before that, then Adele beat her with 27.7 million views in 24 hours. Taylor's LWYMMD already skyrocketed to more than 31 million views in less than 24 hours. So, yeah, people are still into Taylor. She knows how to get people talking about her. It's part of her genius, her marketing genius.
Speaking of marketing genius, what was the most famous thing to come out of the Glorious Tiddlebanging of 2016? That's right, Tom Hiddleston's "I Heart TS" tank, which he wore while prancing around Rhode Island with Tay's girl squad (such simpler times). Apparently, Taylor heard everyone make fun of Tom's tank, so now she's appropriating that too, along with all the Tay-branded snake merch.
Taylor Swift dropped her music video for "Look What You Made Me Do," sparking tons of conversation surrounding the various bits of shade and symbolism throughout it. While we couldn't help but notice some serious references to both Katy Perry and Kim Kardashian, one of the most obvious messages was the "I ❤ TS" shirts her eight male dancers wore behind her.

Obviously, the costumes symbolized Tom Hiddleston's handmade shirt he donned during the singer's 2016 Fourth of July party, which sparked tons of headlines and conversation over whether their whole relationship was just a publicity stunt. Well, Swift (being Swift) turned the opportunity into a monetary gain, using the shirts in the music video and subsequently putting them up for sale on her website. You can get your hands on one for $50, ranging from sizes S to XXL.
Taylor actually included the t-shirts – in various forms – in the music video too. It looked like all of the backup dancers got XS t-shirts and they got to do whatever they wanted with them – some turned the tees into tanks, some turned into crop tops, etc. While I'm still rolling my eyes at Taylor's snake sh-t, I think it's funny that little girls are going to buy these "I Heart TS" shirts, I really do. I hope she sells a lot in London. I hope Tom Hiddleston is constantly surrounded by those t-shirts wherever he goes.
Screencaps courtesy of Taylor Swift's music video.