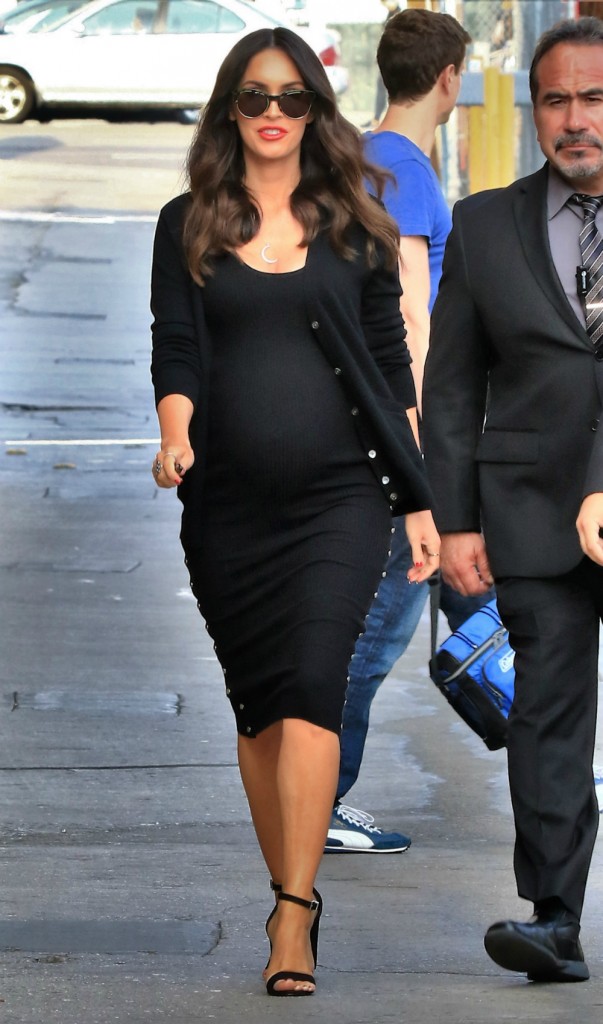 Megan Fox had three babies in four years, that's a lot of wear and tear on the body for anyone. Her youngest son, Journey, turned one last month but, as we know, Megan looks amazing and has gotten back to her pre-baby body. So amazing, in fact, that she's shooting her latest Frederick's of Hollywood campaign. However, when asked how she got back to her fighting weight, Megan admits it wasn't that easy. She struggled through very hard workouts.
Megan Fox's trim and toned body may look effortless, but the 31-year-old actress says she actually put a lot of work into slimming down after the birth of her third son, Journey River.

During a chat with Extra on the set of her shoot for the fall lingerie campaign for Frederick's of Hollywood, Fox revealed her secrets to getting her body back after baby.

"I worked out really hard," the star admitted. "This time, it was a struggle for me. There was a lot of walks and very long runs. It was awful."

Of course, having three sons at home — including 13-month-old Journey, 3½-year-old Bodhi Ransom and Noah Shannon, 5 next month — means finding time for workouts wasn't easy.

"I haven't slept in almost a year. There's not one night that I have slept through the night," Fox says. "I'm still breastfeeding and [Journey] wakes up all the time, and then the other two come and wake me up and get in bed also."

That has made romance with husband Brian Austin Green a little challenging. "We've got three kids. It's like, make it happen, when it can happen, how it happens," she teases.

Green revealed recently that he was interested in trying for baby No. 4. "I want a girl," the actor – who also has a son, 15-year-old Kassius, from a previous relationship — explained in a Facebook Live chat with Hollywood Pipeline's Dax Holt in August. "I really want a girl."

So how does Fox feel about all this?

"I'm not [pining for a girl]," she tells Extra. "I know Brian would like a girl, but they seem much more challenging if I'm any indication."

In the meantime, Green can enjoy her sexy lingerie photoshoots — though Fox jokes that they don't do as much for him anymore. "We've been together for 13 years," she says. "Not that he doesn't appreciate it, he does. But it's just not new."
Man, I really hope that "just not new" comment was Megan trying to be humble and was not based on something her husband said to her. Because if it is, it looks like I have a new face for my dart board. There are much better ways to let a person know they will always be sexy, no matter what their figure looks like. As for her comments about not sleeping for a year, that elicited a physical reaction on my part. I couldn't go back to those days. This older kid thing is hard but at least now there are a few restful nights.
I applaud Megan admitting she had to work her ass off (literally) to get her body back. Jessica Alba and Kate Hudson also admitted that they worked hard to get their figures back post pregnancy. I think it is very important for people to know that not only do these women have to go to extreme measures to get to whatever goal they are shooting for, some are motivated by a contractual obligation. I'm sure Frederick's didn't tell Megan she better lose her weight or she was out, but I'll bet they dropped a few hints. Megan looks great, they all look great and I guess it makes me feel better to hear she didn't snap back easily. But you know what would make me feel a lot better? A shot of a not flat stomach. Or a yoga-pants-because-I-can't-button-my-jeans-yet picture. I understand these actresses are just like us *pulls tongue from cheek* but a little photographic evidence wouldn't hurt.