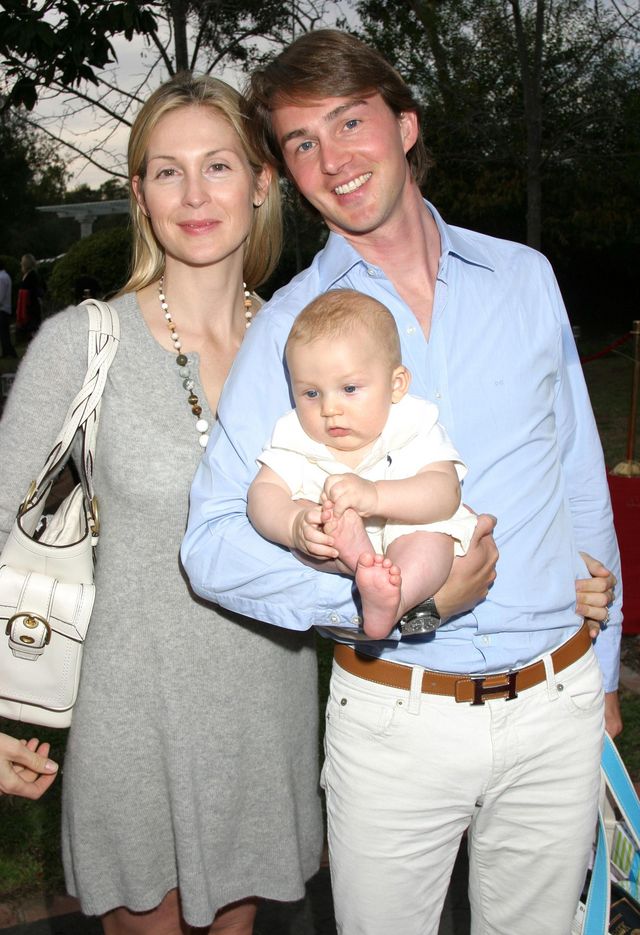 Kelly Rutherford and Daniel Giersch on 3/3/07. Credit: WENN.com
Gossip Girl star Kelly Rutherford, 40, just gave birth to her second child, a girl she named Helena, on Monday. Rutherford is in the process of divorcing her second husband, 34 year-old German businessman Daniel Giersch, who is presumably the baby's father. She filed for divorce last December, and the two have fought over custody issues with their son Hermés, two and a half, in the interim. The last we heard they were arguing over potty training philosophies, with Giersch trying to toilet train Hermes while Rutherford thought it was too much stress for the boy. They eventually agreed to let Hermes wear pull-up diapers until he was ready to start using the potty.
Despite some minor agreements in court, it looks like these don't yet have an amicable relationship. Giersch has released a frustrated statement that his estranged wife failed to inform him about the birth of his daughter, and explained that he had to find out about it through the press like everyone else.
The Gossip Girl star welcomed her second child, daughter Helena, on Monday, but the actress's estranged husband, German entrepreneur Daniel Giersch, tells PEOPLE he was never notified of the birth, and instead read about it in online reports, some unfavorable toward him.

"Media reports claiming that I neglected to attend my daughter's birth are total lies and fabrication," Giersch says in a statement. "I was never informed by Kelly about the birth of our daughter, nor was I invited to attend. In fact, I found out about it through Internet reports like everyone else. Although this sickens me, I am of course overjoyed that our baby was born healthy. I would've wanted nothing more than to hold our newborn daughter for a few moments, and I only seek to coparent both our children responsibly and with love."

Giersch says he had a verbal agreement with Rutherford that she would notify him by phone or text message of her labor, hospitalization, and the child's birth – which he alleges never happened.

According to Rutherford's publicist Jill Fritzo, "The doctors advised that no one be in the birthing room; [Daniel] was notified when [Helena] was born and was immediately invited to come see her."

Rutherford, 40, and Giersch, 34, are currently mired in a custody dispute over their 2-year-old son, Hermes.
[From People]
What a snotty statement that guy put out. He could have been more delicate about it if he really cared about his new daughter and wants a relationship with her. Instead, he had to get all defensive and get his digs in at Rutherford. I would bet there are plenty of legitimate reasons why she doesn't want to deal with her children's father. She must be going through a lot at this time and it couldn't have been easy to file for divorce while she was pregnant. I feel for her and although she should have told the father I can see why she would want some peace after she just gave birth. There are two sides to every story though and no wonder Giersch is mad if he feels completely shut out of his new daughter's life.
Hermes and his dad, Daniel Giersch, are shown out on 4/6/09. kelly Rutherford is shown out on 6/1/09. Credit: Fame Pictures.