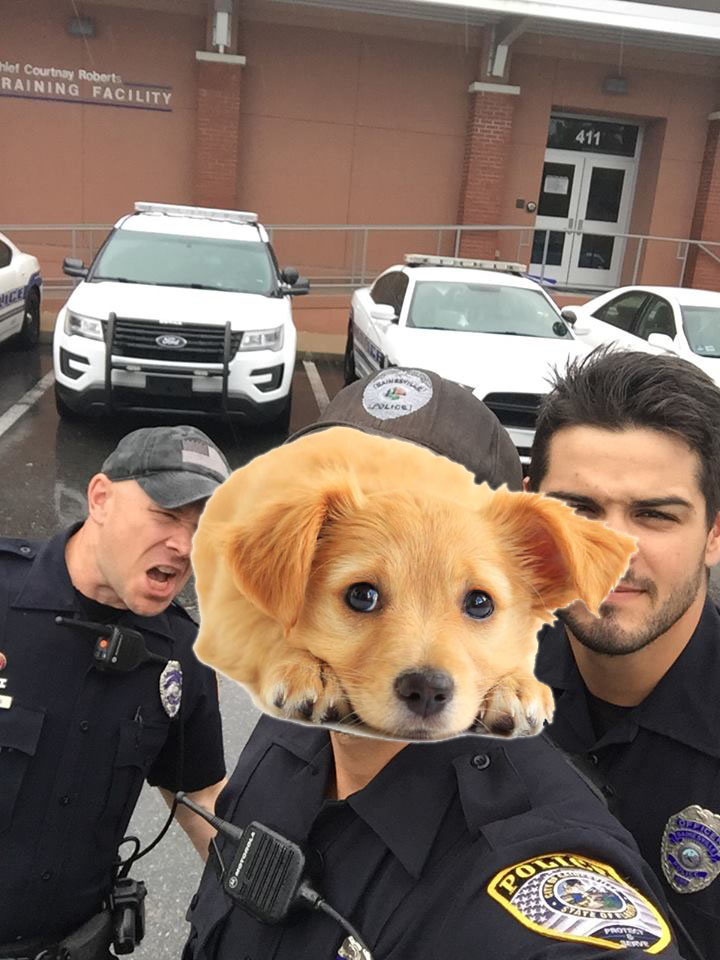 Update by Celebitchy: Officer Hamill, the guy in the center of this photo with the beard puppy face, is under investigation for some rather horrible anti-Semitic posts on Facebook. He is not the single one, that's the hottie to our right with the black hair, Officer Rengering. This information had not yet been published when Corey wrote this post.
Update 2: There you go detritus! Great suggestion.
---
Hurricane Irma did significant damage to the Caribbean, Florida and Georgia and had devastating effects on the residents of these areas. Heck, my folks in Naples are still without power and here, in Atlanta, a man a few streets down from me died when a tree fell and crushed his house. While the aftermath of the storm is still leaving many reeling, some Facebook posts from an unlikely source are creating some smiles when they're really needed most.
In between sharing news of road closures, flooding notices and important updates, the Gainesville, Florida police department's page shared an innocent enough photo of a trio of officers that went viral. The photo of the three handsome officers was captioned "Officers Nordman, Hamill and Rengering…part of the night crew getting ready to do some work."
The image of the arrestingly handsome officers got the page's followers all hot and bothered, and they took to the comments section to acknowledge the hard work (and bodies) of the public servants. The post received 110,000 comments, over 280,000 likes and more than 170,000 shares (I think a good percentage of those came from my Facebook friends). The comments are internet gold – and one lady shared a clever idea "So, looks like my next vacation will be spent in Gainesville rolling through stop signs and driving with a tail light out every evening until I've been pulled over by the entire night shift. It's gonna get expensive, and my insurance premiums will go through the roof from all those tickets, but… *fans self with a stack of travel brochures and birth control pamphlets*"
Other GPD followers requested that the boys in blue pose for a calendar for charity, which the department listened to, In an update to the post they wrote:
UPDATE:
1. We are dying with the comments. You've actually made our chief blush with some of them.
2. MRS. Nordman and MRS. Hamill have also enjoyed knowing how millions of women are going crazy over their husbands.
3. We can confirm that Officer Rengering (far right with the amazing hair) IS SINGLE.
4. On another note, Officer Rengering is being placed into Cougar Prey Protective Care, similar to the witness protection program for his safety.
5. Please do not call 9-1-1 and request this group respond to your "incident"
6. There WILL be a calendar.

Thank you all for the hilarious comments…they have brightened our time up here. As for the calendar, we are going to try and do something fairly quickly and funds raised will go to Hurricane Irma recovery here in Florida.
[From the Gainesville Police Department Facebook page]
An interview with the officers was posted on TIME's website on Wednesday. Officer Michael Hamill (the one in the middle) said, "I've never had this much attention before. It's an ego boost — very flattering and funny." The 28-year-old, who was married last March, added, "My wife, she obviously wasn't happy at first, but she's taking it like a champ." Officer Dan Rengering (on the right) is single and wouldn't mind his own season on The Bachelor. The 27-year-old Florida Gator fan (you lost me there, sorry. Go 'Noles!) said, "I wouldn't think twice about it."
So, while these men are enjoying their 15 minutes of fame, they're also using it to do good, which means, yes, the calendar is happening. The announcement came via Ellen De Generes' Twitter feed. After the department sent the pic to the talk show host, she replied, "Right now the internet wants more photos of them." The department came back with, "That's easy. The calendar is already in the works … with pre-orders coming soon. We want to get funds rolling to #Irma victims quickly."
That's easy.

The calendar is already in the works…with pre-orders coming soon.

We want to get funds rolling to #Irma victims quickly.

— Gainesville Police (@GainesvillePD) September 14, 2017
And, since there are 12 months on a calendar, the GPD is going to need eight more officers. Well, make that seven. After the initial post went viral, the department posted some photos of one Officer Hatcher, who cannot be Mr. February, as that isn't enough time to gaze upon this gorgeous specimen of a man. His photo was posted with the caption, "More of the amazing first responders taking care of business post-Irma! Officer Hatcher here." The image promoted one commenter to assert that "I'm convinced this police department is fake and this is actually an ad for Magic Mike 3."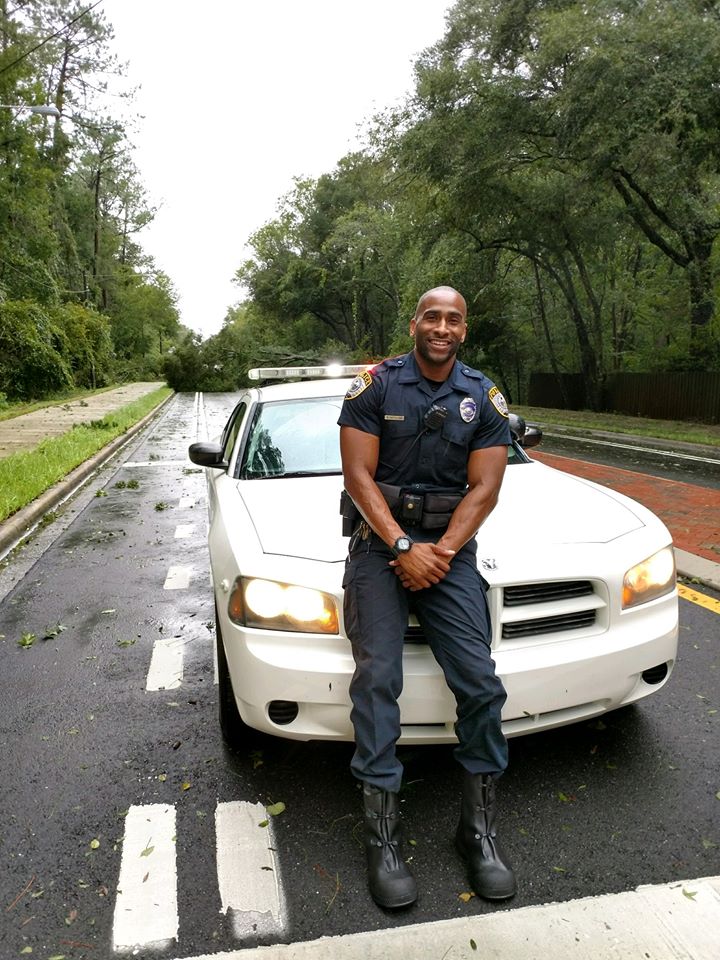 Headline News anchor Robin Meade interviewed Officer Hatcher and I kind of want to commit a misdemeanor right about now.
Meet Officer Hatcher, one of the officers heating up the #Gainesville PD's Facebook page in the wake of #Irma. https://t.co/lz27dJ3RNA

— Robin Meade (@RobinMeade) September 13, 2017
And, if one pic of Officer Hatcher wasn't enough, the department posted one of him next to a fallen tree, posing Karate Kid style. The GPD's social media person is having far too much fun in his or her role, captioning the snap, "We're gonna blame this tree down on Officer Hatcher."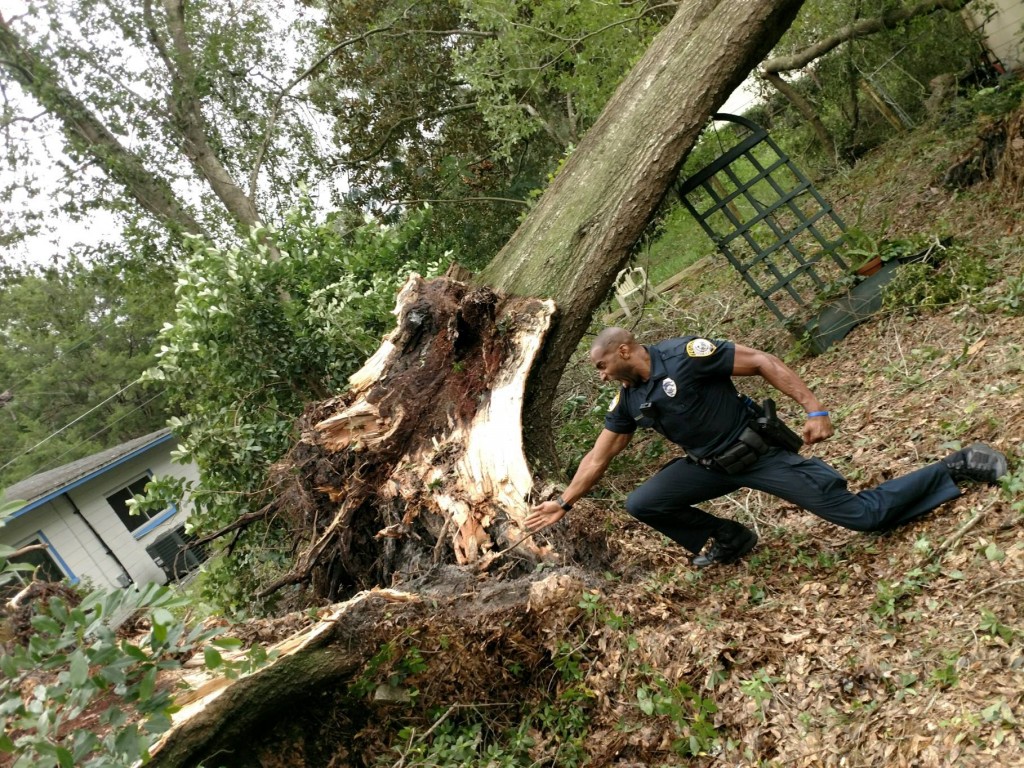 With all of the attention Gainesville got for their posts, it's natural that other local law enforcement agencies would share their own foxy first responders. The Sarasota Police Department showcased a few of their FINE-est, captioning the snap, "Officers Raulerson, Craig, Gloeckner & Hughes responded to help our friends at the North Port Police Department & North Port Fire Department this afternoon with rescues due to rising floodwaters from Hurricane Irma. Gainesville Police Department has nothing on us 😉" Upon seeing the post, the GPD replied, "Not bad, SPD. They don't have awesome hair…but they'll do."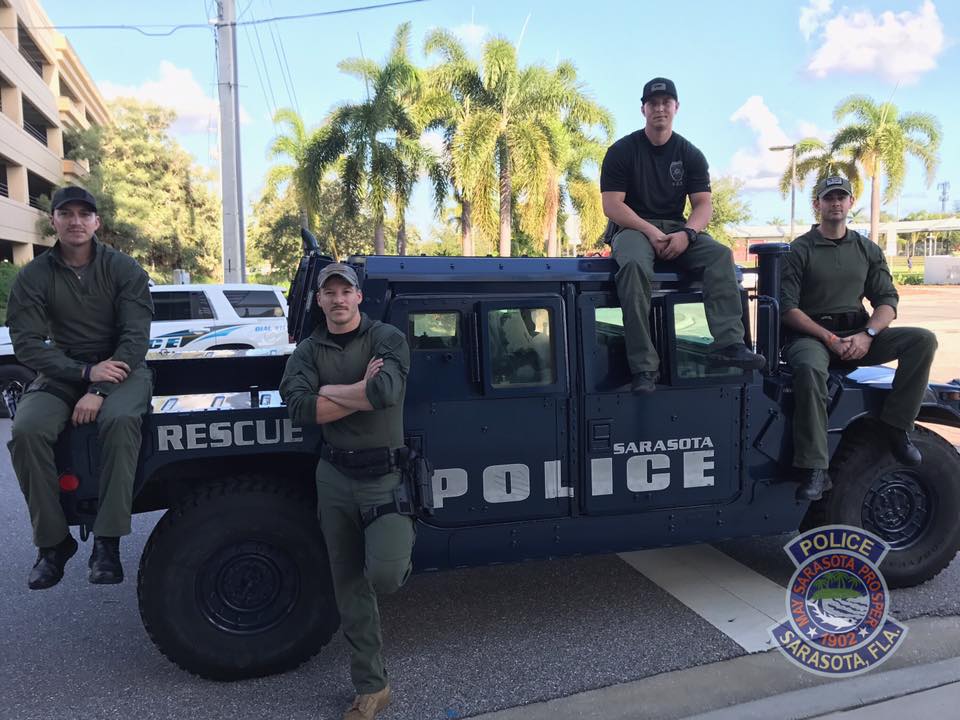 The Knoxville PD also got in on the act, and added a K-9 officer to up the "Awww" ante. They also issued a challenge to Gainesville to help raise money for the victims of Irma, posting, "If you leave a comment, then make a small donation in the name of either the Gainesville PD or Knoxville PD to your favorite charity to help Hurricane Irma victims in Florida. We're confident the Volunteers of Tennessee will see that our KPD officers take it to those gators once again!"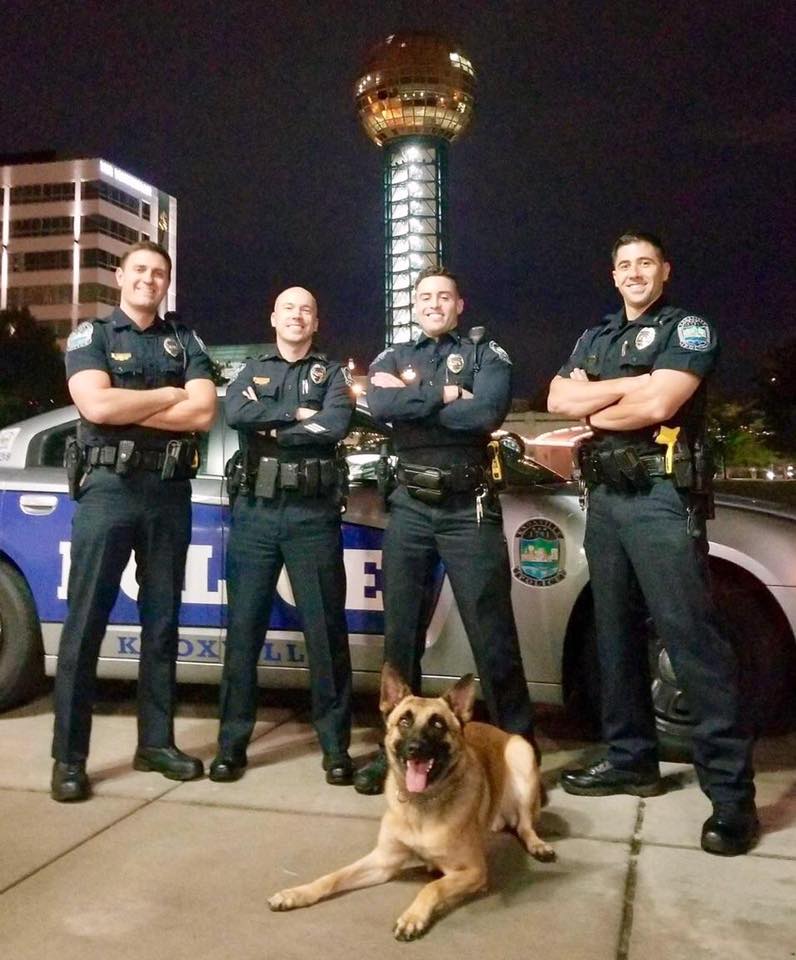 It's been a tough week, and this fun rivalry between some fellas who are definitely easy on the eyes is a much-needed diversion. They are going above and beyond their job duties. They're not only protecting and serving, they're bringing happiness and raising funds that can help counter some of the destruction and damage that Irma caused. Thanks, guys. (And if you could get power restored to my parents, that would be great.)
PS – After I posted this, my Florida Facebook friends shared the following photo from the Pembroke Pines PD. If they had this many cute cops in Florida when I lived there, I would never have moved. Sigh.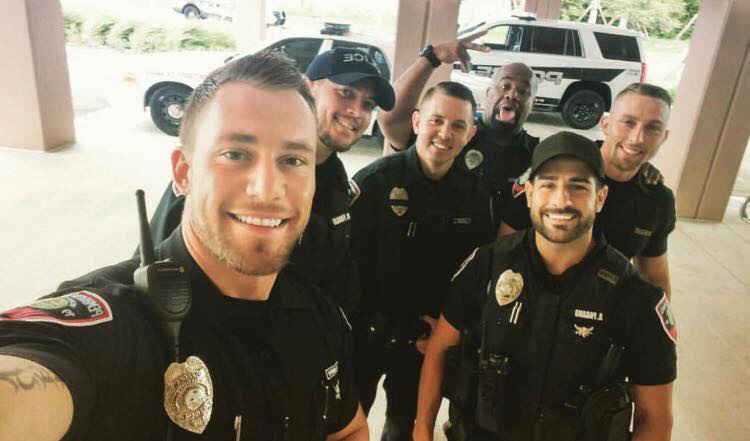 Update by Celebitchy: puppies, ok?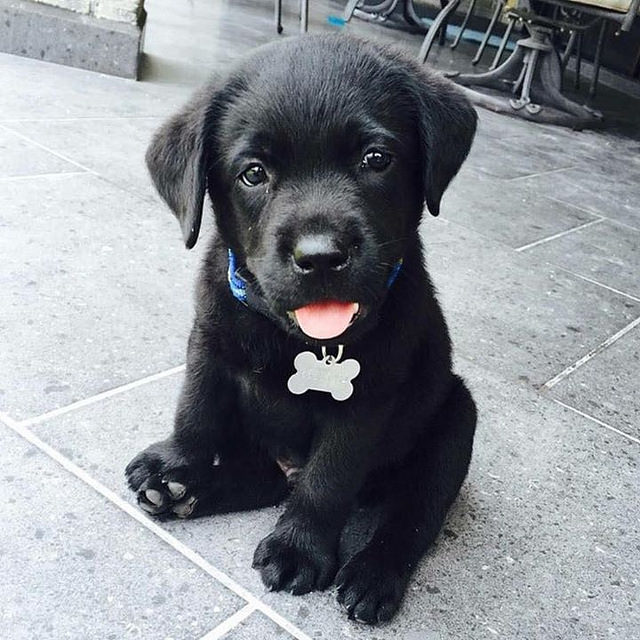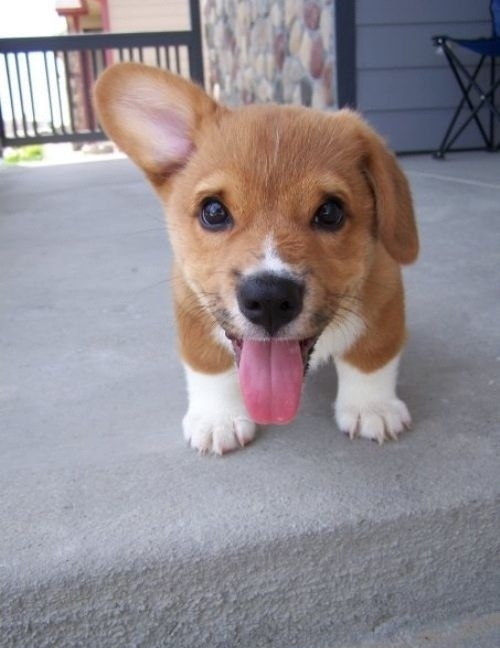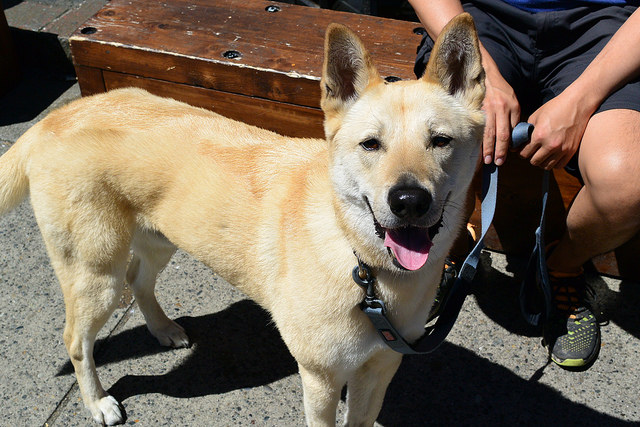 Photos: Gainesville Police Department Facebook, Sarasota Police Department Facebook, Knoxville Police Department Facebook, Pembroke Pines Police Department Facebook, Leo Rodman/Flickr, Thomas Timlen/Flickr, Cute Dog Wallpapers/Flickr, Roland Tanglao/Flickr, Валентина Павлова/Flickr