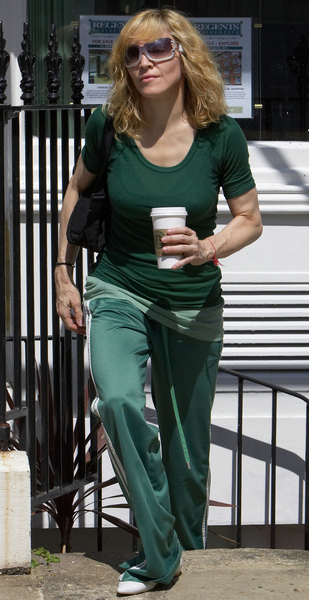 Malawi is hardcore when it comes to adopting kids. Though there were a lot of accusations flying around about Madonna's adoption of David Banda – most involving special treatment – the country has been rigid about required follow-ups. Special representatives must visit Madonna and her husband, director Guy Ritchie, in England twice, and make recommendations about whether or not the couple should be able to actually adopt David. Even though he's been living with the family for about a year, the process is far from complete. Apparently the process had hit a snag when Penstone Kilembe, a Malawian official for the courts, was denied permission to travel to London by the Malawian minister of women and child development. Apparently they felt he'd "personalized" the adoption by accepting travel accommodations and money from Madonna. It sounds like they were worried he had been bribed, and just used a nicer word for it. Well it turns out all is well, and Kilembe gets to travel to London after all.
"An official appointed by a Malawi court to assess whether Madonna and her husband would be suitable parents for the child they are seeking to adopt said on Monday he will visit the couple in Britain next month. 'There has been a change of mind by my government minister and she has allowed me to leave for the UK on September 4 and I am expected to spend two weeks,' Penstone Kilembe, who had been refused permission to travel to Britain, told Reuters.

"Madonna and her husband Guy Ritchie's attempts to adopt David Banda hit a snag earlier this month when the Malawian minister of women and child development refused to grant Kilembe permission to travel to Britain to assess their suitability. Minister Kate Kainja told a Malawian weekly 'we feel Mr. Kilembe personalized the whole issue' and other people could go.

"A Malawi newspaper reported Kilembe was prevented from traveling to Britain because he had accepted a plane ticket and money from Madonna without government approval. Kilembe dismissed the suggestions he asked the pop star for a ticket. 'What we had with the minister was just a misunderstanding and that has been resolved. Madonna herself has been informed about the new proposed dates because she has been looking forward to this so that her adoption process is not hampered,' he said."
[From Reuters]
A lot of adoption and children's rights groups have said Madonna is using her fame and money to evade Malawi's adoption laws, which she had always denied. Penstone Kilembe will testify regarding his opinions on Madonna and Guy Ritchie's parental fitness next year. It's amazing that a country would go to such great lengths to ensure that one of it's semi-orphaned children is adopted into a loving home. But something tells me this has more to do with the worldwide scrutiny this case has received. And not many people would consider Madonna to be particularly warm. Hopefully she's doing this for the right reasons – they've certainly made her jump through a lot of hoops. Let's hope she's a good mom and gets the kid – and never tries to adopt again.
Picture note by JayBird: Here's Madonna Arrives At Her Local Gym on July 21st. You gotta admire her commitment. Images thanks to PR Photos.